'Jews Should Die': Man Dumps Feces Outside Synagogue, Spits at Menorah
Amid a concerning rise in antisemitic incidents, a man allegedly dumped a bag of human feces and hurled expletives targeting Jewish people outside of a Florida synagogue.
A woman who filed a report to police said she was picking up her daughter from the Chabad of South Broward on Friday when she saw the man dump the human feces. The Hallandale Beach Police Department told Newsweek the woman also allegedly heard him shout "Jews should die," and Rabbi Mordy Feiner saw the man spit on a menorah positioned about 15 feet from the sidewalk.
Cellphone video from Feiner showed the suspect wearing all white and riding an electric bicycle, but when officers checked the area, they were unable to locate him.
Newsweek reached out to Feiner for comment but did not receive a response in time for publication.
A recent conflict between Israel and Hamas captured the world's attention, and the United States has seen an apparent uptick in synagogues being vandalized. Jewish people have also expressed worry about their safety, and police departments have been turning reports over to units dedicated to combating hate crimes.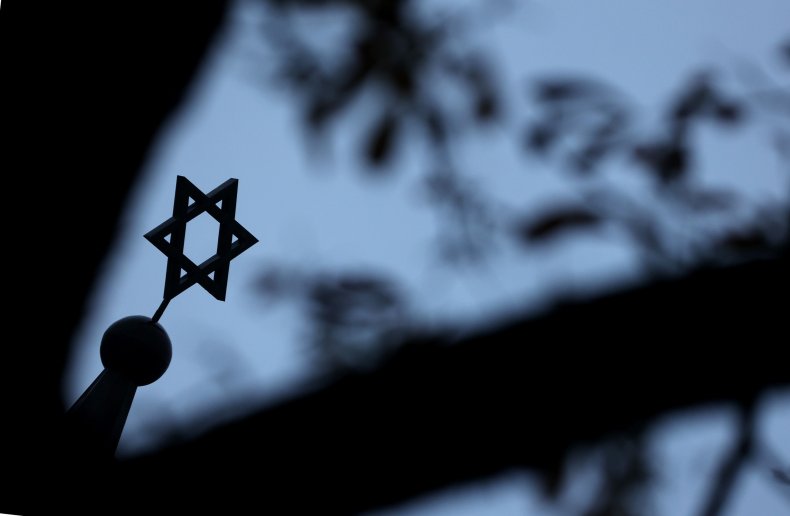 Hallandale Beach Commissioner Anabelle Lima-Taub, who was born in Israel, told WSVN she proposed the creation of a hate crime task force to help deal with incidents against marginalized groups.
"It seems that every time there is an uprising, or a situation globally or nationally, easily identifiable members of our religious community, specifically the Orthodox Jewish community, are a target," she said.
Jonathan Greenblatt, CEO of the Anti-Defamation League (ADL), called the surge in anti-Jewish hate in the United States "dangerous and drastic." The rise is happening both in the real world and online, and an ADL analysis found there were more than 17,000 tweets using a variation of the phrase "Hitler was right" between May 7 and May 14.
"To those who choose to indulge in age-old antisemitic tropes, exaggerated claims and inflammatory rhetoric, it has consequences: attacks in real life on real people targeted for no other reason than they are Jewish," said Greenblatt. "This is antisemitism, plain and simple. And it's indisputably inexcusable in any context."
About a week before police were called to the Chabad of South Broward for the report of human feces at the building, a man reported that he had rocks thrown at him when he was leaving the synagogue.
Hallandale Beach Police Capt. RaShana Dabney-Donovan told WSVN it's "important" to combat these types of incidents and an investigation is ongoing.