JFK Airport Chaos Brings Delays, Flood, Collision to Fliers During Freezing Nightmare Weekend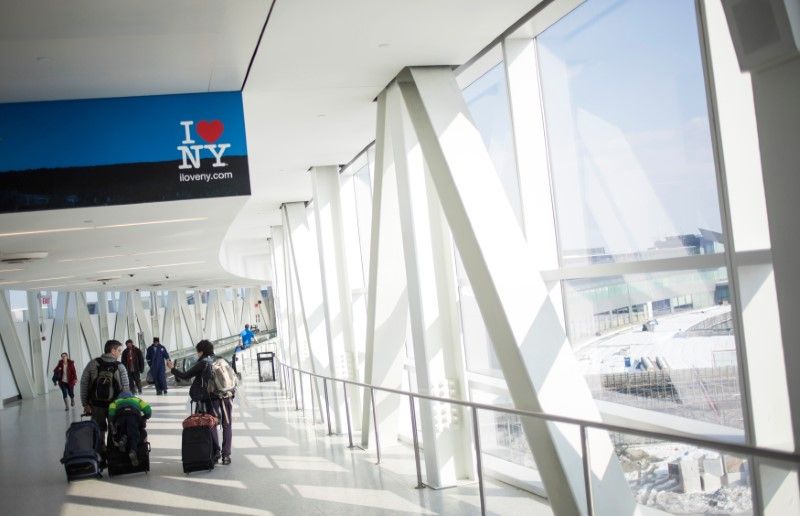 This has not been a good weekend to travel through JFK Airport.
A burst water main that flooded a terminal Sunday in New York City's busiest airport was just the latest plague to befall fliers in a three-day reign of chaos filled with delays, cancellations, a collision and a stunning arrest — all during the freezing cold of a monster storm. The JFK jumble inspired the damning hashtag #BaggageApocalypse after customers had to wait days just to claim their luggage.
Several inches of water filled Terminal 4 on Sunday afternoon, and footage on social media showed workers scrambling to mop the terminal's soaked floors. The Port Authority, which oversees the airport, blamed the flood on a burst water main, but the cause that explosion was not immediately determined.
The Port Authority said there would be no international arrivals for some time due to the flood, though international departure were not affected. It was not immediately clear how many flights were disrupted, and the Port Authority urged passengers to check with their airlines for flight information.
The flood was only the latest horror in a nightmare weekend at one of the world's busiest airports, where it seemed everything that could go wrong did.
Nearly 4,000 flights had already been canceled before the weekend in anticipation of Winter Storm Grayson, which pummeled nearly all of the East Coast. But travelers who made their flights through JFK often spent hours waiting on the tarmac, only to arrive to longer waits for their luggage. Some fliers have waited three days and counting to retrieve their bags, spawning the #BaggageApocalypse hashtag, where customers have been venting their high-flying anger.
The Port Authority blamed the massive delays on a "cascading series of issues," including extreme cold, frozen equipment and staff shortages.
Even that seemed calm compared to some of the ordeals on Saturday. That's when a China Southern plane hit the tail of a Kuwait Airways flight, causing damage to both of the Boeing 777s. All passengers were evacuated safely and no one was injured, the Port Authority said, though the collision made the delays even worse.
The same day, a man trying to board a Delta flight to Atlanta was caught packing a loaded and stolen handgun. George Vasquez, 61 and from Queens, is being held on $50,000 bail. This was the second gun caught by security at an American airport in 2018 so far, the Transportation Security Administration said.