Power Plant Fire at JFK Airport as Videos Show Crew Battle Blaze
Videos showed a massive emergency response to a fire that broke out inside a power facility located at New York City's John F. Kennedy International Airport on Monday night.
Firefighters responded to reports of a blaze in the second floor machine room of Building 49, used as a generator, at the airport in the Jamaica neighbourhood in Queens at around 8.30 p.m., a spokesperson for the New York Fire Department (FDNY) told Newsweek.
The fire department described the incident as an "all hands" fire in a post on Twitter, while videos that were posted on social media showed a huge number of emergency vehicles had responded to the scene.
The fire was under control at around 10.15 p.m., the FDNY spokesperson added, and no injuries were reported.
Newsweek subscription offers >
Citing Port Authority sources, the New York Daily News reported that the generator building had been evacuated of personnel as a precaution.
Newsweek subscription offers >
Twitter user @Jacob14Sharp shared a video of the the scene at the airport on his page, showing what appeared to be smoke coming from the building.
"Something bad is going on at the power plant at John F Kennedy Airport (JFK)," he wrote alongside the video.
He added: "I'm being told it's possibly a fire inside the power plant. More and more fire and police are pulling up by the minute."
Numerous emergency vehicles are seen and sirens can be heard in the clip.
In another video he posted, captured from inside a moving vehicle, plumes of black smoke are seen coming from the generator building and a large number of fire and police vehicles can be seen parked near the scene or approaching the area.
In another tweet, @Jacob14Sharp said more than 300 emergency vehicles had responded to the incident. He has been contacted for comment.
According to NBC New York, what appeared to be huge plumes of smoke billowing into the sky from the generator building was actually steam being released after the fire had been extinguished.
No details on what caused the blaze were released and its cause remains under investigation.
No flights or passengers at the airport were affected by the fire, according to NBC New York.
The Port Authority of New York and New Jersey have been contacted for additional comment.
This article has been updated with information from the FDNY.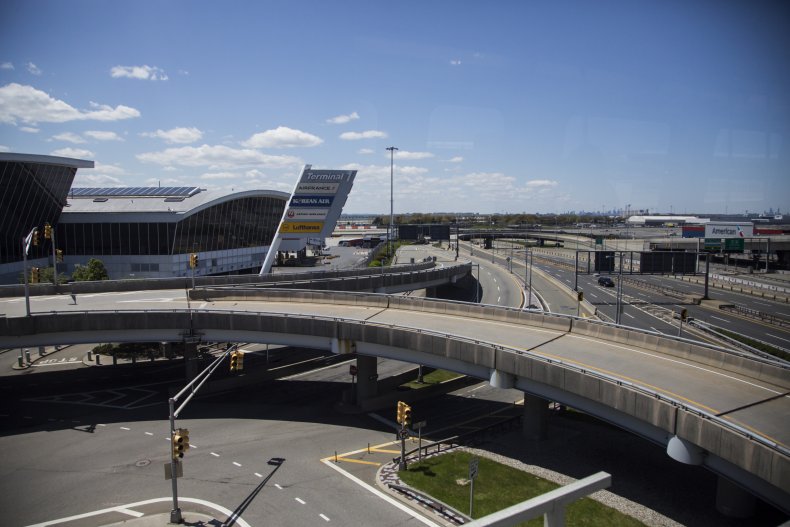 Power Plant Fire at JFK Airport as Videos Show Crew Battle Blaze | U.S.