JFK Flight Departures: Extreme Cold Temps in New York City Cause Flight Delays, Cancellations
New Yorkers woke up to extremely cold temperatures that rivaled Russia and Alaska and the sudden drop in temperature caused delays and cancellations at John F. Kennedy Airport.
On Thursday morning, the Queens, New York, airport posted on Twitter that arctic temperatures outside the airport and within the New York region could impact flights. The airport recommended travelers check the status of their specific flight with their airline if they were traveling on Thursday.
Of the 446 flights posted on John F. Kennedy Airport's flight tracker, 40 were delayed and 14 were canceled. Most of the delays and cancellations were for flights originally scheduled to leave between 6 a.m. EST and 11 a.m. EST. Flight delays ranged from 20 minutes to almost three hours.
Nearby, at LaGuardia Airport, located about 10 miles away, flights were also delayed due to the extreme weather. LaGuardia Airport also posted on Twitter that the arctic temperatures in New York and the surrounding area could impact flights and recommended that travelers contact their airline or check the status online for flight status.
On Wednesday, the National Weather Service (NWS) in New York reported that an arctic cold front passed through southern Connecticut, northeast New Jersey and southeast New York. Along with light snow, the cold front brought extreme wind chills, prompting the NWS to issue an advisory. In effect until 10 a.m. EST on Thursday, wind chills were forecasted to reach as low as 25 below zero and could cause frostbite on exposed skin in as little as 30 minutes.
"A Wind Chill Advisory means that cold air and the wind will combine to create low wind chills. Frostbite and hypothermia can occur if precautions are not taken," the NWS cautioned. "Make sure you wear a hat and gloves."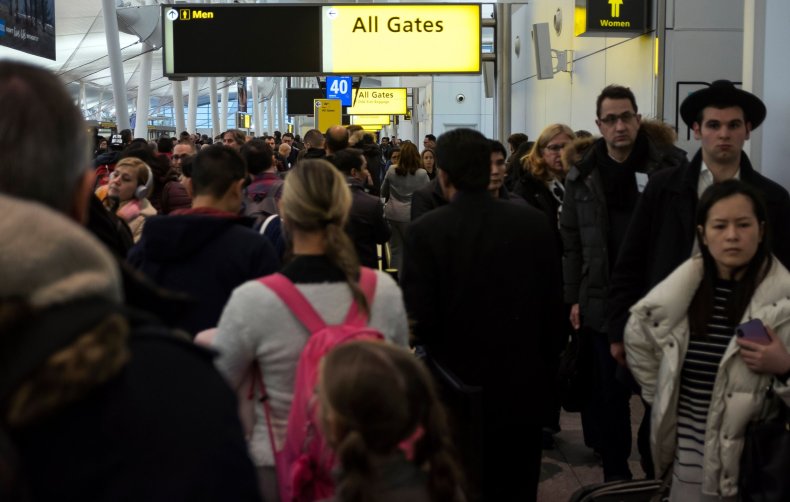 Along with delays and cancellations for flights, WCBS reported many schools in the area had delayed openings or were cancelled for the day because of the bone-chilling temperatures. However, WCBS noted, public schools in New York City opted to stay open.
Fortunately, NWS reported that from Friday and through Wednesday, New York is not expected to be experiencing hazardous weather. On Friday, residents can expect clouds and sunshine, according to WABC, although, some snow flurries are possible. While it'll only be a high of the mid-20s, after a wind chill that dropped below zero, it'll likely be a welcome change in weather. By Sunday, WABC reported, New York City should be in the low to mid-40s.