JFK Intern Mimi Alford's Shocking Affair Tell-All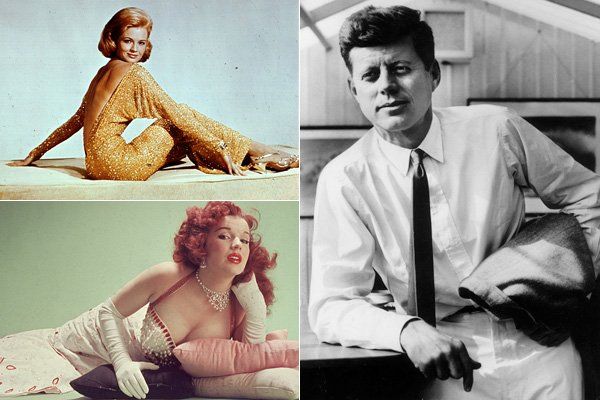 The president of the United States enjoyed a daily swim in the White House pool and cocktails after hours, when daiquiris and cheese puffs were passed around. Also provided for the president's pleasure were clueless virgins from Miss Porter's School, the first lady's white-glove alma mater.
When Mimi Alford was summoned to swim on her fourth day as a White House intern in 1962, no one told the chaste, uncomprehending teenager that the purpose of the invitation was to serve her up in a borrowed bathing suit for inspection by President John F. Kennedy.
That evening, Alford—who had never had a boyfriend—was surprised when White House aide David Powers plied her with drinks, and stunned when JFK offered her a private tour of the residence. Moments later, she says, the president pushed her down onto his wife's bed, pulled off her underwear, and unceremoniously deflowered her.
Alford says she spent the next 18 months as JFK's sexual plaything, spirited into and out of bedrooms in Washington and elsewhere by Powers. She then waited half a century before telling her story in an explosive new memoir called Once Upon a Secret.
Some of the book's most chilling revelations are the things that didn't happen. As Alford describes it, when JFK first had sex with her, her reaction was unquestioning acquiescence. Although her previous experience was limited to a single kiss in the eighth grade, she didn't resist the president, nor did she say a word about how she felt, to him or anyone else. It was as if her whole life had prepared her for such a moment—which it had. A man—a very powerful man who was old enough to be her father—wanted a quickie with her, and her only role was to oblige.
Also absent from their "affair" was the kind of romantic tenderness most lovers take for granted; in all the time they spent together, JFK never kissed her, she says.
According to Alford, her passive acceptance even extended to the day JFK told her to perform oral sex on Powers, as JFK watched. Both she and Powers were humiliated. The following year, when she says JFK told her to do the same thing for his brother Teddy, Alford uncharacteristically refused. Shortly thereafter, their relationship ended abruptly with JFK's assassination.
Today's young women may wonder why it took Alford so long to assert herself. And yet anyone who remembers the world before the women's movement will recognize the toxic cultural assumptions that shaped the expectations of both men and women in such scenarios.
As a girl coming of age in the 1950s, Alford was indoctrinated with the idea that women should accommodate whatever was demanded of them. "I think one of the big messages was: 'Be quiet. Don't rock the boat,' " Alford, now 68, tells Newsweek. "The expectation was for you to do a good job, to be liked, to be included—not to ruffle anyone's feathers. If there was a job you were given that you didn't like, you did it." She shakes her head with a rueful grimace; clearly, servicing Powers fell into that category.
When JFK added her to the long list of his sexual playmates, her reaction was so passive that she seems, to a contemporary reader, almost lobotomized. It took more than a year, and falling in love with a fellow college student, before she realized that wordless acquiescence was not her only option when JFK made sexual demands.
And yet Alford demurred when friends later characterized her first experience with JFK as rape. "I don't see it that way," she wrote. After all, she hadn't told him to stop. From her perspective, she added, "Resistance was out of the question."