JFK's Grandson Criticizes Mike Pence for Invoking 'Profiles in Courage' in WSJ Op-Ed
A grandson of former President John F. Kennedy has slammed Vice President Mike Pence for invoking his grandfather's words in a recent op-ed urging Senate Democrats to vote to acquit President Donald Trump during the ongoing impeachment trial.
".@VP Mike Pence's recent piece in the @WSJ, 'A Partisan Impeachment, a Profile in Courage,' is a total perversion of JFK's legacy and the meaning of courage," Kennedy's grandson Jack Schlossberg wrote in a Saturday Twitter thread. "As Kennedy's grandson, and a member of the Profiles in Courage Award Committee, I took special interest."
In the article penned by Pence, which was published on Thursday by The Wall Street Journal, the vice president cited Kennedy's Pulitzer Prize-winning book, Profiles in Courage. He also praised the political virtues of former Senator Edmund G. Ross, who helped Andrew Johnson avoid conviction in the former president's 1868 impeachment trial by going against his own party. But historical evidence suggests that Ross may have been bribed to cast his vote to acquit.
"The question naturally arises: Who, among the Senate Democrats, will stand up to the passions of their party this time? Who will stand up against 'legislative mob rule' and for the rule of law? Who will be the 2020 Profile in Courage?" Pence asked in his article.
Schlossberg argued in his Twitter thread that the current situation was fundamentally different. He wrote that Trump "had put his own interests ahead of our country's national security and, in the process, broke federal law," and that Republicans and Pence had "failed the test of courage."
"Rather than risk their career or endure personal reprisal, they excuse the President's and others' admitted wrongdoing and disgraceful behavior," Schlossberg wrote.
"Political courage might require a Republican Senator to risk his or her own political future by breaking lockstep from the President and agree to hear from witnesses, review the evidence, and put the national interest above their own," he added.
The Democratic-led House of Representatives voted, largely along party lines, to impeach Trump in December, making him only the third president in U.S. history to be indicted by the lower chamber of Congress. But the Senate, which is controlled by Republicans, requires a two-thirds majority vote to remove the president from office. Most analysts believe it is highly unlikely the president will be removed, as 20 GOP senators would have to join all Democrats and independents in voting against Trump.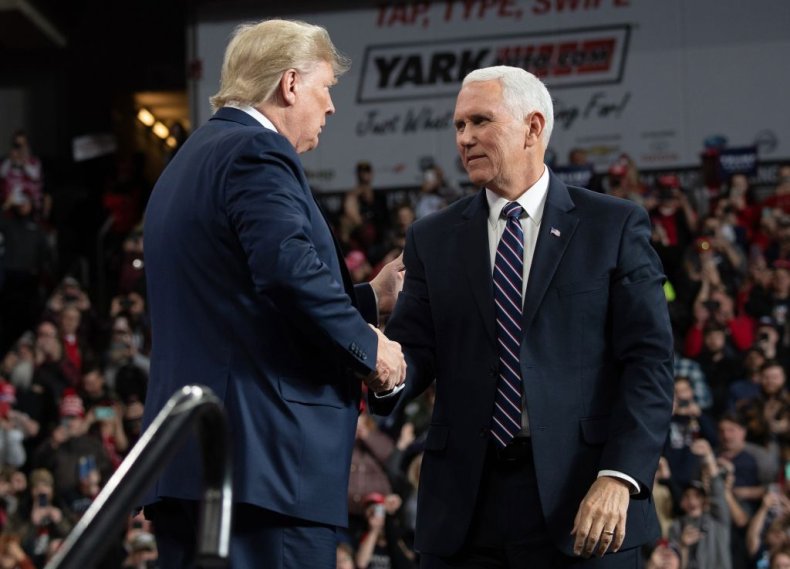 In the House, no Republicans voted in favor of impeaching Trump. However, conservative Representative Justin Amash of Michigan, who was elected as a Republican but declared his independence last summer, voted with Democrats against the president.
Several GOP senators have expressed concern about the president's actions towards Ukraine, which led to his impeachment. But Republican leaders in the upper chamber of Congress have largely dismissed the charges against Trump, with Senate Majority Leader Mitch McConnell of Kentucky and Senate Judiciary Chair Lindsey Graham publicly stating that they do not plan to be "impartial" jurors during the president's trial.