Ji-Young, Newest Resident of 'Sesame Street,' Created to Counter Anti-Asian Sentiment
Ji-Young, the newest resident of "Sesame Street," is making history as the first Asian American muppet, set to debut in a Thanksgiving special.
The new character will be introduced in See Us Coming Together: A Sesame Street Special, which will show her being told to "go back home," a common insult thrown at Asian Americans and Pacific Islanders. Popular Sesame Street characters, guest stars like Simu Liu and Naomi Osaka and Sesame Street's other Asian American residents will be there for her to let her know she belongs.
The 7-year-old Ji-Young is Korean American and loves electric guitar and skateboarding. During a first-look interview with the Associated Press, Ji-Young's puppeteer Kathleen Kim said being on the show is a dream come true, but also a huge responsibility.
"I feel like I have a lot of weight that maybe I'm putting on myself to teach these lessons and to be this representative that I did not have as a kid," Kim said.
Executive Vice President of Creative and Production for the non-profit Sesame Workshop, Kay Wilson Stallings, told the AP creating Ji-Young is a way to "meet the moment" following the rise in anti-Asian hate crimes in 2020.
Stallings said Ji-Young will promote being a good "upstander" in the community, pointing out instances of racism and prejudice. However, Stallings also assured that Ji-Young would be present for much of the season, not only existing for racial justice content.
For more reporting from the Associated Press, see below: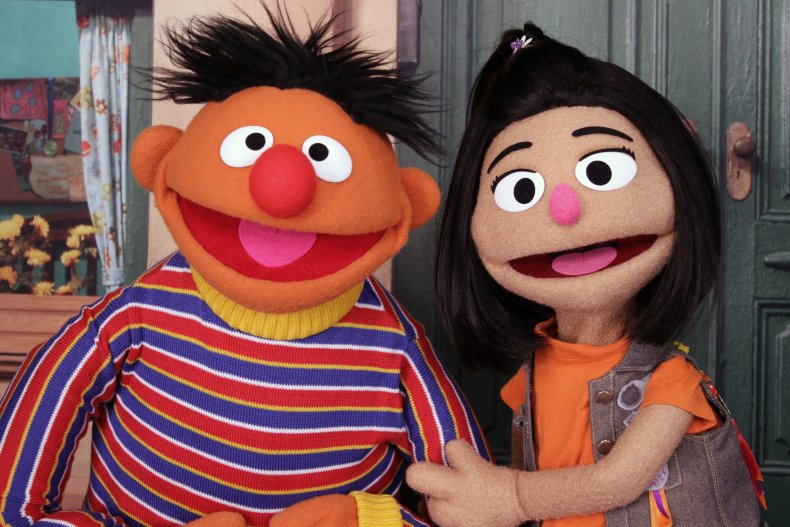 Sesame Workshop established two task forces—one to look at its content and another to look at its own diversity. What developed was Coming Together, a multi-year initiative addressing how to talk to children about race, ethnicity and culture.
"When we knew we were going to be doing this work that was going to focus on the Asian and Pacific Islanders experience, we, of course, knew we needed to create an Asian muppet as well," Stallings said.
These newer muppets—their personalities and their looks—were remarkably constructed in a matter of months. The process normally takes at least a couple of years. There are outside experts and a cross-section of employees known as the "culture trust" who weigh in on every aspect of a new muppet, Stallings said.
For Kim, it was crucial that Ji-Young not be "generically pan-Asian."
"Because that's something that all Asian Americans have experienced. They kind of want to lump us into this monolithic 'Asian,'" Kim said. "So it was very important that she was specifically Korean American, not just like, generically Korean, but she was born here."
The fact that Ji-Young was created to counter anti-Asian sentiment makes her more special to Kim in some ways.
"I remember like the Atlanta shootings and how terrifying that was for me," Kim said. "My one hope, obviously, is to actually help teach what racism is, help teach kids to be able to recognize it and then speak out against it. But then my other hope for Ji-Young is that she just normalizes seeing different kinds of looking kids on TV."
Vanessa Leung, co-executive director of Coalition for Asian American Children and Families, is excited about Ji-Young. The organization was not involved in Ji-Young's creation but previously consulted on anti-racism content for Sesame Workshop. It matters when Asian American families, especially with many of them being immigrant families, can see themselves reflected in an institution like Sesame Street, Leung said.
"It sparks curiosity and early understanding of the diversity of our community, the beauty in the diversity of our community," Leung said.
As the new kid on the street, Ji-Young is looking forward to showing her friends and neighbors aspects of Korean culture such as the food. She loves cooking dishes like tteokbokki (chewy rice cakes) with her halmoni (grandmother). And she already has one Sesame Street friend who wants a sample.
"I would love to try it," said Ernie, who joined Ji-Young's interview. "You know, I've tried bulgogi. I really like bulgogi. I'm gonna guess that maybe old buddy Bert has not tried Korean food."
Having already made several famous friends on Sesame Street, is there anyone Ji-Young still really wants to meet?
"The Linda Lindas because they're so cool," Ji-Young said, referring to the teenage punk rock band. "And they rock out and they're cool girls and most of them are Asian. They're my heroes. If we can get the Linda Lindas on Sesame Street, I would show them around."