Jill Abramson Gives Speech on Resilience After Firing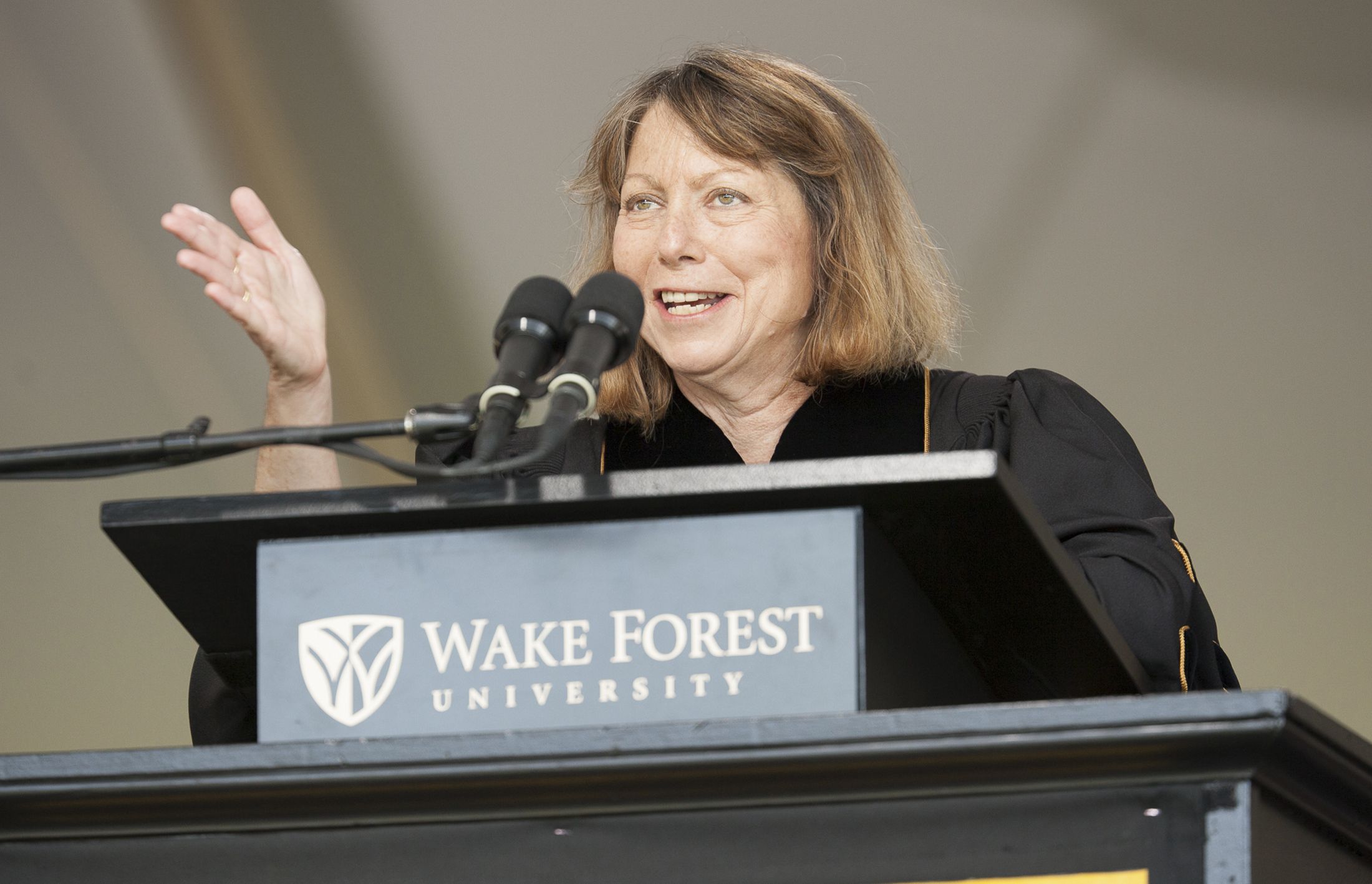 In her first public appearance since she was fired by The New York Times, Jill Abramson delivered the commencement address to Wake Forest University's class of 2014 Monday on the subject of resilience.
"Very early last Thursday my sister called. She said, 'I know dad would be as proud of you today as the day you became executive editor of The New York Times,'" Abramson recalled in her speech. "I'd been fired the previous day, so I knew what she was trying to say: It meant more to our father to see us deal with a setback and try to bounce back than to watch how we handled our successes. 'Show what you are made of,' he would say."
Abramson, who has been the center of a media frenzy since last Wednesday, was alternately lighthearted and serious as she offered up examples of the resilience she sees in people every day and joked about her own uncertain future. "What's next for me? I don't know," she said. "So I'm in exactly the same boat as many of you." She added that she has set up an appointment with the university's career counselor.
She also answered a question that has made the rounds on blogs since her firing: Will she remove a tattoo of the Times's "T" on her back. "Not a chance," she said.
Abramson pointed to other women who were resilient in the face of adversity and whom she counts as her heroes: trailblazing reporter Nan Robertson of the Times and Katharine Graham, publisher of The Washington Post—most famously during Watergate. She also mentioned Anita Hill, the law professor who faced a daunting all-male Senate panel and numerous detractors when she accused then-Supreme Court nominee Clarence Thomas of sexual harassment. "She turned that potential humiliation into a great career teaching at Brandeis University and writing books that tell truth to power," said Abramson, who co-wrote a book about Hill in the 1990s.
"Anita was one of the many people who wrote me last week to say they are proud of me," Abramson said. "Those messages are so appreciated."
Abramson was the first woman to serve as executive editor of The New York Times, and her abrupt dismissal sparked frenzied debate as information about her ouster trickled into the press. The narrative almost immediately centered on sexism and the gender pay gap after The New Yorker's Ken Auletta reported that Abramson had recently sought to right a pay disparity between her and her male predecessors—a move, according to Auletta, Times publisher Arthur Sulzberger and CEO Mark Thompson found "pushy."
The next day, Auletta reported that Abramson had not only been paid less than the man she replaced at the top of the masthead, Bill Keller, but had also been paid less than her peers when she served as managing editor and Washington bureau chief. Stories also trickled out about her harsh management style and clashes she had with Sulzberger and Thompson.
The Timeshas been roundly criticized for its mismanagement of the firing, and talk of her temperament was has been interpreted as coded language for decisive leadership often praised in men but undesirable in women.
On Saturday, the Times tried to rein in the unflattering portrayal of its handling of the issue. Sulzberger released a statement adamantly denying pay or sexism played a role, arguing instead that she had lost the confidence of the newsroom, especially senior editors on the masthead. Times insiders sympathetic to Sulzberger also began talking to the press, and first Politico, then The New Yorker released accounts of the firing that were very different from the initial reports.
The new reports quote sources saying that Abramson had lied to Sulzberger and Thompson in her attempt to hire The Guardian's Janine Gibson as a co-managing editor for the Times's digital side, informing them that her colleagues, including her successor and then-managing editor Dean Baquet, were fully briefed on the details of the hire and supported it. This episode was, according to these reports, the final straw.
In her commencement address, Abramson gave no clues about why she was let go, nor did she criticize her former employer. She even opened with remarks largely intended for the hundreds of reporters tuning in to her speech.
"I think the only real news here today is your graduation from this great university," she said. "I'm impressed that your achievements have attracted so much media attention."
She praised journalism and The New York Times. "Sure, losing a job you love hurts," she said. "But the work I revere, journalism that holds powerful institutions and people accountable, is what makes our democracy so resilient."
In the only hint about what will come next, Abramson promised to remain in journalism. "This is the work I will remain very much a part of," she said.