Jill Biden Cheers on U.S. Athletes Before Attending Olympic Opening Ceremony
First lady Jill Biden cheered on Team U.S.A. and wished them well via a Zoom call from the U.S. ambassador's residence in Tokyo, before attending Friday night's 2021 Olympics opening ceremony.
Later on during the ceremony, Biden was seen clapping the athletes representing the United States as they came on.
"I want to thank each person who helped you be here today. Now those years of work, the drive and faith that have kept you going, have led you here. Congratulations," Biden said on the call, wearing a red, blue and white jacket.
"Becoming an Olympian is a rare accomplishment in a normal time. But you did it during a global pandemic."
She was addressing the team in front of a large television showing the faces of Team U.S.A.'s athletes.
"For most of you, the journey to Tokyo began long, long ago. It likely started at a young age. The first time you picked up a ball or jumped in the water. The first ride that made you feel really free. Or when the backflip you thought was impossible suddenly wasn't," Biden said.
"You've given up so much to be here. You've sacrificed time with friends and pushed yourself harder than you thought you could. Your journey was supported by dedicated parents and siblings, grandparents and cousins, friends, classmates and, of course, the coaches that guided you along the way to Tokyo," she added.
The first lady also had one-on-one conversations over Zoom with some of the athletes, including baseball player and short track speed skater Eddy Alvarez, basketball player Sue Bird and Allison Schmitt, a four-time Olympic swimmer and mental health advocate.
Bird and Alvarez are flag bearers for the Olympic team this year.
"I'm so looking forward to watching you compete and as a teacher I think what you're doing is so important in that area of mental health because I know that a lot of students as they return back to school this fall are going to need a little help," Biden told Schmitt.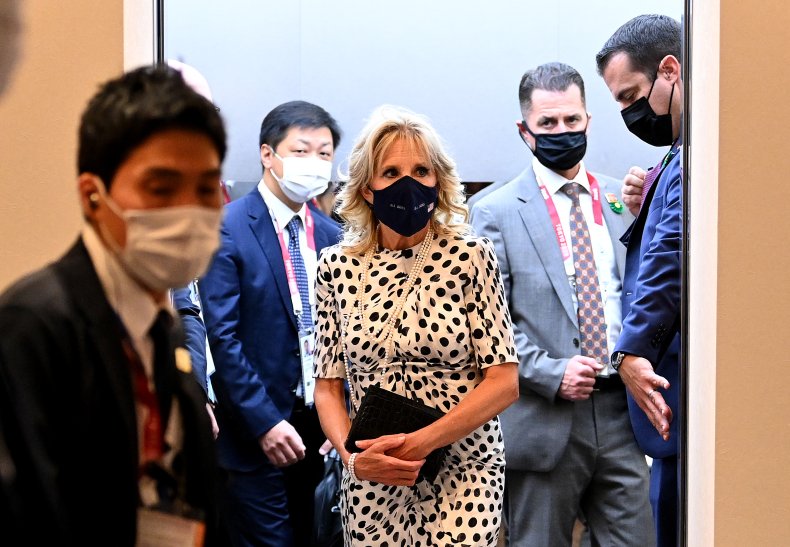 Biden also told the team that they were "more than our cities or states or backgrounds."
"We are more than our jobs or are political parties. We are Team U.S.A.," Biden said.
Biden told reporters after the call that "it was emotional" speaking to the team, and that it "meant a lot" to her and her husband.
The first lady later tweeted, only 30 minutes before the ceremony started: "Dear @TeamUSA, your entire nation is cheering you on and we are grateful for what you've given us: the chance to come together in common awe and appreciation for your accomplishments and the shared joy of rooting for our country on the edge of our seats."
Attached to the tweet was a link to an open letter she wrote the athletes for NBC.
Biden joined other dignitaries and heads of state from around the world before the event on Friday, meeting with Japanese Emperor Naruhito at the Imperial Palace in Tokyo. Biden was among 11 guests of the emperor, including the presidents of Armenia, France, Kosovo and Poland.
The first lady's trip to Japan marked her first solo international trip since her husband Joe Biden assumed the presidency in January. She arrived in Japan on Thursday and had dinner with Japanese Prime Minister Yoshihide Suga and his wife, Mariko Suga, with whom she attended an incense workshop on Friday before the ceremony.
Biden joins several other first ladies who have led the U.S. delegation at the games, including Michelle Obama at the 2012 Summer Olympics in London, and Laura Bush who attended the 2006 Winter Games in Turin, Italy. Hillary Clinton attended the 1994 Winter Olympics in Lillehammer, Norway, as well as the 1996 Summer Games held in Atlanta.
Biden will also host a watch party at the embassy in Tokyo for the U.S. vs. Mexico softball game and is expected to attend several events to support Team U.S.A., the White House said.
She was seen wearing a mask at the meetings. Tokyo is seeing its highest number of COVID-19 cases in six months, recording 1,979 new cases in the last 24 hours on Friday.
The games, which were postponed from 2020 due to the pandemic, will be held without crowds of spectators.