Jill Biden Eclipses a Largely Absent Melania Trump With Starring Role in Campaign
As first lady Melania Trump remains largely absent from the campaign trail this year, Jill Biden has been grinding out back-to-back appearances at rallies for her husband Joe Biden—cementing her starring role in the Democratic nominee's presidential push.
The first lady appeared beside President Donald Trump last June when he launched his re-election campaign with a rally in Florida. But since then, she has been noticeably absent in Donald Trump's campaigning efforts, a departure from her recent predecessors.
Jill Biden has become one of the Biden campaign's most prolific surrogates, participating in numerous virtual fundraisers and rally events at a faster pace than previous spouses of candidates at the top of the ticket. When she's not traveling with Joe Biden to key swing states, Jill Biden's schedule over the past few months has been packed with hosting drive-in rallies, virtual fundraisers and constituency-centric events.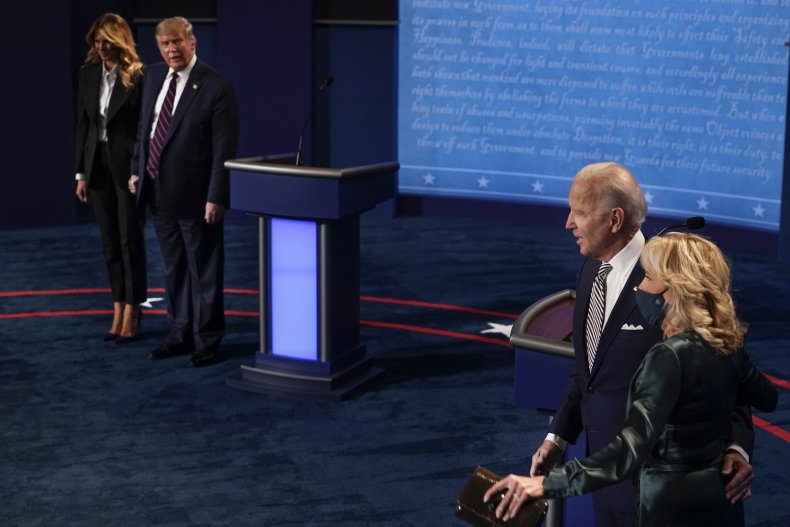 Jill Biden has made at least eight campaign appearances in the past week while Melania Trump pulled out of her first public campaign appearance since the August Republican National Convention on Tuesday.
This afternoon, Jill Biden joined her husband in Pennsylvania for mobilization events in Luzerne County and Bucks County. She sat down with the website Scary Mommy earlier this week to discuss the challenges facing military families and the Democratic nominee's vision on how to tackle them.
Jill Biden has also been heavily promoting Biden's campaign and encouraging people to vote on her Twitter account.
"10 days. Mask up. Go vote," she wrote on Saturday morning.
On October 22, she made an appeal to the parents of America.
"Over the last few months, I've heard from so many parents who say they don't know what to do. I get it. These are challenging times filled with unknowns," she wrote. "We always want to have the answers for our kids and grandchildren, but what can we do when we don't? To start, we vote."
While she's now hosting campaign events across the country in the final stretch of the race, Jill Biden began making public appearances alongside her husband since the start of the year amid the Democratic primary. In February, on the eve of the New Hampshire primary, she made headlines for pushing an advancing heckler away from Joe Biden at a campaign event.
On Thursday evening, Melania Trump made her first public appearance since her coronavirus diagnosis at the final presidential debate in Nashville, Tennessee. Donald Trump and the first lady announced on October 2 that they had both tested positive for COVID-19 shortly after Hope Hicks, one of the president's closest aides, became infected. Less than two weeks later, on October 12, Donald Trump was back on the campaign trail, enthusiastically telling supporters at a rally in Florida that he's feeling "great" and "powerful" after overcoming the virus.
The first lady was scheduled to make her in-person campaign trail debut at the president's rally in Erie, Pennsylvania on Tuesday evening, but she was forced to cancel her appearance as she still had symptoms. It would have marked the first time she attended a campaign event since the Republican National Convention in August, when she delivered remarks at the White House.
Melania Trump has largely used her Twitter account to keep Americans informed with her duties at the White House, rather than make the case for her husband's re-election campaign.
"On Sunday,@POTUS & I will safely welcome frontline workers, military families, schoolchildren & trick-or-treaters for the annual @WhiteHouse #Halloween celebration. We look forward to seeing all of you for this year's festivities!"," the first lady tweeted on Friday.
On Wednesday, she publicly supported the Trump administration's Putting America's First Peoples First, Forgotten No More plan, which honors the heritage of Native Americans through partnerships with the community.
"Proud to support the Putting America's First Peoples First, Forgotten No More plan prioritizing support for Native Americans," the first lady tweeted. "The President & I have worked to bring awareness to long-overlooked issues like Missing & Murdered Native Americans, child safety, & economic opportunity."
With 10 days left until November 3, Melania Trump's window to engage in a significant way is closing, and any lingering post-coronavirus symptoms will only make it harder for her to fight for votes.
Many modern first ladies have played a role in humanizing their spouses on the campaign trail. Melania Trump could also have some success in appealing to suburban white women, a voting bloc that has turned away from Donald Trump in some areas, including in parts of the key swing state Pennsylvania.
At a rally in Johnstown, Pennsylvania, on October 13, the president asked suburban women to "please like me" in an appeal for support, saying he "saved their damn neighborhood." Pollsters have indicated that the demographic could serve as the tipping point in a crucial state that the president won by one percentage point in 2016.
Newsweek reached out to the Trump and Biden campaigns and the White House for comment.