If Jill Biden Becomes First Lady, Her Time as Second Lady Offers Clues to Her Likely Priorities
Jill Biden gave an address to the Democratic National Convention (DNC) from the classroom where she once taught, a venue which offered a glimpse into what her focus might be if her husband Joe Biden wins the White House.
Speaking from Brandywine High School in Wilmington, Delaware, where she taught English from 1991 to 1993, Jill Biden opened her speech on Tuesday referring to the absence of pupils that the coronavirus had wrought.
"This quiet is heavy. You can hear the anxiety that echoes down empty hallways," Jill Biden said. She is no stranger to the sound of students as a lifelong educator who has a bachelor's and doctoral degrees from the University of Delaware. She also has master's degrees from West Chester University and Villanova University.
She taught English in public schools for 13 years, worked as a reading specialist, and taught at an adolescent psychiatric hospital, according to the New York Times.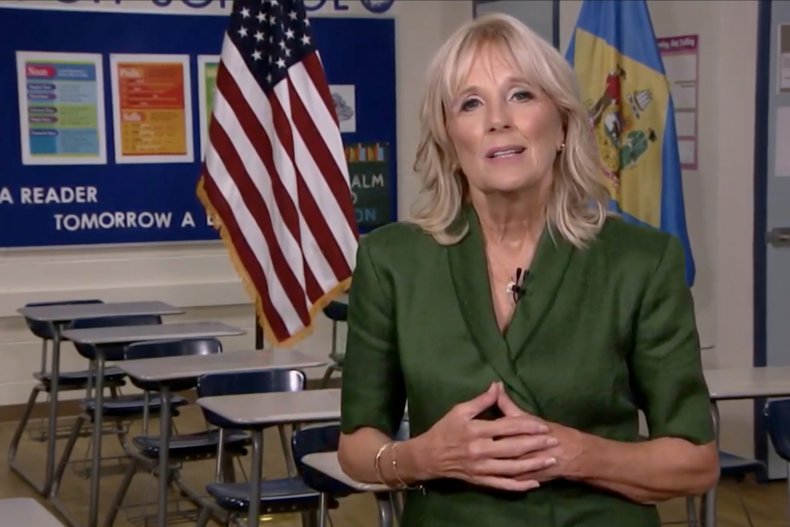 In an unusual move for a second lady, who usually does not practice their profession while their husband is in office, she kept her teaching job when her husband became vice president in 2009.
It is believed to be the first time a vice president's wife has held down a paying job, according to Joel Goldstein, a professor at St. Louis University School of Law and an expert on the vice presidency, who told the Los Angeles Times: "I think she is unique."
In May 2009, the then President Barack Obama put her in charge of an initiative to raise awareness about the value of community colleges, something that she had direct experience of as a teacher of English at Northern Virginia Community College (NOVA) where she was working at the time.
In February 2012, she helped promote links between community colleges and local businesses on a "Community College to Career" bus tour she undertook with the then Secretary of Labor Hilda Solis, as part of a policy goal to train two million workers with skills that will lead directly to jobs.
As first lady she is likely to continue her advocacy for making community college tuition free, which was a key plank of the former vice president's higher education policy during the primaries.
In a tweet on Tuesday, Jill Biden posted along with yearbook photos of herself at Brandywine: "Teaching is not what I do. It's who I am."
As well as education, she has also championed the plight of U.S. military families.
In April 2011 she founded with former first lady Michelle Obama the Joining Forces initiative, and during her second term she made a number of visits to the Center for the Intrepid rehabilitation facility for amputees.
Although her appearances on the Democratic campaign trail in 2012 were rare, she was considered a real asset for Barack Obama's re-election bid, with her real-world experience as a teacher, and the step-mother of an Iraq war veteran connecting with voters, Politico reported.
At the end of her address to the DNC on Tuesday, Joe Biden embraced his wife and asked people to "think of your favorite educator that gave you the confidence to believe in yourself," adding "that's the kind of first lady Jill Biden will be."