Jill Biden Fires Back After WSJ Op-Ed Tells Her 'Drop the Doc'
Jill Biden has called for the achievements of women to be celebrated and not diminished. Her comments came after a Wall Street Journal writer urged the first lady-elect to "drop the doc" from her name, sparking an online backlash.
In an op-ed published last week, the former English lecturer Joseph Epstein referred to Biden as "kiddo" and argued that her title sounded "fraudulent" and a "touch comic" as he took aim at the first lady-elect's doctorate in education.
"Your degree is, I believe, an Ed.D., a doctor of education, earned at the University of Delaware through a dissertation with the unpromising title 'Student Retention at the Community College Level: Meeting Students' Needs,'" Epstein wrote. "A wise man once said that no one should call himself 'Dr.' unless he has delivered a child."
Posting on social media on Sunday night, Biden appeared to hit back at the op-ed. She tweeted: "Together, we will build a world where the accomplishments of our daughters will be celebrated, rather than diminished."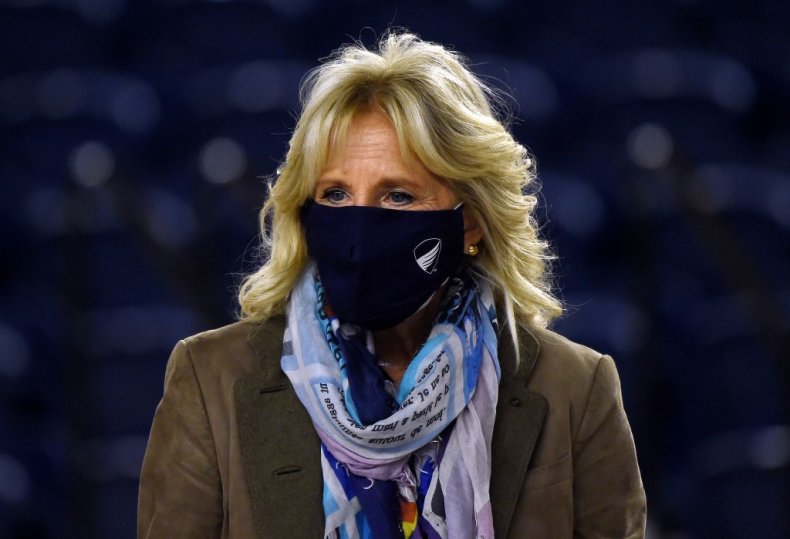 Over the weekend, the first lady-elect's spokesperson Michael LaRosa said the op-ed was "pretty gross" and shared several posts that dubbed the commentary "sexist" and outdated.
President-elect Joe Biden's communications director Kate Bedingfield also weighed in against the op-ed. She said: "What patronizing, sexist, elitist drivel. Dr. B earned a doctorate in education, so we call her Doctor. The title Mr. Epstein has earned here is perhaps not fit for mixed company."
Newsweek has contacted the Biden transition team for further comment and will update this article with any response.
A number of other top Democratic figures, including the former presidential candidate Hillary Clinton, also joined the online backlash against The Wall Street Journal opinion piece. "Her name is Dr. Jill Biden," Clinton tweeted last night. "Get used to it."
Northwestern University, Epstein's former employer, further added to the criticism of the op-ed author, calling his views "misogynistic" as the English department said he had cast "unmerited aspersion" on Dr. Biden's credentials.
The Wall Street Journal mounted a defense of the comment piece on Sunday night, and denounced the reaction from Biden's team as "Trumpian" behavior towards the press.
Editorial page editor Paul A. Gigot suggested that the reaction from the president-elect's circle was part of a strategy to "use the big gun of identity politics" to rebuke critics before they enter the Oval Office in the new year.
"Mrs. Biden is now America's most prominent doctorate holder and is taking a leading role in education policy," he added. "She can't be off-limits for commentary."