Jill Biden Laments Loss of Lindsey Graham as a 'Great' Friend: 'That's Been a Little Hurtful'
Jill Biden, the wife of Democratic presidential candidate Joe Biden, lamented that Republican Senator Lindsey Graham has turned against her family, saying he used to be a "great friend."
Biden, whose husband served as vice president under former President Barack Obama, made the remarks in an interview with CNN as her husband prepares to face voters Iowa along with the other Democratic presidential contenders. Her comments were in reference to Graham's criticism of her husband and son, Hunter, during the ongoing impeachment trial of President Donald Trump.
When asked if she counts the senator from South Carolina as a friend, Biden replied: "We did," suggesting her family no longer does.
"I don't know what happened to Lindsey," she said. "We used to be great friends, and friends with [the late Republican Senator] John McCain. I mean we traveled together with the foreign relations committee, we've had dinner, you know..."
"Now he's changed," Biden noted.
"It's hard when you consider somebody a friend and then they've said so many things, so many negative things," she continued. "That's been a little hurtful."
Newsweek has reached out to Graham for comment but had not received a response at the time of publication.
Trump's impeachment was due in part to his effort to pressure Ukraine to announce investigations into unfounded claims that Biden acted corruptly in the Eastern European nation during his tenure as vice president to benefit his son Hunter's business dealings there. The claim centers around Biden urging the Ukrainian government to fire the country's top prosecutor, who Trump and his supporters claim was investigating the company Burisma where Hunter Biden sat on the board.
But Biden's efforts to remove the prosecutor were widely supported within the U.S. government as well as among Western European nations, as the official was believed to be corrupt. Analysts have even suggested that Burisma was more likely to be thoroughly investigated due to the prosecutor's ouster. However, ethics experts have noted that it looked problematic for Hunter Biden to serve on the company's board while his father was spearheading U.S. anti-corruption efforts in the country.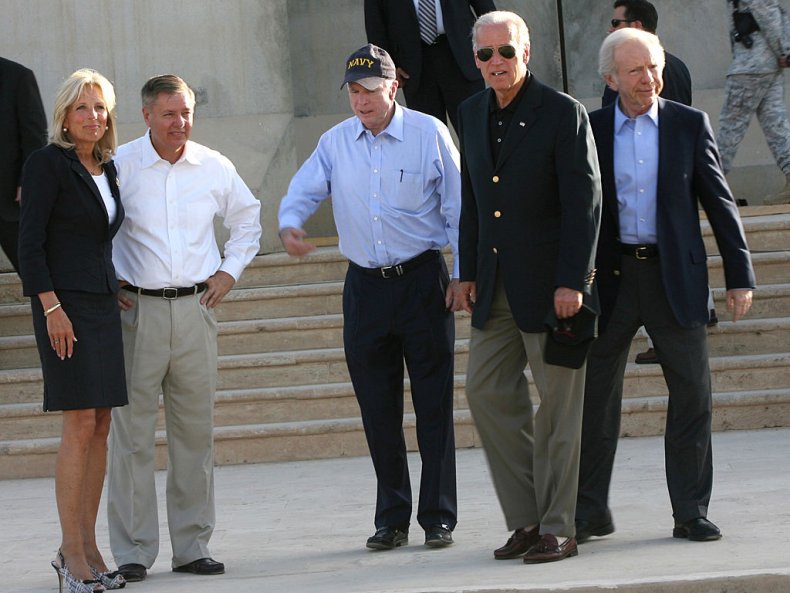 Trump and his supporters, including Graham, have repeatedly suggested that the Bidens are themselves corrupt, calling for an investigation.
"Joe Biden's effort to combat corruption in the Ukraine became a joke," Graham told Fox News on Sunday. He insisted that he "can prove beyond any doubt that Joe Biden's effort in the Ukraine to root out corruption was undercut because he let his son sit on the board of the most corrupt company in the Ukraine and we're not gonna give him a pass on that."
The former vice president pushed back against the criticism of his son in an interview with NBC News on Sunday.
"And no one's found anything wrong with his dealings with Ukraine, except they said it sets a bad image," Biden said.
Jill Biden also pushed back against the claims against her son during her CNN interview on Monday.
"Hunter has done nothing wrong," she said with laughter. "Why would Hunter be called? Donald Trump should be before that committee."