Jill Biden Protects Husband From Protesters, Lights Up Social Media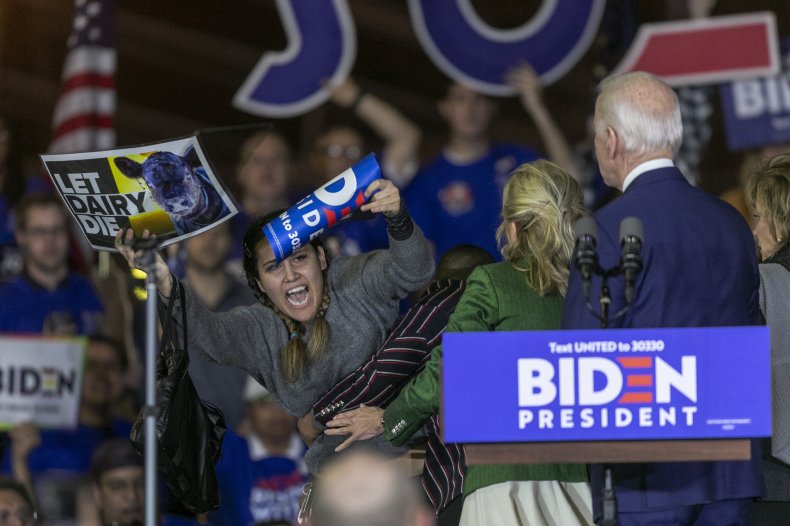 During a speech by Democratic presidential candidate Joe Biden on Super Tuesday, his wife, Jill Biden, acted like a Secret Service agent, shoving away a protester who came up on stage.
In the middle of his speech, Jill quickly moved between her husband and the protester who was on stage holding up a sign reading "Let Dairy Die." The protester was quickly escorted off the stage by a security guard.
Seconds later, a second protester appeared on stage with another Let Dairy Die sign, and she was quickly apprehended by Jill, who with the help of Symone Sanders, a Biden campaign senior adviser, grabbed and pushed the protester off the stage. Sanders later tweeted, "I broke a nail. #SuperTuesday."
In addition to holding the signs, the protesters were also yelling, "Let Dairy Die," which is a phrase associated with the animal rights group, Direct Action Everywhere.
Many people then took to Twitter to discuss the incident.
"Brains and brawn. Dr. Jill Biden defending her husband from a protestor makes me smile," wrote Twitter user Ariaa Jaeger, a writer for the Huffington Post.
"I don't care what your party is – Jill Biden won #SuperTuesday, period! Protect your own. Respect," Twitter user The Millennial Opinion wrote.
"Vote #JillBiden for secret service," Twitter user Khalls wrote.
"#JillBiden ladies and gentleman fighting off a protester in heels who rushed the stage. Don't mess with mama bear!" wrote Twitter user SAM6.
"Jill Biden dominates. Jill Biden is a warrior," comedian Amy Schumer wrote on her Instagram.
"This photo of Jill Biden is an image every little girl needs to see. You can be smart. You can wear a skirt. You can be tough. You can be fearless. You can be all of these things. You don't have to choose," Twitter user Loren Sztajer wrote.
"Who needs the Secret Service when you have #JillBiden!?" wrote Marc Malkin, editor for Variety.
Following the removal of the protesters, Jill Biden said, "We're OK," while Joe stated, "They don't call it Super Tuesday for nothing."
While social media erupted with support for Jill Biden, this is not the first time she has demonstrated her protective nature.
During a New Hampshire rally in February, a protester shouted and tried to approach the former vice president, but his wife got up from her chair with others to keep the protester away from her husband before the protestor was escorted out.
After last night's incident, Biden was asked by reporters about the situation she responded by saying, "I'm a good Philly girl."
Super Tuesday saw Biden win several states, including Virginia, North Carolina, Oklahoma, Massachusetts, Minnesota, Tennessee and Arkansas.