Jill Biden Insists Texas Is Winnable, As Trump Holds Single-Digit Lead
Jill Biden has insisted her husband, Democratic presidential candidate Joe Biden, can flip Texas, where President Donald Trump only holds a single-digit lead in recent polling.
"For the first time in a long time, winning Texas is possible," she said during a visit to Houston.
While attempting to rally the Democratic vote, she also suggested victory was not just achievable for her husband, but a possibility in other races in the state as well.
"Not only for Joe, but for the Senate and the State House as well, and if we win here in Texas, we are unstoppable," she said.
Her comments come with Trump leading in polling for Texas, but at a lesser margin than what he won the state by in 2016.
According to Real Clear Politics' poll tracker for the state, Trump is ahead by 4.4 percent across an average of polls at the time of writing, with 49.2 percent of support compared to Biden's 44.8 percent.
A Morning Consult poll put the race as tight as two points, with 49 percent for Trump and 47 percent for Biden. This is based on answers from 3,455 likely voters who were asked between October 2 and 11, with a margin of error of plus or minus 1.7 percent.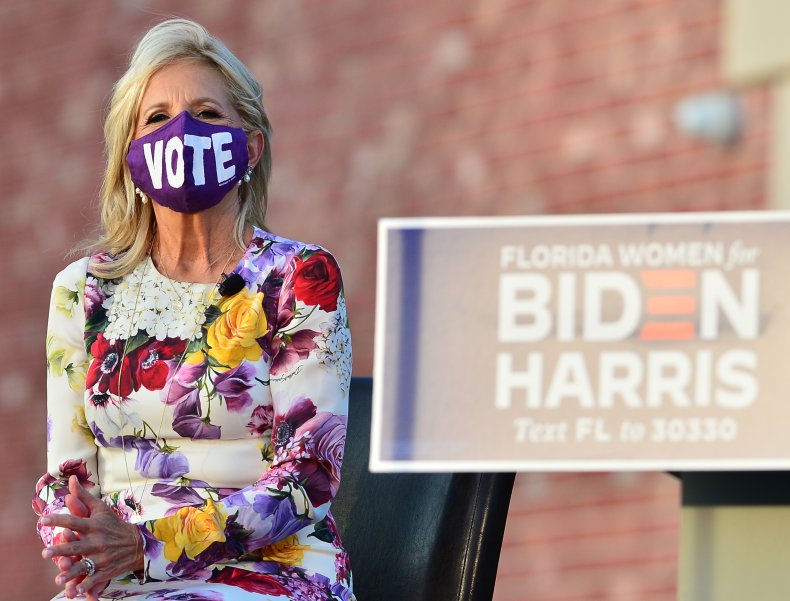 Trump won Texas in 2016 by 9 percent of the vote, receiving more than 800,000 more votes than then-Democratic presidential candidate Hillary Clinton, according to figures collated by The New York Times.
Texas has 38 Electoral College votes, which would make it a substantial coup for Biden if he were to flip it. The state has voted for the Republican candidate in every presidential election since 1980.
Jill Biden is not alone in sharing enthusiasm for turning the state blue, with several high-profile Texas Democrats having called for a push to do so. They have also urged presidential candidate Biden to visit the state himself.
Newsweek has contacted the Biden and Trump campaigns for comment on the state of play in Texas.
The speculation of Biden taking Texas comes with the Democrat leading in national polls. This has seen him tipped for a popular vote victory while he has also been forecast to win in the Electoral College.
Trump has however dismissed polling frequently, suggesting it is fake and that he is on course to win re-election.
Swing states will be highly focused upon as ever this time out, with Trump in 2016 having lost the popular vote but winning his place in the White House by securing unexpected victories in several states which Clinton would have hoped to win.
Polling has shown Biden lead in several battleground states.