Jill McCabe: Trump's Treatment of Fired FBI Deputy Director Husband 'Beyond Horrible'
Jill McCabe, wife of fired FBI deputy director Andrew McCabe, accused President Donald Trump of telling "destructive lies" about her family and said their treatment had been "beyond horrible".
Trump, whose presidential campaign is under investigation by the FBI amid suspicions of collusion with the Russian state, made repeated and public criticisms of Andrew McCabe.
The president has accused him of political bias in part because Jill McCabe ran as a Democrat for a Senate seat in Virginia in the November 2015 elections, a contest she lost.
"To have my personal reputation and integrity and those of my family attacked this way is beyond horrible," wrote Jill McCabe, an emergency room pediatrician, in an op-ed for the Washington Post.
"It feels awful every day. It keeps me up nights. I made the decision to run for office because I was trying to help people. Instead, it turned into something that was used to attack our family, my husband's career and the entire FBI."
Attorney General Jeff Sessions sacked McCabe from the FBI days before his 50th birthday when he would have become eligible for retirement with rights to a full pension after more than 21 years of service.
McCabe was accused of misleading internal investigators about his role in giving FBI officials permission to speak anonymously to the media about the bureau's investigation into government emails on Hillary Clinton's private server, which he was not authorized to do. McCabe denies the allegations.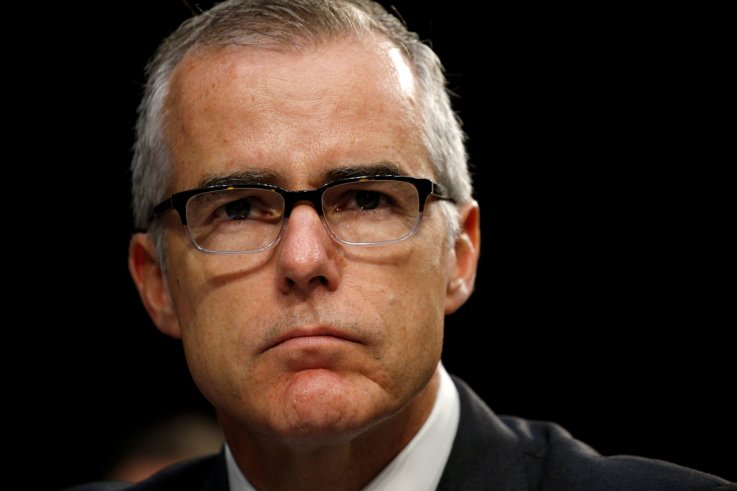 Trump claims there are Democrats in the FBI weakening investigations into their political allies and aggressively pursuing trumped up allegations about his own campaign's links to the Kremlin, which sought to undermine the U.S. election in 2016.
Andrew McCabe believes he is being singled out to send a message to the wider intelligence community and attack the independence of federal investigators as they look into the Trump campaign. Over 13,000 people have donated to a legal defense fund set up by McCabe, which has raised over $550,000 in under a week.
"I have spent countless hours trying to understand how the president and so many others can share such destructive lies about me," Jill McCabe wrote in the Post.
"Ultimately I believe it somehow never occurred to them that I could be a serious, independent-minded physician who wanted to run for office for legitimate reasons. They rapidly jumped to the conclusion that I must be corrupt, as part of what I believe to be an effort to vilify us to suit their needs."
Jill McCabe: Trump's Treatment of Fired FBI Deputy Director Husband 'Beyond Horrible' | U.S.