Jill Scott Sex Tape Rumor Sparks Pandemonium Online
A sex tape rumor sent Twitter into a frenzy this morning with singer Jill Scott at the center of the mix up.
The "Golden" singer became a trending topic on the platform late on Tuesday night as rumors over an alleged sex tape spread.
At the time of writing, no such X-rated video has been found and likely does not exist, but that didn't stop legions of Twitter users from trying to find it, sparking a wave of jokes and memes about the Grammy-winning singer.
"Jill Scott did what ??? my prayers have been answered," joked reporter Mello Styles.
While another joked: "If Jill Scott got a sextape ..... I'm calling out of work tomorrow."
"What's this bout Jill Scott? And most importantly where," reads another tweet.
Another tweet, with almost 8,000 likes reads: "Jill Scott sex tape? Somebody link me please."
"Aint no Jill Scott tape, mission failed smh," said another.
Many shared joked about people searching for the non-existent video, with one tweet reading: "The way we're all searching for this link among these tweets and finding a whole lotta nothing..."
"Bruh my thumb hurt from scrollin'. Where the damn link?" joked another.
In the end, the whole thing appeared to be a hoax, with some angry Twitter users slamming whoever started the rumor.
"Whoever started that Jill Scott rumor, count your days," one fan warned, while another added: "I was wondering how 2022 was going to kick off, my people lying about a Jill Scott $ex tape #jillscott."
Another frustrated fan condemned the rumors tweeting: "It's no Jill Scott sex tape that mf was lying. How you gone start a rumor like that ?! Report his account."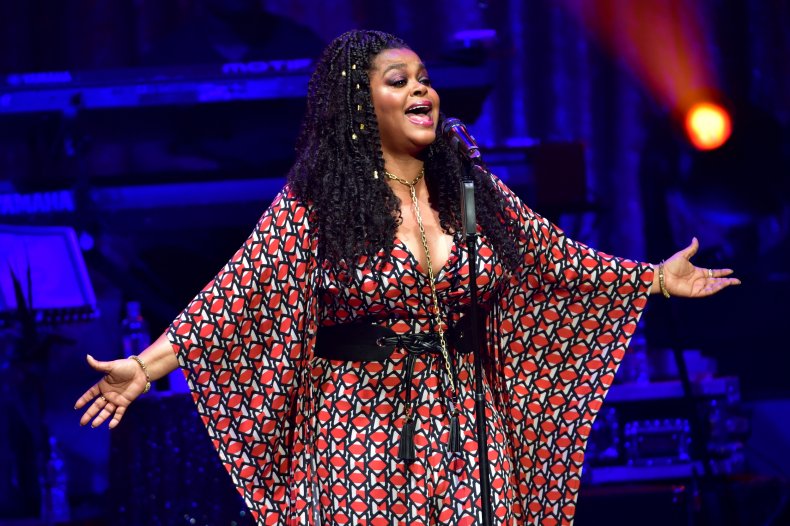 The 49-year-old singer recently revealed that she is considering moving from the U.S. for the safety of her 12-year-old son.
"It's terrifying because it doesn't matter if you have, or you don't," Scott said of raising her son in America's racial climate. "All that matters is that you're brown. That's it."
She explained on Jemele Hill's Unbothered podcast: "Just to know that he will be on the road, just to know that he will be away from people that love him in a world that will decide whether he's guilty of something because he's brown. That's terrifying. It makes me consider leaving this place often."
Scott added that she is considering The Netherlands as a place to move to.
"We like Holland. They chilling," she told Hill. "They have great healthcare, they ride their bikes everywhere ... people are pretty fit. They speak more than Dutch. Most people [...] speak three or four different languages. That's dope. It's below sea-level so, the food is well-hydrated."