Jim Acosta Tells Democrats to Think 'What Would Mitch Do?' Over Filibuster
CNN's Jim Acosta has urged Democrats to consider what Senate Minority Leader Mitch McConnell (R-KY) would do in their position when it comes to the filibuster.
In a segment on Saturday, Acosta said Democrats had been "outmaneuvered" by McConnell as he detailed how a "hard-right" Supreme Court appears poised to uphold a Mississippi abortion law that could gut or overturn Roe v. Wade, the landmark 1973 ruling that legalized abortion nationwide.
Acosta explained how an electoral college victory in 2016 had given former President Donald Trump the chance to put three conservative justices to the high court, despite losing the popular vote.
"Even though Americans have largely chosen Democrats for the presidency over the last three decades, a new, hard-right Supreme Court appears poised to turn back the clock to the 1970s," he said. "It's like Americans voted for The West Wing and instead got That Seventies Show."
Acosta went on to say that McConnell "has been plotting a dominant conservative majority on the Supreme Court for years."
He recalled how McConnell, then Senate Majority Leader, had blocked former president Barack Obama's Supreme Court pick, Merrick Garland, after the death of Antonin Scalia in February 2016, maintaining that a vacancy could not be filled during an election year.
But four years later, McConnell supported the confirmation of Amy Coney Barrett just days before the 2020 election.
Acosta also noted that another Trump-appointed justice, Brett Kavanaugh, had described Roe as "an important precedent" during his confirmation hearing, yet appeared to suggest he was inclined to uphold Mississippi's 15-week abortion ban during oral arguments earlier this week.
"The polls show that the majority of Americans oppose overturning Roe v. Wade," Acosta said. "If Roe is struck down or gutted, other states will likely outlaw abortion. Does anybody have a plan for how to enforce that? What can Democrats say at this point? Life's a Mitch, I guess?
"But the harsh reality is that Democrats have been outmaneuvered by Mitch McConnell. Now Democrats may be staring at the chessboard wondering what to do. What about the filibuster?"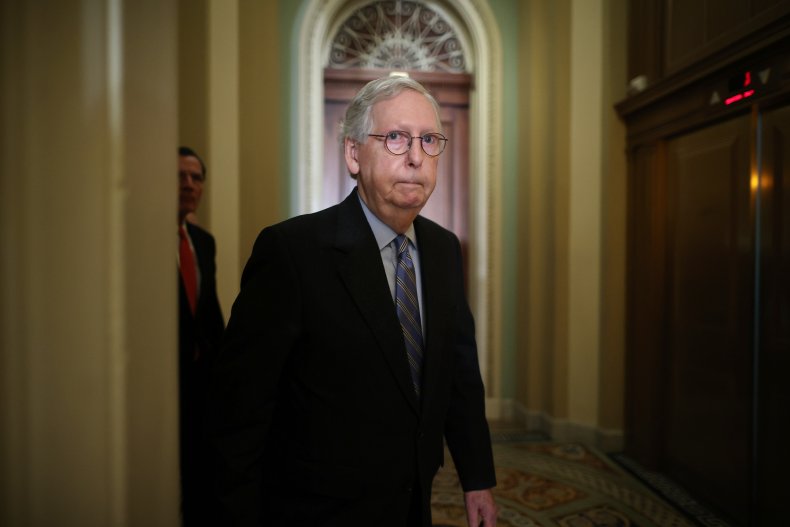 Acosta noted the filibuster is "preventing all kinds of legislation from passing in the Senate, from abortion rights to protecting America's elections to gun laws."
The anchor added that it should "come as no surprise" that Trump's appointees on the Supreme Court have "signaled they want to expand gun rights, not limit them."
"Democrats could think about it this way. If Mitch McConnell were in their shoes, what would he do? Given what we know, would we see him letting the filibuster stand?" Acosta continued.
"Is the filibuster more important than election rights and women's rights? Is it more important than the lives of our teenagers? Safety of our schools? Democrats could just ask themselves, what would Mitch do? Or they can just keep on thinking, life's a Mitch."
Acosta tweeted the segment and wrote: "If Democrats are trying to figure out how to respond to America's very conservative Supreme Court, they could look to the filibuster and ask themselves: "what would Mitch do?"
In its present form, the Senate filibuster requires at least 60 members of the Senate to vote to end debate on many matters before moving to another vote.
Some Democrats have pushed for it to be abolished, though there is a split over this suggestion. It is controversial as it effectively means a party needs to hold a supermajority in the upper chamber to pass measures, if a minority of at least 41 senators opposes them.
McConnell's office has been contacted for comment.