Video of Jim Acosta Confronting Marjorie Taylor Greene Viewed Over 1M Times
An argument between Georgia representative Marjorie Taylor Greene and CNN's Jim Acosta has gone viral on social media.
The clip has been viewed over 1 million times on Twitter and was shared by Greene as well as other Twitter users on Thursday.
"I am repulsed that people gladly take a paycheck to lie and mischaracterize me like this guy, Jim Acosta," Greene wrote as a caption.
"I want to think good things about the press, but they behave like this and it makes me sick to my stomach."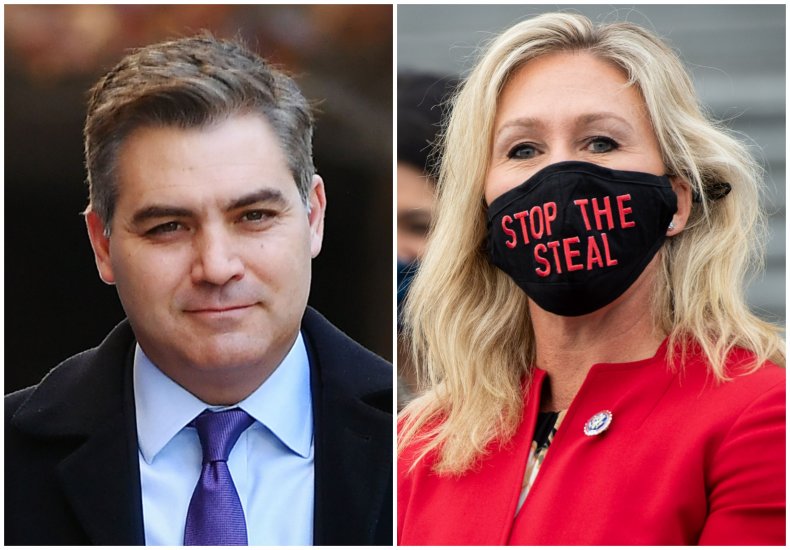 In the clip, Acosta walked alongside Greene and questioned her recent comments where she said that she could not recall sending texts advocating martial law.
During an administrative hearing on 22 April, Greene was pressed on her previous remarks and social media posts by lawyers arguing she fomented the insurrection and should be barred from the ballot. Throughout the hearing Greene said she couldn't recall making certain statements.
"We're just trying to get some answers," Acosta said as he continued to question Greene.
He then asks Greene about a January 2021 text, recently revealed by CNN, where she suggests to then-White House Chief of Staff Mark Meadows that President Donald Trump use martial law to stay in power.
"You know, I don't recall those being my text messages," Greene responded. "But have you read the text message that you're referring to?"
Acosta says he has, pointing out that Greene misspelled "martial." Greene accused Acosta of lying and demands he read the message. Acosta pulled out his phone and began reading from it.
After he read the texts, Greene again said she did not know if the message were hers but stated that the text also said "I don't know on those things" as a way to defend the person who sent the texts.
After the video went viral Act for America founder Brigitte Gabriel criticized Acosta and said he should lose his job.
"CNN should fire Jim Acosta. Stalking and harassing a Member of Congress is not journalism," she tweeted.
Gabriel also tweeted a story on the pair's argument and said "Jim Acosta is fake news, good for Congresswoman Marjorie Taylor Greene."
However, other Twitter users defended Acosta and claimed he was doing his job and behaved reasonably.
"Yes. It's amazing that Marjorie Taylor Greene has the nerve to be defensive when Jim Acosta is being perfectly reasonable and accuse Acosta of being a liar without providing any proof whatsoever. Deflect, deflect, deflect. The evidence is there. She sent that text," former Democratic Party U.S. Senate Utah candidate Allen Glines tweeted.
"You're an elected public official. Getting asked about your actions and statements by the press is part of the job," journalist Steve Mullis tweeted.
Another video involving Greene went viral on Thursday. Representative Jamie Raskin made an speech on the House Floor criticizing Greene for her comments regarding the war in Ukraine and NATO.
"She talks about NATO Nazis. Does the minority believe that our allies in NATO, who are trying to defend the people of Ukraine are Nazis? Has it come to this?" Raskin said on Thursday.
"She said the aid that the taxpayers of America are sending to the people of Ukraine to defend themselves against Vladimir Putin and the Russian army falls into the hands of Nazis. I want to see her proof. Where's her evidence?" the Maryland Democrat asked.
The video has been viewed over 960,000 times on Twitter, with other Twitter pages also sharing his speech. Raskin also made reference to the controversies surrounding Greene and the storming of the Capitol.
"The gentlelady talked about a massive invasion. We had a massive invasion of our own chamber and she continued to be a cheerleader for the insurrection and deny what happened here," Raskin said as he closed his speech.
Newsweek has contacted Marjorie Taylor Greene for comment.