CNN's Jim Acosta called out Fox News in a segment on Sunday, saying the network's viewers must have "whiplash" over its mixed messaging about the coronavirus vaccine.
"If you're watching COVID coverage on Fox News these days you may have come down with a case of whiplash," Acosta said in a segment on CNN Newsroom. "Some anchors like Tucker Carlson are spreading anti-vax hysteria, while others like Sean Hannity are finally dealing with the reality that vaccines are saving lives."
He played a clip from earlier this week where Hannity told viewers to "please take COVID seriously" and "I believe in the science of vaccination."
Acosta added: "That's great, except Hannity walked back those comments a few days later, saying he never told anyone to get a vaccine."
He then played a clip of Fox & Friends host Brian Kilmeade comparing the decision to get vaccinated to cliff diving.
Acosta took umbrage at the analogy, saying: "If you cliff dive and you die, you die. Just you. You don't take out the rest of your family. Here's where that analogy is a big belly flop."
Acosta went on, noting that many of the spikes in COVID cases around the country are in places with low vaccination rates. "Nearly all the patients who are being hospitalized with COVID right now are unvaccinated," he said.
"That's right. People who had access to the vaccines, but didn't get the shot, are getting sick. And many of them are now dying.
"A large number of those Americans reside in Trump-leaning states, that's the reality, where people choose to get their information from outlets like Fox News, the same network that has been peddling lies about COVID for months while demonizing this nation's top scientists."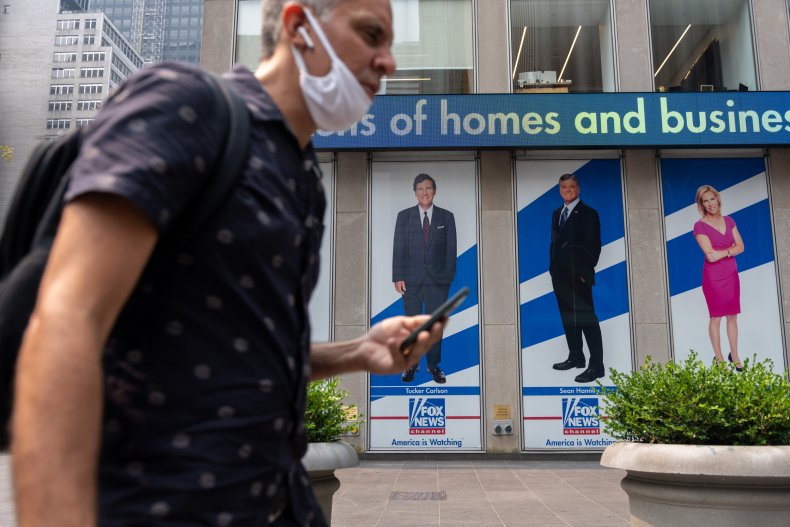 Acosta added that Fox News' issue with Dr. Anthony Fauci, may be due to his tendency to call out misinformation.
"We probably would still have smallpox and we probably would still have polio in this country if we had the kind of false information that's being spread now," Fauci told CNN last week.
Acosta continued: "The misinformation surrounding the vaccine is just plain nutty, considering the fact that the former president [Donald Trump] has been taking credit for the development of these life-saving injections for months, and Trump has been doing that on... wait for it... on Fox."
After playing a clip of Trump touting vaccines, Acosta added: "You think that after hearing that, Trump supporters would be lining up for their shots, which begs the question why not make Trump the vaccine salesman-in-chief?"
But he suggested that the White House is perhaps hesitant to ask Trump to promote vaccines because he "can't be trusted to stay on message, to say the least."
Acosta concluded: "Here's a thought. Don't wait for Fox to get its story straight to save yourself or your family. Fox and Friends is not going to become Vax and Friends. Folks, I got news for you. The lies are not going to save you. The truth will."
Asked to comment on Acosta's segment, a Fox News spokesperson directed Newsweek to examples of the network's personalities promoting the COVID vaccine since January. They included Steve Doocy on July 19 imploring Fox and Friends viewers to get inoculated and Trump recommending the vaccine during an appearance on March 16.
Update 7/26, 3.11 a.m. ET: This article has been updated with comment from Fox News.