Jim Acosta Says WH Officials First Heard About Trump Accepting Transition on CNN
CNN's Jim Acosta said that White House officials were "surprised" by the issuing of the General Services Administration (GSA) letter ascertaining that President-elect Joe Biden had won the election and had first learned of it while watching the cable news network.
Acosta, CNN's chief White House correspondent, made the remarks during a Monday night broadcast with host Wolf Blitzer, shortly after the letter was issued. He cited an unnamed White House official who said that staff had not been aware of the letter or President Donald Trump's apparent approval of the transition moving forward before watching the channel's reporting.
"I just spoke with a senior White House official in the last couple of minutes who said that this news came as a surprise to some inside the building," Acosta said. "They are learning this for the first time on CNN. While this official said obviously there are staffers, like this person, who will be cooperating with the Biden team, this person couldn't speak for everybody."
Newsweek reached out to the White House for comment.
GSA administrator Emily Murphy, a Trump appointee, issued the "letter of ascertainment" declaring that Biden was the "apparent president-elect" earlier on Monday, after weeks of delays amid President Donald Trump's evidence-free claims of election fraud.
The delay in issuing the letter, normally a formality allowing the transition process between outgoing and incoming presidential administrations to begin, was highly unusual and had become one of several contentious issues as Trump continued to dispute Biden's victory weeks after the election.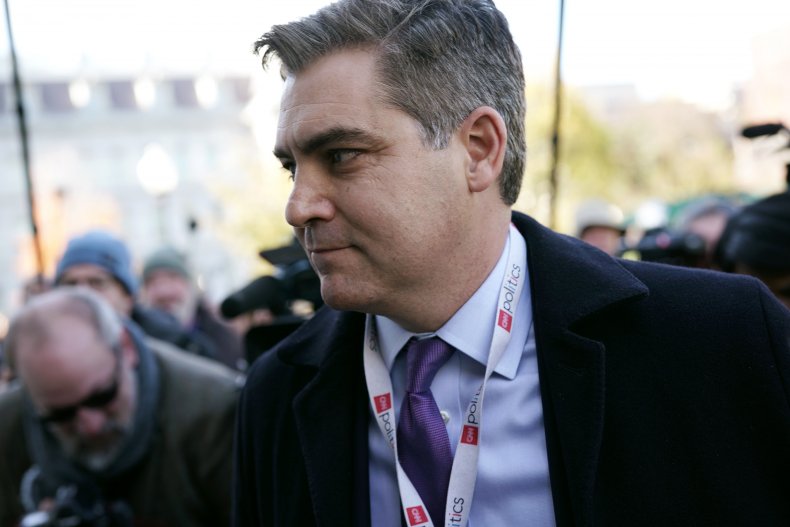 A growing number of Republicans had called for the letter to be issued in recent days, expressing concerns that further delays could result in serious consequences including potential damage to national security.
Although Murphy insisted that she timed her letter "independently" and had not been pressured by the Trump administration, it is not clear whether there had been any discussions between Murphy and the president or other White House officials before her decision was made.
Trump appeared to take credit for the letter shortly after news broke that it had been issued, claiming he recommended the move in "best interest" of the country and because Murphy had been "abused," while continuing to maintain that he would "prevail" despite the letter's implications.
"I want to thank Emily Murphy at GSA for her steadfast dedication and loyalty to our Country," Trump tweeted. "She has been harassed, threatened, and abused – and I do not want to see this happen to her, her family, or employees of GSA. Our case STRONGLY continues, we will keep up the good fight, and I believe we will prevail!"
"Nevertheless, in the best interest of our Country, I am recommending that Emily and her team do what needs to be done with regard to initial protocols, and have told my team to do the same," he continued.
Newsweek reached out to the White House for comment.