Jim Beam American Stillhouse on Airbnb: Location, Price and How to Get a Reservation
Jim Beam's American Stillhouse home is now open for overnight guests and will soon be available on Airbnb.
The listing will go live on October 21 and will be available for one night stays on select dates. One night will cost just $23, which is the same price as one bottle of premium, extra-aged Jim Beam Black bourbon.
The Clermont, Kentucky house was built in 1919, making it 100 years old, and it was originally purchased for the water rights on the land. It overlooks Everback Lake on the Jim Beam American Stillhouse grounds, has three bedrooms that sleep up to six people and two and a half bathrooms.
It comes equipped with a fully-stocked bar filled with premium Jim Beam bourbons, a fireplace, cowboy cauldrons in the backyard and fishing docks nearby.
Guest of the Jim Beam home on Airbnb will get to explore the Jim Beam American Stillhouse distillery grounds and enjoy a distillery tour and tasting.
The Stillhouse was built in 2012 as a replica of a 1930s distillery. It demonstrates the entire bourbon-making process, with in-depth guided tours and a Jim Beam store. Plus, there's a bourbon bar serving seasonal cocktails, and Fred's Smokehouse, which serves bourbon BBQ selections.
It's sure to sell out pretty quickly so be prepared to book as soon as possible. Please note that guests must be aged 21 and over. Check out photos of the home on the Jim Beam home Airbnb listing.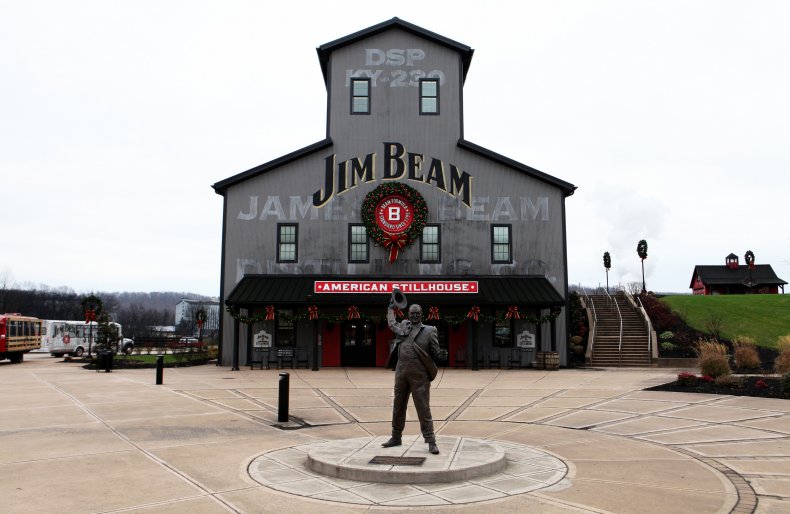 Who is Jim Beam?
Jim Beam's history dates back to 1740 when the Boehm family first arrived in America. Forty-eight years later, the family had Americanized their name and moved to central Kentucky.
In the late 1700s, German, Irish and Scottish settlers were making rye whiskey. Government incentives encouraged settlers to move West and grow corn, and farmers began distilling excess corn into a new kind of whiskey. Jacob Beam was one of them, and he used his father's recipe to do it.
He sold his first barrel—then named Old Jake Beam Sour Mash—in 1795, and it became a favorite—which is impressive considering Kentucky was home to more than 2,000 distilleries at that time. The Jim Beam brand was born and has now been made for more than 200 years using a secret family recipe.
What is the difference between bourbon and whiskey?
While all bourbon is whiskey, not all whiskey is bourbon, and according to Jim Beam, this is what makes bourbon unique:
1. Made in United States of America (not just Kentucky)
2. Product from a fermented mash of 51 percent corn at least.
3. Distilled at no more than 160 proof
4. Stored at no more than 125 proof in new, charred oak barrels.
5. Aged for a minimum two years.
6. Free from additives