Jim Carrey Calls Jada Pinkett Smith a 'Tough Girl,' Defends Will Smith
Jim Carrey has called Jada Pinkett Smith a "tough girl" and defended Will Smith in a u-turn from the comments of condemnation he made against the actor earlier this week.
The comedy legend faced backlash when he hit out at Will Smith for slapping Chris Rock at the Oscars on Sunday night, which prompted internet users to resurface footage of Carrey himself acting inappropriately at an awards show in 1997.
"I was sickened, I was sickened by the standing ovation," Carrey said on CBS Mornings earlier this week. "I felt like Hollywood is just spineless en masse and it really felt like this is a really clear indication that we're not the cool club anymore."
Now the comedian has expressed sympathy for Smith and bemoaned the pressures of being a public figure and conceded that such pressure is what led to Smith acting that way.
"I see it as a larger issue, and it's an issue of the boundaries being broken—boundaries and allowances and permissiveness to certain behaviors," Carrey told The Associated Press.
"The fact is that license is being given to people to act out violently when they don't like what they hear. And it just shouldn't be."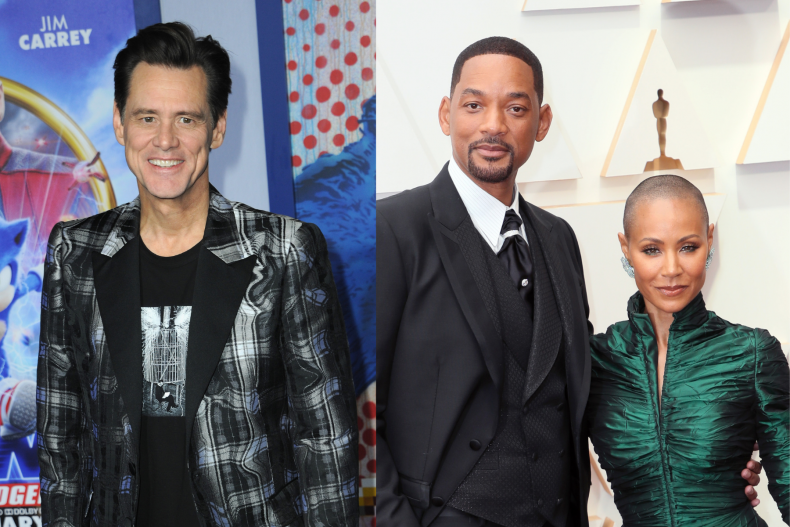 The 60-year-old reflected on the pressure Smith, and himself, are under and addressed the weight of expectation that comes with being a Hollywood movie star.
"I also think that people not unlike Will, or myself, we live in a lot of pressure. We set up a lot of pressure for ourselves, [and] we're encouraged by this country to never stop and never be satisfied and never look at our lives and going, 'You know what? I'm enough. I have enough. I've done enough. I don't need nine businesses," Carrey said.
"I don't need to be a movie producer, director, writer, actor, star and have a record company, and be on TikTok, and be on social media, and have a reality show and share my innermost life on some therapy show."
Carrey continued: "It's beyond our bandwidth. And we're starting to see the symptoms of what it's like to be living beyond your bandwidth and cracking under the pressure.
"It was more than just an insult to someone's wife."
Smith slapped Chris Rock over a joke made at the expense of Jada Pinkett Smith's shaved head—the actress has been open about her experience with the condition alopecia, which causes hair loss.
However, Carrey said that Pinkett Smith is well-able to defend herself from such jibes.
"Jada's a tough girl. She can defend herself. She wasn't being physically attacked. What that was was someone who was beyond the bandwidth, and he thought more about how he was looking in that moment than what was the right thing to do."
The Truman Show star concluded to the outlet: "I don't condemn [Smith] for it. It's just wrong."
Carrey also revealed this week that he is "probably" going to give up acting in favor of a quiet life.