Jim Carrey Cartoon Sends Facebook's Mark Zuckerberg A Binary Code Message: 'F*** You'
Actor-turned-artist Jim Carrey's latest cartoon drawing takes aim at Facebook founder and CEO Mark Zuckerberg in the wake of the latest report blasting the social media giant for suppressing criticism, facilitating anti-Semitism and botching political bias controversies.
Carrey, who called for all users to delete their Facebook accounts in February, drew a self-portrait and gave embattled CEO Zuckerberg "a little message" in binary code. When translated into human English, the message reads, "F*** You." Carrey's Wednesday tweet contains a link to the latest New York Times report ridiculing the Silicon Valley giant's efforts to "Delay, Deny and Deflect" through several controversies over the past three years.
Both Zuckerberg and Facebook Chief Operating Officer Sheryl Sandberg are characterized as incompetent and vindictive in the face of scandal.
"Hey #Zuckerborg. We know who you are. And we saw what you did," Carrey tweeted Wednesday evening. "Here's a little message from me in your native language: 01000110 01110101 01100011 01101011 00100000 01111001 01101111 01110101 00101110 00100000 00001101 00001010."
The comedian and actor who rose to fame with 1990s comedy classics such as Ace Ventura: Pet Detective and Dumb and Dumber has posted drawings for several years now which frequently target right-wing political figures. President Donald Trump and members of his cabinet are routinely drawn as vile, corrupt characters coupled with sassy or hopeful commentary sent from Carrey to his more than 18 million Twitter followers and fans.
At the New Yorker festival last month, Carrey explained how he sought to grow his artistic abilities outside of just being a "great" actor or comedian. He expressed joy at his newfound love for creating the witty, frequently politically-tinged cartoons.
"The last few years have been laced with challenges and explosions of creativity that have created tributaries that I have no idea where they're going—in every direction! The painting, the sculpting, the drawing…"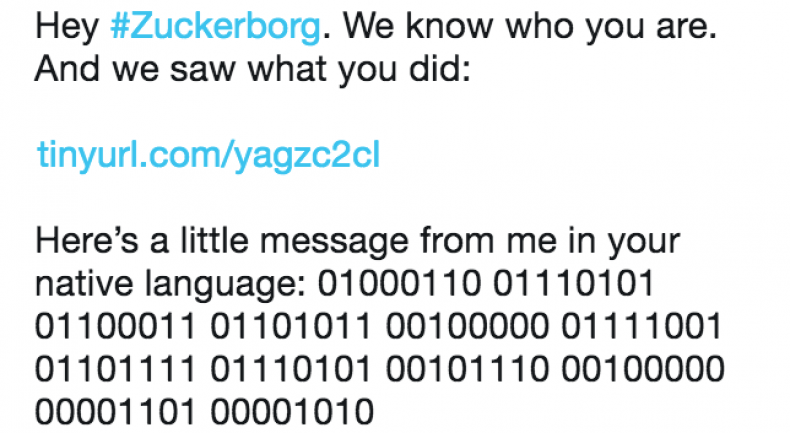 "Zuckerborg" received the Carrey cartoon treatment Wednesday, with his drawing appearing to show him staring down the Facebook founder as he conveys the "F*** You" binary code message. Several responses attempted to figure out how to translate the "0" and "1" coding because Google's human translation function was not working.
Many users responding on the competing social media platform posted popular gifs and memes showing Zuckerberg's seemingly robotic presence versus that of a human. Others accused Zuckerberg and Facebook of "treason" for their connection to Russian meddling in the 2016 presidential election.