Jim Carrey Responds To Sen. Ted Cruz's Criticism With Another Cartoon: 'Hypocrisy Is The New American Dream'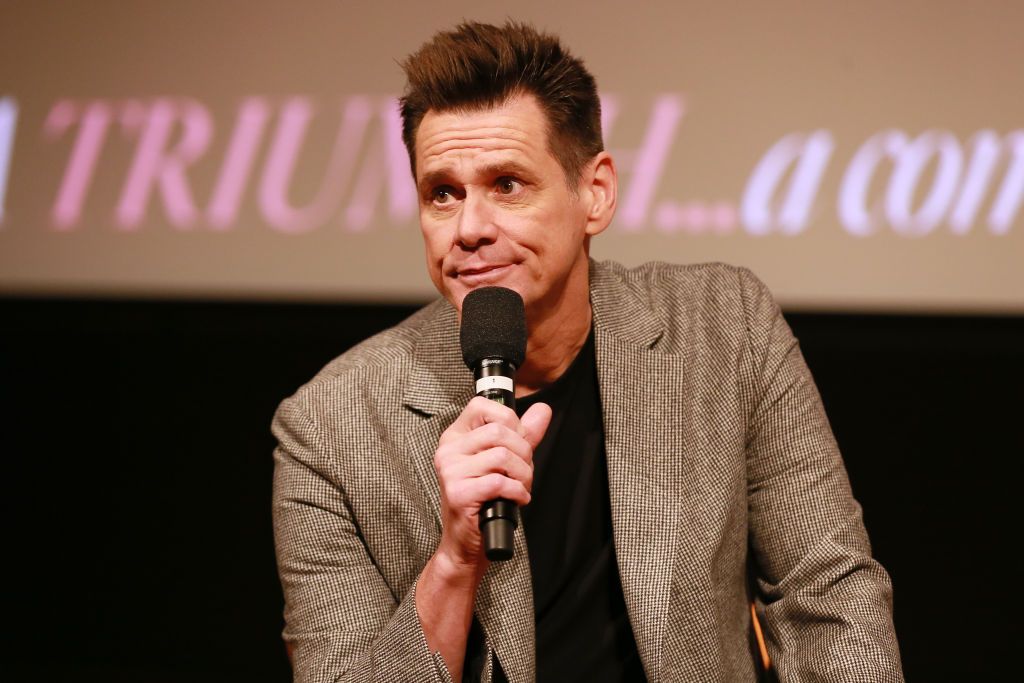 Actor and artist Jim Carrey fired back at Texas Sen. Ted Cruz on Tuesday, just over 24 hours after the Republican slammed one of Carrey's paintings about abortion.
The dispute began on Saturday when Carrey posted a painting of Alabama Governor Kay Ivey, depicting her as the subject of an abortion. When he shared the work to Twitter, Carrey included a caption which read, "I think If you're going to terminate a pregnancy, it should be done sometime before the fetus becomes Governor of Alabama."
The cartoon drew outrage from some in the Republican party, while others insisted that Carrey's intention with the piece had backfired because its graphic nature depicted what happens during the procedure and could make some pro-choice activists rethink their stance.
In response to the cartoon, Cruz retweeted the drawing and captioned it with his thoughts on Monday, saying, "This is not OK. Today's Left: vicious, angry & consumed by hate. Instead of insults & dehumanizing rage, we should return to civility. I disagree w/ Carrey's politics, but believe we should respect his humanity nonetheless. I wish he could reciprocate. #LoveIsStrongerThanHate."
Cruz's tweet generated nearly 5,000 retweets and over 19,000 likes, while Carrey's initial tweet had over 24,000 retweets and almost 116,000 likes.
On Tuesday evening, Carrey tweeted his most recent work without a caption. The painting is of Cruz and includes the following message written across the senator's portrait, "Some greasy Joe McCarthy wanna-be, who is shameless and will remain nameless, was lecturing me in the press about morality and civility after spending years in the Senate defending the rights of mass murderers to own AR-15s with which they massacre innocent children in their classrooms."
"I thought I must be dreaming, but I haven't woken up yet. I guess this hypocrisy is the new American Dream," Carey added.
"Gee...I hope the loss of women's rights, our enslavement by the drug companies and the unnecessary war in Iran won't disturb anyone's slumber," he added at the bottom of the painting.
Cruz has long been a supporter of the Second Amendment and worked to block several bills that would have instated additional bans on assault weapons.
"It's tiresome. Every time you see a horrific crime, people in the media and Democratic politicians immediately try to leap on it to advance their agenda. And their agenda is stripping the rights away from law-abiding citizens," Cruz told Conservative Political Action Conference (CPAC) attendees in 2018 about the effort undertaken by California Sen. Diane Feinstein to ban AR-15s following mass shootings in Las Vegas, Sutherland Springs, Texas and Parkland, Florida.
Cruz has an A+ rating from the National Rifle Association and, according to Texas Monthly, received $9,000 in campaign contributions from the organization.
Carrey, who most people know for playing off-the-wall characters such as Ace Ventura, told Vulture that he took to being an activist when he signed up for a Twitter account. "I just got myself in trouble all the time because I was honest, which is a terrible thing to be on Twitter. I became kind of an activist when it comes to a lot of things that I was seeing. There was a lot of pressure from my management: 'Don't mess this up. You've got goodwill in the world. People love you. You start talking about politics or whatever issues, you're gonna lose half your audience.' I say: lose them."
Carrey began painting and drawing in 2010 after he split with actress Jenny McCarthy. He began sharing his political cartoons on Twitter in 2016.