Jim Carrey Says His 'Ugly' Sarah Huckabee Sanders Picture Captured Her Essence
Jim Carrey has defended a cartoon he drew of White House press secretary Sarah Huckabee Sanders, claiming he drew her "ugly" essence.
The actor and comedian has created a series of sketches and paintings recently, mocking President Donald Trump and other figures in the administration, but Carrey is facing particular criticism for his picture of Huckabee Sanders after people claimed he made her look ugly.
"This is the portrait of a so-called Christian whose only purpose in life is to lie for the wicked. Monstrous!" Carrey wrote back in March when he shared the picture, which featured a close-up of the press secretary's face.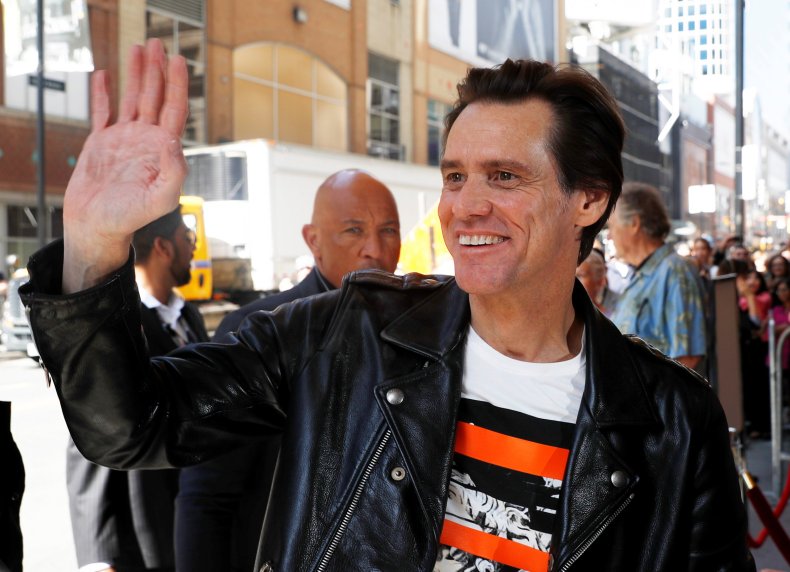 "When I did the Sarah Huckabee Sanders, everybody came out and said, 'The horrendousness. The ugliness,'" Carrey explained during a panel with the Television Critics Association press tour on Monday, where he was promoting his new Showtime series Kidding.
"I didn't say ugly. I didn't say anything. I drew her essence," the comedian added. "To me, ugly is an inside job."
Carrey's drawings, which he described as cathartic, have garnered some serious attention. They are complete with cutting captions that allow him to vent the frustration he clearly feels with the state of the nation.
"It's my reflex to what I'm seeing I don't like," the Daily Beast reported Carrey saying at the panel. "It's just a civilized way of dealing with it, I think. To express it and to kind of get on board with as many voices other as possible that are shouting from the rooftops."
"I have to alchemize it into something that is at least creative and decent. Even if it's crass at times, it's the crass that I'm expressing that everyone wants to express but can't necessarily do so in their own lives," he added. "So when I stick a flag in Trump's ass it's because that's what everyone is seeing. They're seeing him owned, and I have to express that. And sometimes that's the most crass way that I can express it because I'm done with it."
Among the drawings that received a lot of attention was Carrey's depiction of the president, nipple out, eating ice cream.
"Dear Smithsonian National Portrait Gallery @ NPG, I know it's early but I'd like to submit this as the official portrait of our 45th President, Donald J. Trump. It's called, 'You Scream. I Scream. Will We Ever Stop Screaming?'" Carrey captioned the image.