Jim Carrey Will Play Sonic the Hedgehog's Nemesis, Doctor Robotnik
Allrighty then.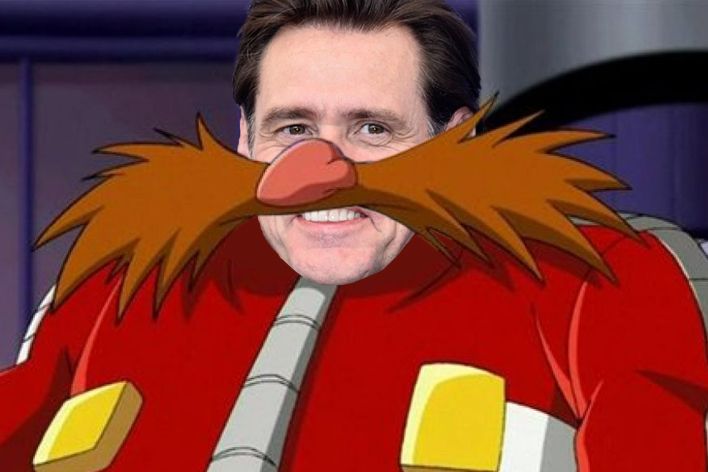 In what might be the most ambitious 1991-themed crossover event in history, Sonic the Hedgehog will take on In Living Color's Fire Marshall Bill. On Friday, Deadline reported Jim Carrey has signed on to play the nefarious baddie Doctor Robotnik in an upcoming live-action/CGI adaptation of the classic Sega franchise.
Carrey joins stars James Marsden (Westworld, Saved by the Bell: The New Class) and Tika Sumpter (Ride Along, Southside with You). The film will be directed by Jeff Fowler and produced by Neal Moritz, Mie Onishi and Tim Miller.
Every 90s platformer worth its salt boasts a power-hungry baddie looking to take over the world, and Robotnik certainly fits the bill. According to a breathtakingly comprehensive entry on the Sonic News Network wiki, Robotnik was known as Dr. Eggman to Japanese audiences, and the name was adopted in some later Sonic releases in the West as well. In the last 27 years, he's attempted to take over the world dozens of times, fueled mostly by delusional narcissism. Despite his formidable IQ and rotund physique, the doctor is prone to dramatic, flailing temper tantrums, particularly when Sonic reclaims purloined power gems or bounces his doomsday devices into oblivion. He has a spiky orange mustache that appears to explode directly from the sides of his nostrils, leaving his upper lip strangely uncovered. He often wears pince-nez glasses and enjoys bombing things.
While it's easy to imagine Carrey chewing the scenery in some sort of hover-capsule, it's a bit trickier to imagine what kind of story the filmmakers have up their sleeves for the Blue Blur. Earlier this month, during a Q&A session at the 10th annual PGA Produced By conference, Paramount chairman and CEO Jim Gianopulos offered some hints about the premise of the upcoming Sonic movie: "He's a juvenile delinquent on the adventures in a pretty straight rural environment with a local policeman. It was instantly engaging and it was good enough where you could see where it's going."
Sonic the Hedgehog comes to theaters Nov. 15, 2019.
What do you think of the upcoming Sonic movie? Will you advocate for a general strike if the film does not include Miles ("Tails") Prower? Let us know your thoughts in the comments.