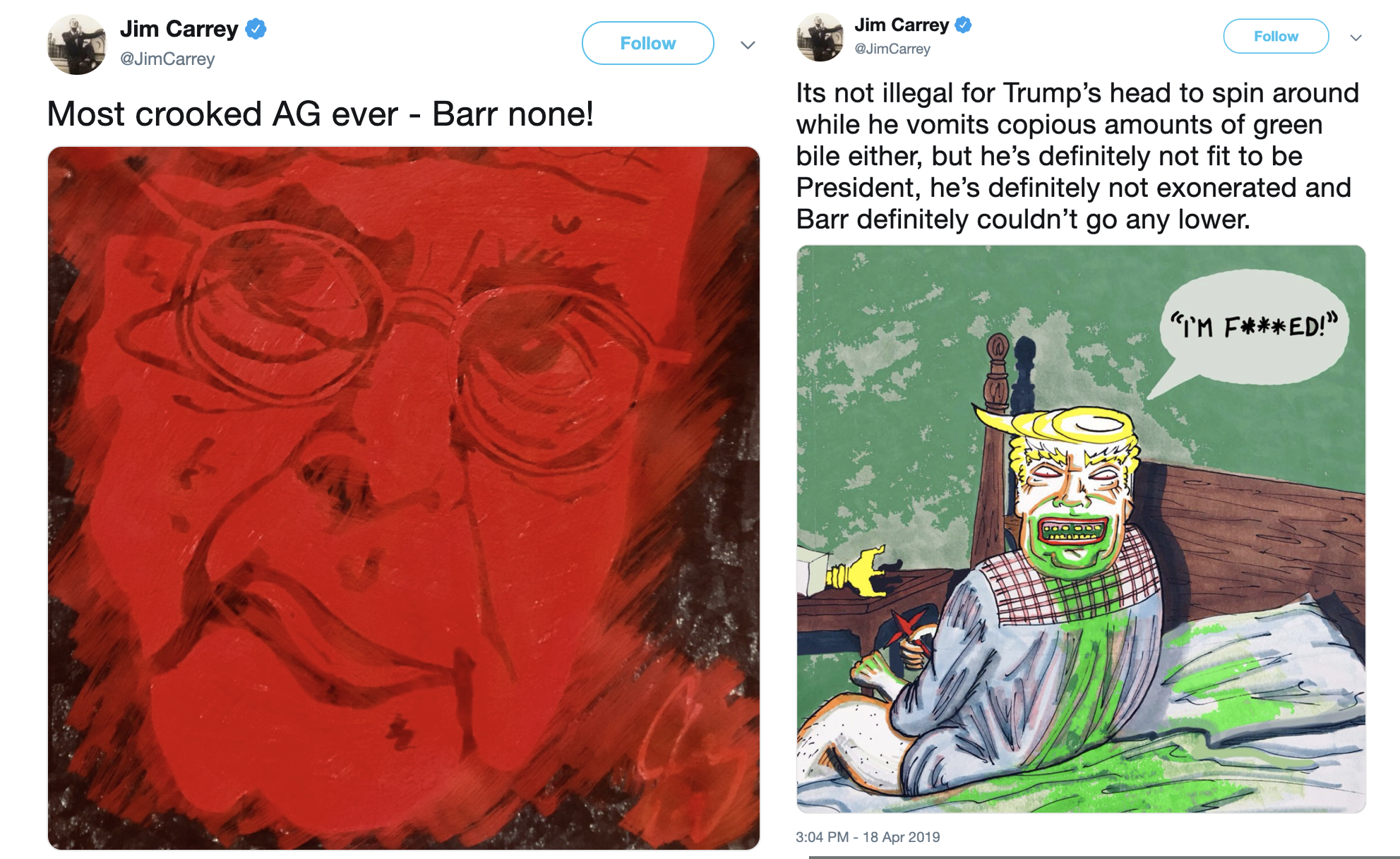 While political watchdogs spent Thursday and Friday dissecting every line of Special Counsel Robert Mueller's 448-page report on Russian election meddling, actor Jim Carrey responded to the news on canvas, painting new portraits that riffed on two key players: President Donald Trump and Attorney General William Barr.
The first painting, unveiled hours after Mueller's redacted documents became available Thursday, likened Trump to Regan MacNeil, the possessed young woman played by Linda Blair in the 1973 horror classic The Exorcist.
It was, to be sure, an extremely unflattering depiction.
Carrey's Trump has rotten teeth, a ghoulish grin covered in pea-green vomit, and a shock of yellow hair. The head is also, just like in the film, twisted 180 degrees away from wear it should be.
In the painting, the president is seen declaring, "I'm f***ed," a line Trump reportedly delivered in 2017 upon learning that Mueller had been appointed to carry out the investigation.
Carrey's accompanying caption was equally critical.
"It's not illegal for Trump's head to spin around while he vomits copious amounts of green bile…" Carrey wrote. "But he's definitely not fit to be President, he's definitely not exonerated and Barr definitely couldn't go any lower."
Speaking of Barr, Carrey's second portrait, released Friday, was of the attorney general, who appeared to have Carrey seeing red—literally.
This time, the actor trained his paintbrush on Barr, who ultimately declined to draw any conclusions about whether or not Trump had illegally obstructed his investigation. Carrey depicted the attorney general covered in crimson overtones, attaching a punny caption to the work: "Most crooked AG ever - Barr none!"
The Thursday and Friday unveiling carries forward what has become an online tradition for the progressive and politically minded actor. The Kidding star has spent the last two years debuting paintings and drawings that riff on national affairs, turning his Twitter profile into a virtual art gallery curated around nation's most divisive events.
And, although Carrey is still best known for his work in films, he's received considerable acclaim from the art world. The actor had a solo exhibition at a Los Angeles gallery last year and also displayed art at The Outsider Fair in New York City.
In 2017, Carrey unveiled a mini-documentary titled I Needed Color that chronicled his journey from actor to artist. Surrounded by paintings, the 57-year-old recalled feeling compelled to pick up a paintbrush.
"Your vocation chooses you," Carrey said in the video. "When I really started painting a lot, I had become so obsessed that there was nowhere to move in my home. Paintings were everywhere. They were becoming part of the furniture. I was eating on them. I found myself looking around at one point, in a really bleak winter in New York, and it was just so depressing. I think I needed color."