Jim Carrey's Latest Trump Painting Features Flaming Swastika-Shaped Hair and Hitler
Jim Carrey showcased his latest artwork on Twitter on Tuesday—this time, a drawing of President Donald Trump with swastika-shaped yellow hair engulfed in flames while Adolf Hitler looks on from behind.
"Trump's allegiances couldn't have been any clearer in that debate if his hair were on fire—and it was. #BidenHarris #TeamHuman #GoliathWillFall," Carrey wrote.
The tweet follows the first presidential debate of the 2020 election season between Trump and his Democratic opponent Joe Biden on Tuesday. Of Trump's many shouting moments, interruptions, quarrels with moderator and Fox News anchor Chris Wallace and being told to "shut up" by Biden, the instance that pinched the nerves of many viewers came when the president was hesitant to denounce white supremacy.
Wallace asked Trump if he was prepared to publicly condemn "condemn white supremacists and militia groups" and the violence they've contributed to protests in places like Portland, Oregon, and Kenosha, Wisconsin, where masses have gathered to protest against racial injustice. While Trump initially claimed he was willing to do that, he pivoted to blaming the left for much of the violence that has erupted.
"Sure, I'm prepared to do that. But I would say almost everything I see is from the left-wing, not from the right-wing. If you look, I'm willing to do anything. I want to see peace," Trump said.
When Wallace continued to press him on the issue of denouncing white supremacy specifically, Trump offered this message: "Proud Boys, stand back and stand by."
Then the real estate mogul went on to call out the left.
"But I'll tell you what: Somebody's got to do something about antifa and the left. Because this is not a right-wing problem—this is a left-wing problem," Trump said, adding that antifa was a "dangerous, radical group, and you ought to be careful with them."
The debate likely inspired more than just colorful artwork from Carrey but probably some source material for his upcoming Saturday Night Live appearance too.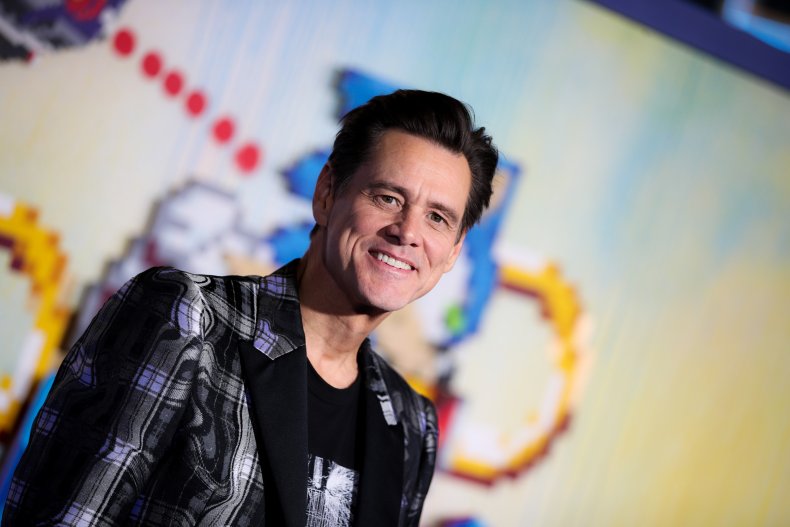 Earlier in September, NBC announced that the comedian signed on to portray Biden in election-themed bits during SNL's 46th season. It's unclear if Carry will debut the role during the season opener on Saturday—SNL is notorious for being tight-lipped about the sketches and skits planned for each episode, but considering the show's history of mocking presidential debates, it wouldn't be surprising to see Season 46 kick off with Carrey portraying Biden in the show's cold open.