Jim Carrey's Newest Cartoon Takes on Donald Trump's Thanksgiving Phone Rant With Troops
Actor-turned-artist Jim Carrey seemingly spent his Thanksgiving Day at the easel, taunting President Donald Trump with yet another political cartoon—this time, portraying the U.S. leader's teleconference call with U.S. troops stationed around the world.
While it is a tradition for U.S. leaders to call troops stationed abroad during the holidays as a morale-boosting exercise, on his own teleconference call on Thursday, which was made from his Mar-a-Lago resort in Palm Beach, Florida, Trump was quick to steer the conversation towards political issues.
On immigration, the U.S. leader compared the fight against terrorism to his administration's efforts to prevent migrants from crossing into the U.S.; on trade, he claimed "every nation in the world" was taking advantage of the U.S.; and on the killing of journalist Jamal Khashoggi, Trump said "maybe the world should be held accountable" because "the world is a vicious place."
Seizing on the U.S. leader's off-piste Thanksgiving message, Carrey illustrated Trump's "holiday greeting" in a portrait of the president speaking on a landline telephone, with the words "The WuRLD IZ a VishuS PLaCE, HaPPy ThaNX-gIVING!" floating over his head in a red speech bubble.
"And now a Holiday Greeting from the White House," Carrey said, tweeting out the illustration.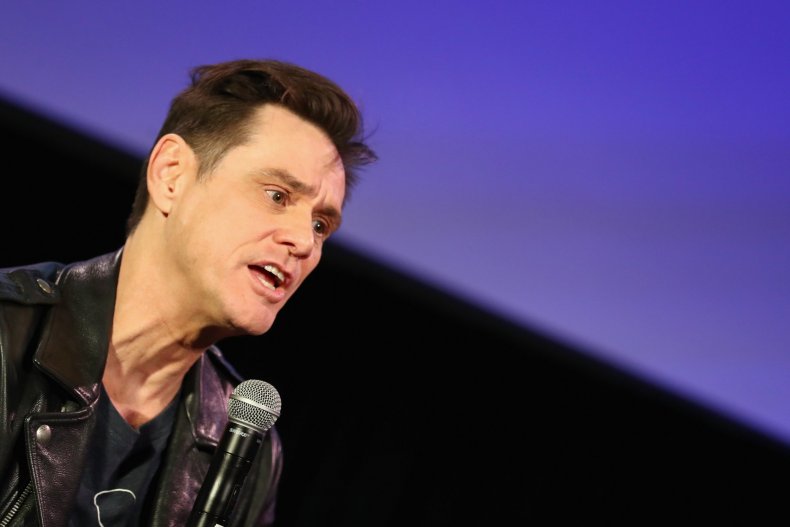 The Canadian film star has become known not only for his Golden Globe-winning performances on the big screen, but also for his artwork, which frequently targets Trump.
On Tuesday, Carrey posted an illustration to Twitter appearing to hit out at the Trump administration's decision to maintain its relationship with Saudi Arabia despite Khashoggi's killing.
With the caption "Tres Sheik," the image appears to show Trump with his arm around a cartoon character bearing the likeness of Saudi Arabia Crown Prince Mohammed bin Salman, as a dump truck drops a load of cash in front of the White House.
Early on Thursday morning, the president had used his first tweet on Thanksgiving Day to admonish the world for being "mean and nasty," in comments reiterating a statement made by Secretary of State Mike Pompeo on Tuesday in an apparent justification of the Trump administration's continued ties with Saudi Arabia.
Quoting Pompeo, Trump tweeted: "It's a mean & nasty world out there, the Middle East in particular. This is a long and historic commitment, & one that is absolutely vital to America's national security."
"I agree 100%," the president said of the comments.
"In addition, many Billions of Dollars of purchases made in U.S., big Jobs & Oil!" he said.
Just a few minutes later, the president, who is expected to spend the rest of the Thanksgiving break at his Mar-a-Lago resort with his family before returning on Sunday, tweeted out: "HAPPY THANKSGIVING TO ALL!" before returning to tweeting on the news of the day.
Jim Carrey's Newest Cartoon Takes on Donald Trump's Thanksgiving Phone Rant With Troops | U.S.