Jim Clyburn Says Bipartisan Police Bill at 'Decision-Making' Point: 'We're Going to Get There'
Representative Jim Clyburn, a South Carolina Democrat, said that he believes the bipartisan negotiations regarding a long-awaited police reform bill are at the "decision-making" point, expressing optimism that lawmakers in Congress are "going to get there."
Democrats and Republicans have been in talks to pass major police reform legislation since the massive anti-racism and Black Lives Matter demonstrations of last summer, which were spurred by the murder of unarmed Black man George Floyd by a police officer in Minnesota. President Joe Biden previously set a May 25 deadline—marking the one-year anniversary of Floyd's death—for Congress to get a bill passed. But negotiators blew past that deadline, leading some to question whether a bipartisan agreement is achievable.
"We are at a point of, I would like to say, decision-making," Clyburn, who serves as House Majority Whip, told CNN's State of the Union on Sunday. The Democratic congressman said that he spoke with Senator Tim Scott, a South Carolina Republican who is leading the GOP side of negotiations, on Saturday. He also said that he spoke with his local sheriff in Richland County, South Carolina.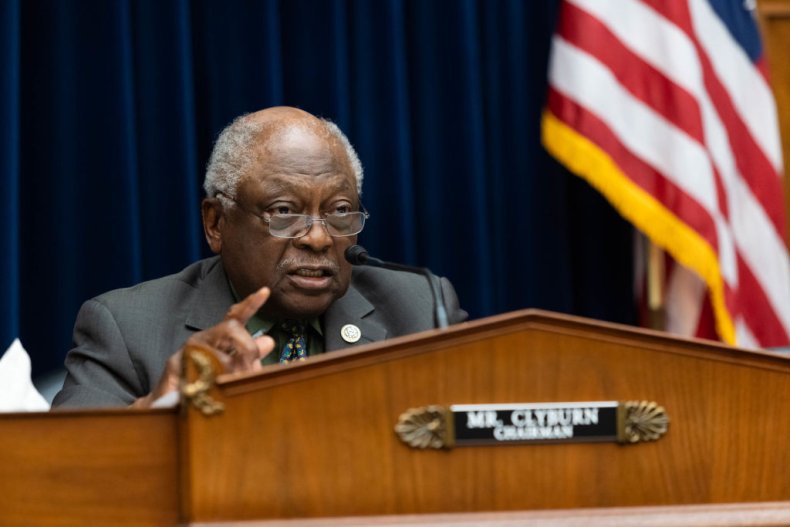 "They both tell me that this is not dead yet. I'm working with them. I'm working with [Democratic Representative] Karen Bass [of California]. I'm working with [Democratic Senator] Cory Booker of New Jersey," Clyburn continued.
"I think we're going to get there. We have still got some time between the July break and August, beginning of August, to get this done. I really feel that we can do it," the South Carolina lawmaker said optimistically. Although Clyburn noted that there were still "some divisions," he said that Republicans and Democrats could come together to "reconcile" them.
"I'm holding out hope that we get this done, because it needs to be done," he said.
After congressional negotiators failed to meet Biden's May 25 deadline, they set the end of June as a new target. It's now July and it's unclear whether policing legislation could be ready in the coming weeks or months.
"It's a little more complicated than just the top four or five issues that we've been covering, because the devil in the details of the actual body of the pieces of legislation are complicated and there are very big differences," Scott told reporters about the discussions in June.
The effort to pass major police reform came as a massive wave of anti-racism demonstrators took to the streets across the country in May and June of 2020. Activists demanded an end to systemic racism in policing and the justice system after video of Floyd's murder went viral online.
That video showed then Minneapolis police officer Derek Chauvin kneeling on Floyd's neck for nearly nine minutes, even as he warned that he could not breathe and bystanders urged him to stop. Chauvin has since been fired, convicted of murder and sentenced to 22 years in prison.
Despite the negotiations dragging out for months, Democrats and Republicans have repeatedly expressed optimism about bipartisan compromise. NBC News reported last week that the influential National Sheriffs' Association was potentially holding up the talks, rejecting a recent compromise.
Newsweek reached out to Scott's press representatives for comment on Clyburn's remarks and the negotiations but did not immediately receive a response.