Jim Cornette Beefs on Upcoming C2E2 Appearance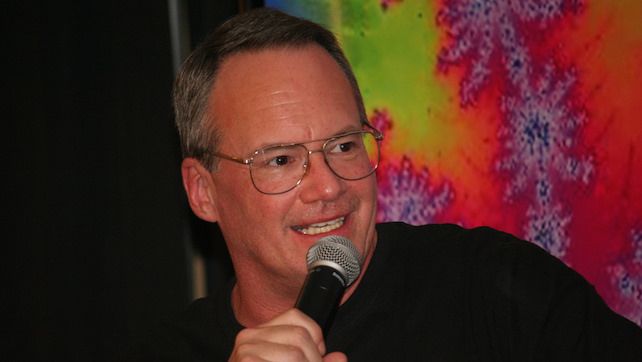 Jim Cornette is coming to Chicago for C2E2 on March 23, but if you're a fan of the legendary heel manager or his wildly successful podcasts, you already knew he was heading to Chicago's largest pop culture and comics expo. But what you might not know is that Cornette's VIP appearance comes with some big perks, big laughs and big eats. Modeled after the infamous Philadelphia "Extra Cheese with Jim Cornette" appearance, C2E2's "Have a Beef with Jim Cornette" replaces the philly cheesesteak with Chi-town's famous italian beef sandwich.
"The sandwiches are happening. Discussions are ongoing now with several local Chicago italian beef providers," Cornette told Newsweek. "I thought it would be cool to basically hang out with the folks, the VIPs. And it's all VIPs in Chicago! Some people just do a Q and A and it's kinda bland. And some people say 'Cornette, do you do stand-up?' I say it's more of a melt-down."

The Cornette C2E2 experience will also replace the drama of the Philadelphia show, where a power hungry security guard and a clueless union employee disrupted events (podcast fans will remember the Odyssey of the Ramp). The C2E2 format allows Cornette to spend as much time as he wants with fans. How much time? A lot, from the sound of things.
"This won't be like Woodstock or anything, with people camping out. But everybody gets some time and everybody has fun," he said. "I don't wanna just do a show and, blah, thank you. Or just do a quick autograph or whatever. So we do the show. We do the Q and A. We do photo ops. I autograph pictures and we hang out and have a fucking sandwich and I troll around. And it goes to the last fan standing."
Beyond being a pro-wrestling icon and podcast impresario, Cornette's also an avid collector. An event like C2E2 gives him an opportunity to unload some inventory, before quickly replacing it with more stuff. A lifelong collector of "everything," he knows it's a Sisyphean effort to try to complete a collection of any sort. Until he has one of everything, he said, he won't be happy. And since he is travelling far from the sprawling estate of Castle Cornette (his home in Louisville, Kentucky) he has to wrangle with some of the logistics of transporting stuff, too.
"At Lexicon and stuff close to home, I do bring some boxes of comics. I may have the strongest back in Kentucky, but it's my wife's. She's gonna be helping me and I don't wanna make her carry things," he said. "I should have a double- or triple-sized booth. I've got not only the comic books, but a lot of interesting pop culture collectibles. So I'll sell some things, then pick up more. Generally, I sell all the wrestling stuff at the comic cons and go back with boxes of ephemera to add to my collection."
If you happen to miss Cornette as he leaves Chicago with his ephemera in tow, don't fret. The Louisville Slugger is making a number of appearances this Spring. He'll be celebrating the 35th Anniversary of the Midnight Express in Madison, West Virginia on April 13. After that, he's off to Concord, North Carolina on April 27 for RoH and NWA Present The Crockett Cup to do both a meet-and-greet and provide commentary for the tournament. And on May 18 he's doing another 35th Anniversary event, celebrating the Midnight Express at Fanest in Richmond, Virginia.
He's encouraging fans to see him at " Have a Beef with Jim Cornette " though. Why? Well, he has a very Jim Cornette-style guarantee for you:
"You're gonna have so much f---ing fun they're gonna wipe the smile off your f---ing face with a f---ing sandblaster," he said. "But you don't have to print all that."
Jim Cornette Beefs on Upcoming C2E2 Appearance | Culture