6 Instances of Michigan Coach Jim Harbaugh Acting Crazy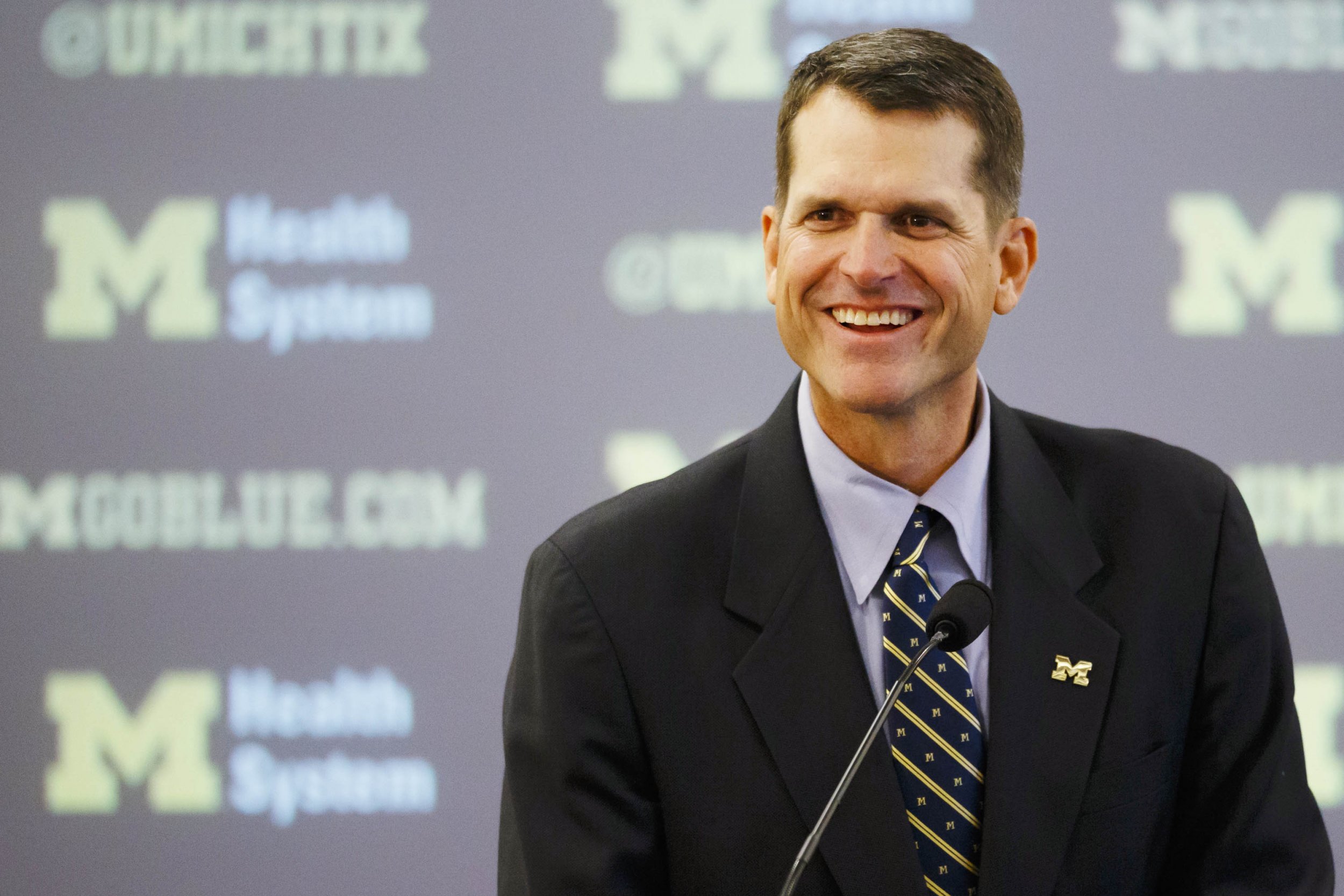 Jim Harbaugh made it clear that he was really, really excited to be the head coach of the University of Michigan football team when he took the job in 2014. He was coming back to Ann Arbor to lift his alma mater's prestigious program from the depths of mediocrity and place it back in the spotlight where it belongs. Which is great and all, but what some Michigan fans may no have realized is that Harbaugh's "really, really excited" is most people's "totally insane."
On Tuesday, we were gifted with the latest instance of Harbaugh's psychosis in the form of a story that Quinn Nordin, the nation's top kicking recruit, told recruiting website Scout.com. Nordin says that Harbaugh assured him that he would show up at his house at 12:01 a.m., the first instant he is officially allowed to visit recruits in person. This is not particularly uncommon. What is uncommon is for the coach not to eventually leave. According to Nordin, Harbaugh said that the two could watch a movie and see how they "gel." Then what? Harbaugh would sleep over, of course.
"He told me if I had a 6-foot-3 inch piece of carpet for him to sleep on, that would be enough," Nordin told Scout. "I said we have guest rooms, and he said, 'Tell you what, I'll just sleep on the floor in your room.' I said, 'Coach, I have Penn State stuff all over my walls.' He said, 'Tell you what, I can help you take it down.'"
The courtship wouldn't end there. "He said the next day, if my parents didn't want me to miss school, he would go to every class with me and go to lunch with me," said Nordin. "I was laughing so hard."
All this for a kicker. A kicker! And as you may have guessed, this is far from the first documented instance of Harbaugh's premium-grade crazy. Here are a few more:
1. He uses Comically grandiose metaphors
After Jim Tomasula was fired after only a year of coaching the San Francisco 49ers, whom Harbaugh coached for four successful years before essentially being pushed out the door (possibly—likely—because the franchise couldn't handle his crazy), the Michigan coach fired off this tweet:
The Internet loved it.
Pretty much. This was a good one, too:
What's beautiful about all of this is that Harbaugh actually thinks this way. He is being totally sincere. When the 49ers lost to the Seattle Seahawks in the 2014 NFC Championship Game, he quoted Hemingway. "A man can be destroyed," he said, "but not defeated."
2. He Called His Wife Nine Time Before She Finally Agreed to Go Out With Him
This makes total sense considering his request for a 6'3" piece of carpet to sleep on at a high school kicker's house. Just look into his eyes as he's telling the story. It's chilling. He definitely looks like he has "seen things." God bless.
3. His Coaching Style
Once his players emerge from the womb into Harbaugh's world of discipline and football, few can match the coach's intensity, even though they're half his age. When he puts his players through drills at Michigan, he makes the winners run as "punishment," because in Harbaugh's universe, to punish your body is to reward it.
This style may work in college, but for some less-impressionable professional players who are making millions of dollars, the schtick can get old. "I think he just pushed guys too far," Alex Boone, who played guard for the 49ers under Harbaugh, told Real Sports. "He wanted too much, demanded too much, expected too much. You know, 'We gotta go out and do this. We gotta go out and do this. We gotta go out and do this.' And you'd be like, 'This guy might be clinically insane. He's crazy.'"
4. The Khakis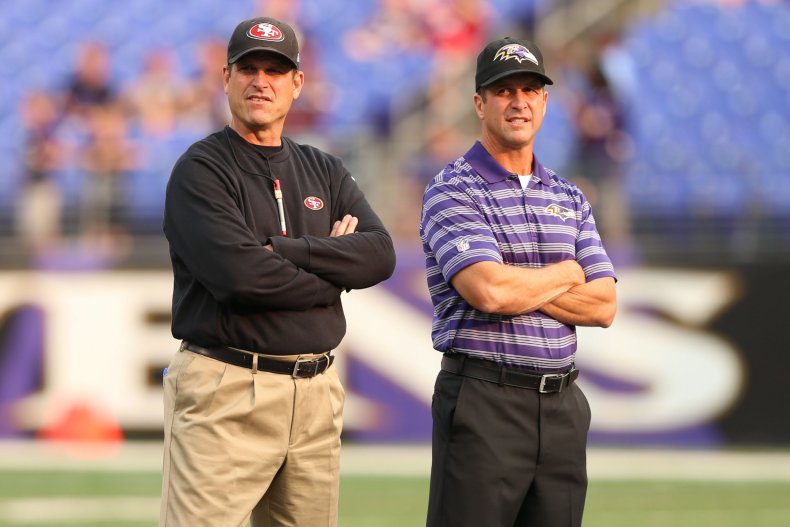 Much like fellow eccentric genius/insane person Steve Jobs, Harbaugh has his own normcore uniform. For Jobs, it was hiked-up jeans, a black turtleneck and sneakers. For Harbaugh, it's $8 pleated khakis from Walmart and that pen necklace thing. Both visionaries operate under the principle that time spent thinking about what you're going to wear is time not spent doing insane, visionary things like invent the iPhone or sleep on a patch of carpet in the corner of a high school kicker's bedroom.
5. Darth Vader Is His Boy
This is another creepy video.
6. He Mercilessly Hunted a 10-Year-Old Child During a Laser Tag Game
One of the activities at Harbaugh's bachelor party was laser tag, because that's the type of thing hypercompetitive insane people do at bachelor parties, apparently. He gave himself the nickname "Captain Comeback" and proceeded to wreck house on a 10-year-old child. From an mLive column on the coach:
When the fake smoke cleared and the game wrapped, it was revealed that Captain Comeback recorded more "kills" than anyone else in the party. Harbaugh won. Because he always wins. But upon further examination of where each person's shots came from, it became clear why he won in such a landslide.

"All his shots came against this 10-year-old kid," laughs Eric Bakhtiari, who played for Harbaugh in college and in the NFL with the 49ers. "He just sat there, hunting this 10-year-old kid so he could win.

"(He's crazy), but in the best way possible. I mean, hey, Steve Jobs was crazy, too."

Harbaugh's not normal. Far from it.
Again, note the comparison to Jobs. Maybe Harbaugh isn't insane after all. Maybe he's just a misunderstood genius.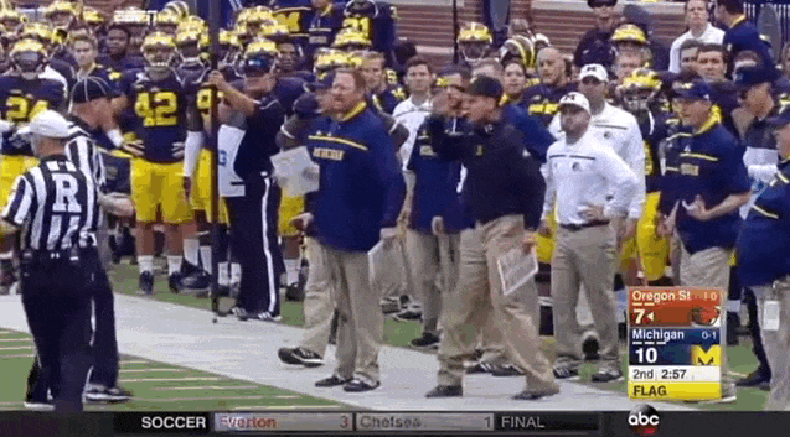 All right, maybe he's insane.