Could a Michigan Loss Against Ohio State Send Jim Harbaugh Back to the NFL?
Before the week that could save Michigan's season, at least in terms of pride, the Chicago Tribune gave the hornet's nest a hefty kick.
"I am convinced that old Thing One [Jim Harbaugh] is the one thing the Bears need," Bernie Lincicome wrote in his column, an intriguing nostalgia piece crossed with personal recollection of meeting Harbaugh when he was the Bears' quarterback, having succeeded the colorful Jim McMahon.
Harbaugh, as Lincicome remembers him, was personable and eager to learn—the opposite of McMahon, the Bears' legendary Super Bowl-winning quarterback who Lincicome says called him a "creep."
Personable and curious—two words that came to define Harbaugh as an NFL head coach, when he led the 49ers to within a down of winning the Super Bowl and to an NFC Championship game. It was Harbaugh, of course, who gave Colin Kaepernick his break after Alex Smith got concussed midway through the 2012 season. What strange memories those are, both distant and vivid: Kaepernick, now suing the NFL's owners for alleged collusion, torching and befuddling the Packers with his legs in the 2012 NFC Divisional Game at Candlestick Park. Maybe the 49ers would never have got within three points of the Ravens in Super Bowl XLVII had the lights not gone out in the Mercedes-Benz Superdome. But Harbaugh's bravery, and Kaepernick's revolutionary skills, perhaps should have brought the 49ers a Championship.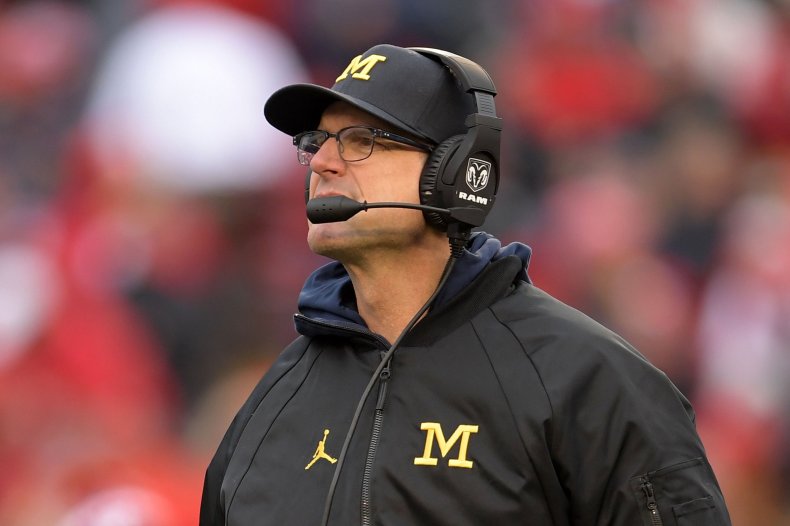 Out of the reverie and back into the present. Harbaugh's Wolverines have lost three times this season, each one of them hurtful. To Michigan State—ouch—in a low-scoring slugfest on October 7 in the Big House—even worse. To Penn State in a blowout away from home on October 21. And to Wisconsin on November 18, this past weekend, when it also lost quarterback Brandon Peters to a head injury. Peters was taken off on a cart and to hospital with concussion after he was knocked unconscious, according to the Detroit Free Press. The Free Press also pointed out that Peters was pressured on 13 of 25 dropbacks by one of the most fearsome defenses in college football. An injury was almost inevitable although Peters may yet play against the Buckeyes, according to a report on Tuesday by MLive.com.
Almost three seasons into Harbaugh's tenure as Wolverines head coach, and the games he has lost feel more memorable than those he has won. Like 2016's double-overtime victory for the Buckeyes, that dropped Michigan out of national title contention, or the one-point shock by Iowa the same year. The Wolverines are a semi-serious proposition again under Harbaugh but it is clear that plenty of surgery is still required, especially for that offensive line that had Peters scrambling so often against the Badgers. This season is fizzling out: Michigan is fourth in the Big Ten East, heading into Saturday's game, and unranked this week by the AP. Its head coach likely isn't going anywhere. But Lincicome's piece was a timely reminder that the NFL still covets Harbaugh.