Rep. Jim Jordan (R-Ohio) urged President Joe Biden to reinstate the immigration policies of former President Donald Trump after Texas Governor Greg Abbott announced the beginning of an investigation into alleged child sex abuse at a facility used detain migrant children.
Abbott, a Republican, called on the Biden administration to shut down a detention center in San Antonio on Wednesday, while announcing that an investigation into "very credible" allegations of child sex abuse and neglect at the facility had begun.
Jordan, a close Trump ally, claimed that the "crisis" on the border could have been prevented if Trump's policies had remained intact during an appearance the same night on Fox News' Hannity. The GOP congressman called for a return to the policies after completing a two-day tour along the U.S.-Mexico border in Texas with six other GOP members of the House Judiciary Committee.
"This is a problem, this is a crisis, this is chaos that could have been prevented if they'd kept in place the policies President Trump had in place that were actually working," Jordan said. "It could be stopped if we were to just put in place... keep in place the policies that were there under President Trump.
"President Trump called it a couple of weeks before he left office in January," added Jordan. "He said to the Democrats if you undo the policies we have in place, there will be a tidal wave of illegal immigrants on the border ... and there are all kinds of bad things are happening to kids on this journey."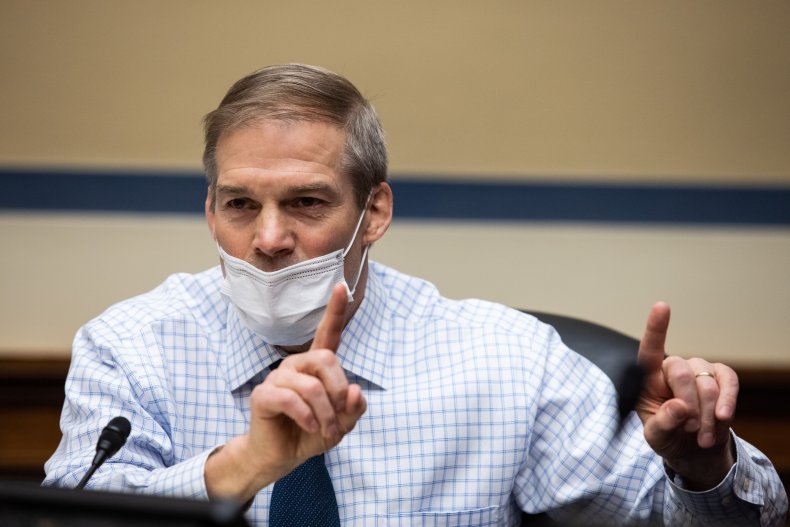 A surge of migrants at the border since Biden took office, particularly unaccompanied minors, has resulted in heavy Republican criticism of the president's immigration policies.
The continued detention of migrant children, which also occurred under Trump, prompted bipartisan criticism of the Biden administration well before Abbott announced the child sex abuse investigation.
Jordan told host Sean Hannity that Customs and Border Protection agents had promised him that they would get the "chaos" at the border "under control" with a return to the Trump-era policies.
"The agents were clear, Sean, they said put in place the Remain in Mexico policy," Jordan said. "Continue to build the wall and we will stop this problem, get this thing under control and have the legal immigration that we're supposed to have. Not this illegal chaos and crisis that we now see on the border."
Mark Meadows, Trump's former White House chief of staff, was interviewed by Hannity alongside Jordan. He echoed Jordan's call for a return to the former president's policies, saying that "now is the time to make sure that we go back to the policies that worked under President Donald Trump."
Newsweek reached out to the White House for comment.