Jim Jordan Dismisses Concerns Over Jan. 6 Trump Calls: 'I Talked to Him Twice Last Week'
Representative Jim Jordan, an Ohio Republican, downplayed the criticism he has received over his multiple January 6 calls with former President Donald Trump, saying he regularly speaks with him on the phone.
In late July, Jordan told Fox News he spoke directly with Trump during the events of January 6. Then on Sunday, Politico reported that the staunch Trump loyalist had spoken with the former president multiple times amid the violent attack on the U.S. Capitol. Jordan admitted to the publication that more than one phone call had occurred.
Following a Republican fundraising event in Ohio this week, the congressman was asked by Toledo's The Blade newspaper about the phone calls. But Jordan dismissed the concerns some have expressed regarding those conversations.
"People have common sense here," the Republican lawmaker said Tuesday. "They know, like of course I talk to the president, I talked to him twice last week...I think people with reason and logic and common sense...I would expect my member of Congress to talk to the president, particularly of my own party," he said.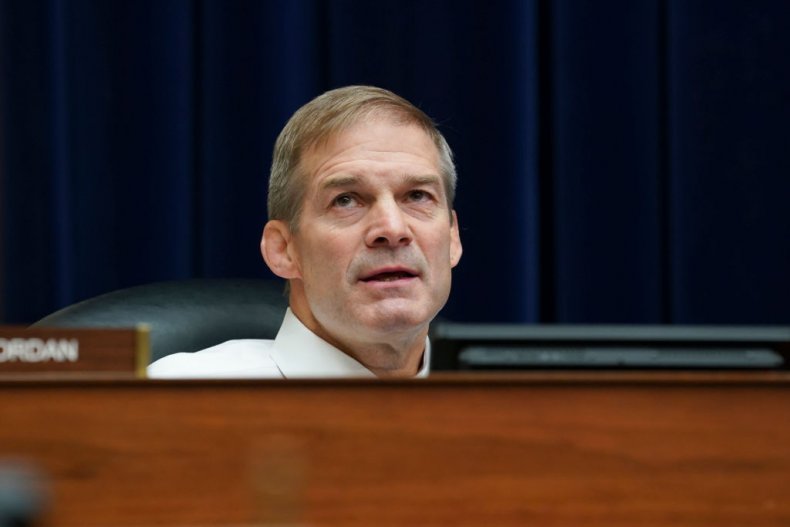 Hundreds of Trump's supporters attacked the U.S. Capitol on January 6 in an apparent effort to block the formal certification of President Joe Biden's election win. The violent riot came directly after the then president urged his supporters to "march" to the Capitol and to "fight like hell" during a nearby rally by the White House.
Jordan, along with more than 140 other GOP lawmakers, voted against the certification of the election results in multiple key battleground states. Like the former president, these lawmakers baselessly claimed the 2020 election was "rigged" or "stolen" in favor of Biden. This extraordinary allegation has already been thoroughly litigated and entirely discredited.
"Look, I definitely spoke to the president that day. I don't recall—I know it was more than once, I just don't recall the times," Jordan told Politico for a report published on Sunday. The GOP representative said he was "sure" that at least one of the calls took place while he and other lawmakers were hiding in a safe room "because we were in that room forever."
Although Jordan did not tell Politico the specific details about what had been discussed in the calls, he said he wanted the National Guard to get involved to address the unfolding violence. Politico reported that Representative Matt Gaetz, a Florida Republican, was also on one of those calls with Jordan—but neither congressmen confirmed this detail. Jordan said he had to "think about it."
Newsweek reached out to Jordan's press secretary for further comment but did not immediately receive a response.
The news that Jordan spoke with Trump multiple times on January 6 came just before the House Select Committee investigating the Capitol attack asked more than 30 companies—including Apple, Verizon and AT&T—to preserve records of data relevant to the attack. CNN reported the records requested were for several pro-Trump GOP lawmakers, the former president and members of the Trump family.
House Minority Leader Kevin McCarthy, a California Republican, threatened telecommunications companies not to comply with the House select committee's request. The GOP leader said that the effort "put every American with a phone or computer in the crosshairs of a surveillance state run by Democrat politicians."
Two Republicans, Representative Adam Kinzinger of Illinois and Representative Liz Cheney of Wyoming, who strongly oppose Trump, serve on the January 6 committee established by Speaker of the House Nancy Pelosi, a California Democrat. On Thursday, Cheney was appointed as the committee's vice chair, making her the body's second-most powerful member after chair Representative Bennie Thompson, a Mississippi Democrat.
Kinzinger has previously said he supports subpoenaing anyone—including top Republicans—that can provide additional information about what happened on January 6.
"I would support subpoenas to anybody that can shed light on that if that's the [Republican] leader [McCarthy]," Kinzinger told ABC News early in August. "Anybody with parts of that information, with inside knowledge, can probably expect to be talking to the committee."