Ohio Republican Representative Jim Jordan, chairman of the House Select Subcommittee on the Weaponization of the Federal Government, announced the panel is launching a probe into nearly a dozen unauthorized record disclosures made by the U.S. Air Force.
In February, two Republican lawmakers—Representative Don Bacon of Nebraska and Representative Zach Nunn of Iowa—received notice from the Air Force that it had improperly released their military records to a third-party political operative.
In the letter sent to Bacon, which was first obtained by Politico, Air Force Major General Troy Dunn told the congressman that his personnel records were "inappropriately" requested by and released to a Democratic-linked firm, the Due Diligence Group, in November 2021.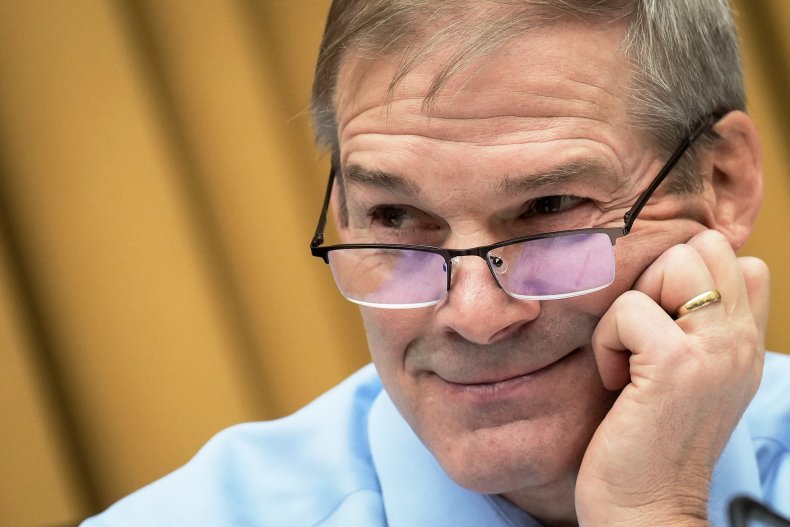 Air Force Secretary Frank Kendall previously stated that the results of an internal probe into the mishandling—which found that records of at least 11 people were disclosed without lawful consent—would be sent to the Department of Justice (DOJ) for further investigation. The DOJ has not announced a probe.
In a letter addressed to Kendall on Thursday, Jordan, alongside Representative Chris Stewart of Utah, requested additional information regarding the disclosures for the House subcommittee's investigation.
"Recent public reports have disclosed that the Office of the Secretary of the Air Force (OSAF) improperly released information from several additional servicemembers' personnel files to political operatives," read the letter. "As alleged in the reporting, this is a serious breach of law and servicemember privacy."
"While the Air Force has rightfully taken responsibility for these inappropriate [official military personnel file] disclosures, questions remain unanswered about the U.S. Air Force's collection, maintenance, and dissemination of this sensitive information," the GOP members wrote in the letter.
The requested documents include any internal communications referring to the disclosures or information regarding the notifications that the OSAF sent to affected service members from January 1, 2021, to the present.
The subcommittee requests that the information is provided by 5 p.m. March 30. Newsweek has emailed Ann Stefanek, Air Force media operations, for comment.
"The Air Force has notified at least two sitting House Republicans that it improperly released their personnel military records to an opposition research firm that received money from the Democratic Congressional Campaign Committee," Jordan tweeted Friday afternoon. "Weaponization of government?"
The House of Representatives approved the creation of Jordan's panel just days after the swearing-in of congressional members in January. The select subcommittee, which falls under the House Judiciary Committee, also chaired by Jordan, has promised to investigate potential instances of governmental weaponization by the administration of President Joe Biden, including alleged censorship of conservative voices by the FBI and the DOJ's investigations of former President Donald Trump.
The panel features 11 Republicans and eight Democrats. Florida Republican Representative Matt Gaetz called for the removal of all Democrats on the subcommittee this month while speaking at the Conservative Political Action Conference, while Jordan has previously encouraged Democrats to join the panel.