Jim Jordan Lists Out Everything He Wants From the FBI on Charles McGonigal
Ohio Representative Jim Jordan, chairman of the House Judiciary Committee, sent a list to the FBI Thursday requesting documents for the panel's own investigation into the indictment of a former top bureau official.
In January, Charles McGonigal, who previously served as head of counterintelligence for the FBI's New York office, was arrested and charged, accused of accepting money from Russian billionaire Oleg Deripaska in exchange for investigating a rival oligarch in 2021. McGonigal is also accused of attempting to remove the Russian billionaire from the U.S. sanctions list in 2019.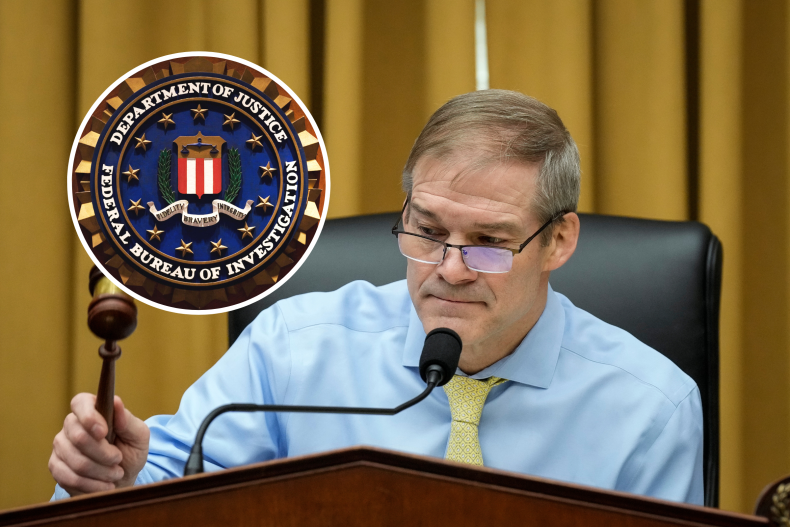 Jordan, alongside co-signer Florida Representative Matt Gaetz, wrote in the letter addressed to FBI Director Christopher Wray on Thursday that the Judiciary Committee is requesting materials related to McGonigal's misconduct as the committee continues "to investigate allegations of politicization and bias" at the bureau.
"Just last week, with the indictment of former senior FBI official Charles McGonigal, the American people were reminded yet again about the seemingly pervasive problems within the FBI," read the letter's opening paragraph.
In order for the Judiciary Committee to conduct its "oversight" of the FBI's investigation, Jordan said, it is requesting all personnel records regarding McGonigal's work history, all documents and communications about probes involving McGonigal and any documents and communications relating to actions taken by the bureau "to mitigate the national security risks posed by Charles McGonigal's actions."
The committee is also requesting the information be made available by 5 p.m. February 16 EST, and asked Wray to hold a "Member-level briefing to discuss the FBI's investigation of Charles McGonigal." Such a briefing would be used to address questions such as the process the bureau is employing to investigate McGonigal's actions and if it is reviewing "how the Russian Federation, and its oligarchs, such as Oleg Deripaska, 'turn' FBI senior officials."
Thursday's letter also homed in on McGonigal's role in the launch of the Crossfire Hurricane investigation, which examined whether officials under former President Donald Trump had coordinated "wittingly or unwittingly" with Russia's attempts to interfere in the 2016 election. As Jordan and Gaetz wrote, McGonigal's indictment "raises new questions about the FBI's counterintelligence efforts during his employment with the FBI."
In an email on Friday, the FBI's National Press Office confirmed to Newsweek that it had received the committee's letter, adding that the bureau had "no further comment."
House Republicans like Jordan and Gaetz have long promised to investigate the FBI under the administration of President Joe Biden, alleging the bureau has been a "weaponization" of the federal government through partisan biases. The panel leading the investigation, the Subcommittee on the Weaponization of the Federal Government, will hold its first hearing February 9.
Update 2/3/23, 4:12 p.m. ET: This story has been updated with comment from the FBI National Press Office.