Ohio Newspaper Blasts 'Legislative Terrorist' Rep. Jim Jordan as 'Second Most Contemptible Human' in Government
In a scathing op-ed published in Cleveland, Ohio's The Plain Dealer newspaper Thursday, the paper's former editorial director took a blow torch to the reputation of GOP Rep. Jim Jordan, a key opposition figure in the House Intelligence Committee's impeachment inquiry into President Donald Trump.
"There was no good reason to punish Greater Cleveland by making the person who's now the second most contemptible human being in the entire U.S. government part of the region's delegation to Congress," Brent Larkin's rhetorical pummeling began. And from there, the gloves came off.
The long week of public testimony in the impeachment inquiry weighed heavily on the American public, who tuned in in droves to watch as political appointees, career diplomats and military advisers detailed Trump's back-channel dealings and efforts to strong-arm a foreign government into supporting his 2020 re-election bid.
At every turn, witnesses recounting Trump's colorful conversations and disregard for national security protocols were subjected to cross examination by Jordan, whom former Republican House Speaker John Boehner called a "legislative terrorist," according to Larkin.
As a pinch-hitter for the Republicans temporarily replacing Arkansas Rep. Rick Crawford on the committee, Jordan frequently used his question time as a platform for promulgating conspiracy theories and complaining about partisanship. The inquiry was, he said, part of a sustained effort by Democrats and "some anonymous whistleblower ... who's biased against the president" to oust Trump not because of his unlawful behavior, but because of his Republican affiliation.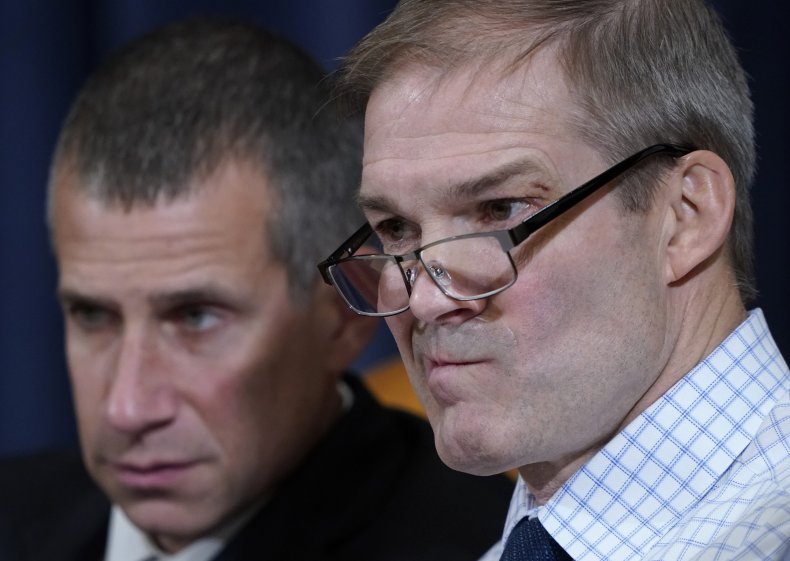 In Larkin's estimation, Jordan's political ascent came down to the 2012 redrawing of Ohio's "hideously gerrymandered" 4th Congressional District as part of a bipartisan compromise designed to remove one Democrat representative, shore up votes for another, and help the GOP gain as many House seats as possible.
Today, the sickle-shaped district sneaks through a narrow strip of Cleveland before swinging south and west just outside of Dayton and Columbus to almost touch the border with Indiana.
Beyond Larkin's implications of illegitimacy through corrupt districting, he also pointed to a pending lawsuit against Jordan, who has been accused by multiple men of dismissing their claims of sex abuse and harassment by disgraced sports doctor Richard Strauss while Jordan was an assistant wrestling coach at Ohio State University. Last month the university published the results of an independent investigation that amassed more than 1,400 accusations of fondling and 47 allegations of rape by Strauss.
"Everything about Jordan reeks of a man willing to cast aside common decency and fairness in service of a corrupt and cruel president." Larkin concluded. "He may be the most unfit man to ever represent part of Greater Cleveland in Congress."
A spokesperson from Rep. Jordan's office did not immediately respond to a request for comment from Newsweek.