Jim Jordan, Other GOP Reps Invite Democrats to Join Them on Border Trip as Crisis Worsens
Republicans on the House Judiciary Committee sent a letter Wednesday formally inviting "any Democratic colleague" to join them on their upcoming trip to the U.S.-Mexico border amid the biggest migrant surge in 20 years.
The letter, penned by representatives Jim Jordan (R-Ohio) and Tom McClintock (R-Calif.), accused committee chairman Jerry Nadler (D-N.Y.) of refusing to hold a hearing on the issue—which they asserted has been exacerbated by the policies put into place by President Joe Biden.
"We will therefore plan to use Committee funds to travel to the southern border to observe firsthand what Democrats have refused to acknowledge and hear directly from those affected by the Biden border crisis," the two lawmakers wrote. "We welcome any Democrat colleagues on the committee to join us."
There are currently more than 16,000 unaccompanied migrant children in U.S. custody, according to CBS News, as Border Patrol encounters more than 500 kids every day.
New photos released Monday by Texas Democrat Henry Cuellar showed crowded conditions inside a U.S. Customs and Border Protection overflow facility in Donna, Texas. Cuellar described the pictures as "disturbing" and warned that the administration's "good intentions are being overwhelmed by numbers."
The Biden administration has repeatedly refused to say there is a crisis at the border, instead describing the situation as a "challenge." Vice President Kamala Harris conceded Wednesday that the migrant surge is a "huge problem."
"Are we looking at overcrowding at the border, particularly these kids? Yes. Should these kids be in the custody of HHS, the Health and Human Services, instead of the Border Patrol? Yes. Should we be processing these cases faster? Yes," Harris told CBS This Morning.
"This is, however, not going to be solved overnight," she added.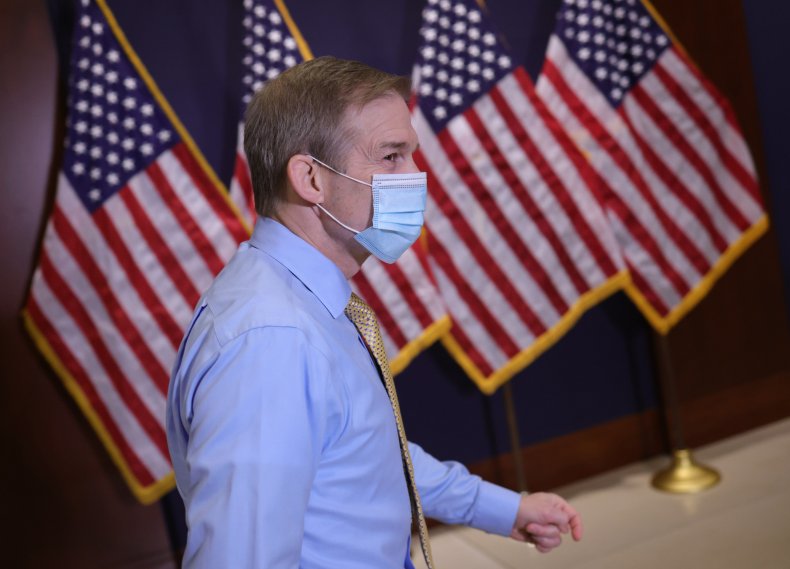 Biden began to reverse many of the hardline immigration policies put into place by former President Donald Trump's administration shortly after entering office in 2021. The president has signed executive orders to curb deportations, freeze border wall construction and reunite families separated by Trump's "zero tolerance" policy in 2018.
In their letter, Jordan and McClintock said these "radical policies" and failures of leadership from the new administration have caused the problems facing the U.S.-Mexico border.
"The Biden border crisis is real and unfortunately getting worse," Jordan and McClintock wrote. "The Committee cannot continue to sit idly by and allow our nation's borders to be erased. ... The American people deserve far better than for Committee Democrats to ignore this threat to our national security, condone the worsening humanitarian crisis, and allow the Biden Administration to radically rewrite our immigration policies."
Newsweek reached out to Congressman Nadler's office for comment on the letter, but did not receive a response in time for publication.