Rep. Jim Jordan (R-Ohio) is facing questions from the Federal Election Commission (FEC) after the discovery of errors in campaign donations and spending disclosures worth millions of dollars.
Jordan received 10 letters from the FEC on Tuesday over the discrepancies, demanding that he respond by early April or risk an "audit or enforcement action," according to The Plain Dealer. Jordan's campaign filed over a dozen amended reports in January that differed significantly from reports that had been filed over the previous two years. Many of the discrepancies were large, with 10 exceeding $100,000, including three that were each in excess of $500,000.
The campaign insists that the mistakes were innocent errors and blames the discrepancies on a former campaign treasurer and an uptick in donations due to Jordan becoming a more popular figure among Republicans during the reign of former President Donald Trump.
"The campaign has filed an amendment with the FEC to correct its campaign finance reports going back to 2018," said Kevin Eichinger, speaking on behalf of Jordan for Congress, in a statement obtained by Newsweek. "There was never any money missing from the account. In fact, the campaign's cash balance is actually higher than previously listed on the campaign finance reports. The error occurred when the former campaign treasurer inadvertently double-reported certain fundraising expenses."
"When the error was discovered, the campaign hired an outside expert to conduct a comprehensive audit and file the appropriate amendments," added Eichinger.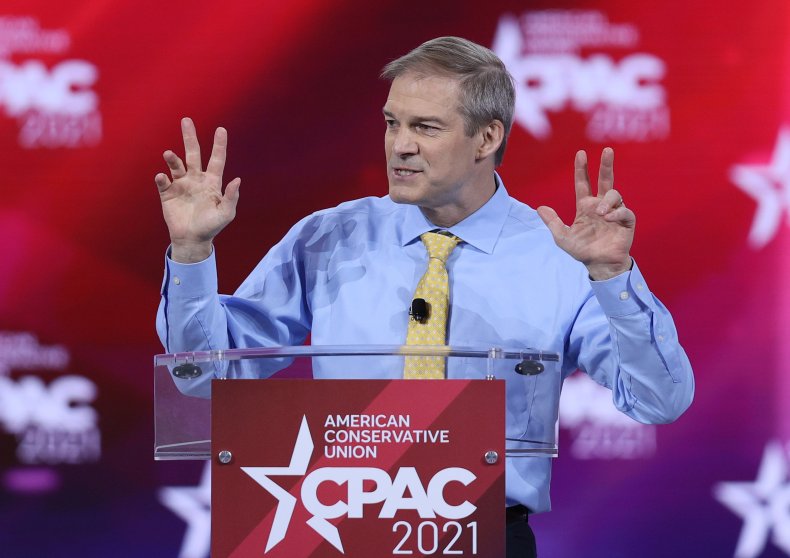 Campaign donations to Jordan surged over the course of Trump's presidency. Figures compiled by Political Moneyline show that Jordan raised $733,416 and spent $422,967 during his 2016 reelection campaign. During the 2018 election cycle, Jordan raised $1,241,417 and spent $1,809,464.
Donations skyrocketed in 2020, when the Jordan campaign took in $18,637,140 and spent $13,268,968, leaving more than $6 million in the bank after the election. While contributions for 2016 and 2018 came largely from Ohio donors, a majority of 2020 donations were from out of state.
"The outpouring of nationwide support for our message is why we are raising a ton more money," Eichinger told The Plain Dealer. "It wasn't like we were actively looking to raise more money. There was an organic outpouring of support. We needed to put in place the operation to handle that kind of influx."
Jordan was among Trump's closest allies during the former president's time in the White House and received the Presidential Medal of Freedom on January 11. He was one of 139 House Republicans who voted in favor of objections to President Joe Biden's Electoral College win only hours after a violent mob of Trump supporters violently stormed the U.S. Capitol on January 6.
Jordan was also one of many Republicans who boosted the former president's claims that the election was "stolen" from him due to massive voter fraud, a falsehood that Trump again alluded to during his speech at the Conservative Political Action Conference on Sunday.
Updated 3/3, 10:29 p.m.: This article has been updated to reflect that a statement from Jordan's campaign manager Kevin Eichinger was obtained by Newsweek.