Jim Jordan Pushing FBI, DOJ Officials to Reveal Misconduct
Ohio Representative Jim Jordan is encouraging federal officials to come forward as whistleblowers in the investigation into classified documents found at former President Donald Trump's Mar-a-Lago home, weeks after the congressman said 14 FBI agents came forward to Republican officials.
The Department of Justice (DOJ) investigation is intensifying following a redacted release of an affidavit that led to the search of Trump's Florida home. One photo in a 36-page court filing released Tuesday night by the DOJ sparked conversation, showing numerous "secret" and "top secret" documents strewn about a floor inside Mar-a-Lago.
"Don't let Attorney General [Merrick] Garland chill your rights as whistleblowers," Jordan tweeted in a message to FBI and DOJ officials August 31. "You have the right to speak to Congress without interference."
On August 14, Jordan alleged to Fox News host and former Republican Representative Trey Gowdy that FBI agents, whom he described as "good people," are coming to him and other Republican members of Congress to express the "baloney" and "political nature of the Justice Department."
A Newsweek fact check concluded that while the Judiciary Committee had "at least 14 whistleblowers contact our committee over the past year," letters do not specifically say that all the whistleblowers are FBI agents, or that inquiries are related to the so-called "political nature" of the DOJ.
The FBI and DOJ have become popular targets of conservatives since the Mar-a-Lago raid.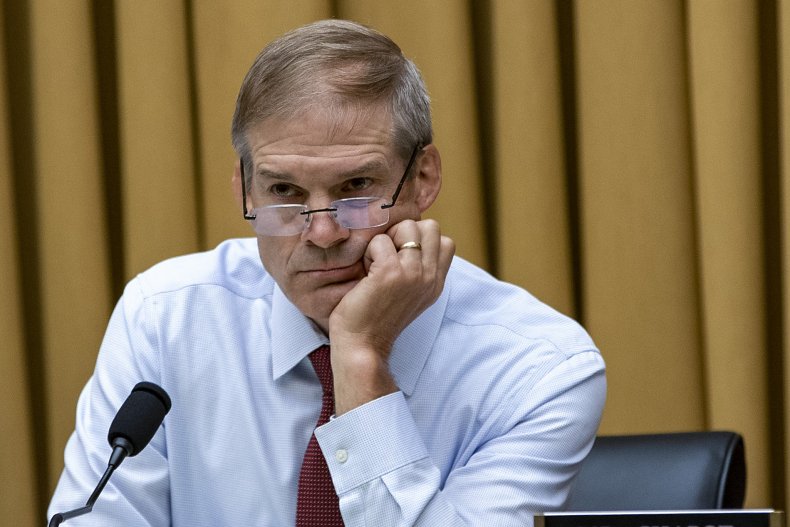 Trump has taken a front seat to attack officials, using his Truth Social to attack a "corrupt" agent who allegedly did not investigate Hunter Biden's laptop prior to the 2020 election.
This week, Trump posted or shared myriad allegations and conspiracy theories about the FBI's association regarding his claims of voter fraud in the 2020 election, totaling 51 updates in the span of 24 hours.
Georgia GOP Representative Marjorie Taylor Greene, who said the FBI might have "planted evidence" against Trump at his home, later began selling "defund the FBI" attire.
GOP Senator Lindsey Graham of South Carolina warned that "riots" might take place nationwide if the documents possessed by Trump lead to an indictment. Graham cited a lack of "transparency" and has invoked Hunter Biden to help make his point.
President Joe Biden has seized on Republican officials' animosity toward law enforcement, making the case Tuesday in Pennsylvania that Democrats want to uphold the law while Republicans want to disregard it.
"I'm opposed to defunding the police—I'm also opposed to defunding the FBI," Biden said. "There is no place in this country, no place, for endangering the lives of law enforcement. No place. None, never, period."
Newsweek reached out to Jordan for comment.