Jim Jordan 'Real America Doesn't Care About Jan. 6 Hearings' Claim Slammed
Representative Jim Jordan claims that "real America doesn't care" about the ongoing hearings into the January 6, 2021, Capitol riot amid the economic turmoil, but he and every other Republican in the House voted against the Consumer Fuel Price Gouging Prevention Act.
"Real America doesn't care about the January 6th Committee," Jordan tweeted on Thursday, adding that gas prices are averaging over $5 a gallon.
As talks of a recession escalate following the Federal Reserve's interest rate hike of three-quarters of a point this week, the cost of a gallon of regular gas today is averaging $5 on the nose, according to the American Automobile Association.
California residents continue to pay the highest prices at about $6.42 per gallon, while Georgians are experiencing the biggest relief on a national scale at $4.49 per gallon.
Jordan's home state of Ohio is averaging $5.012 per gallon.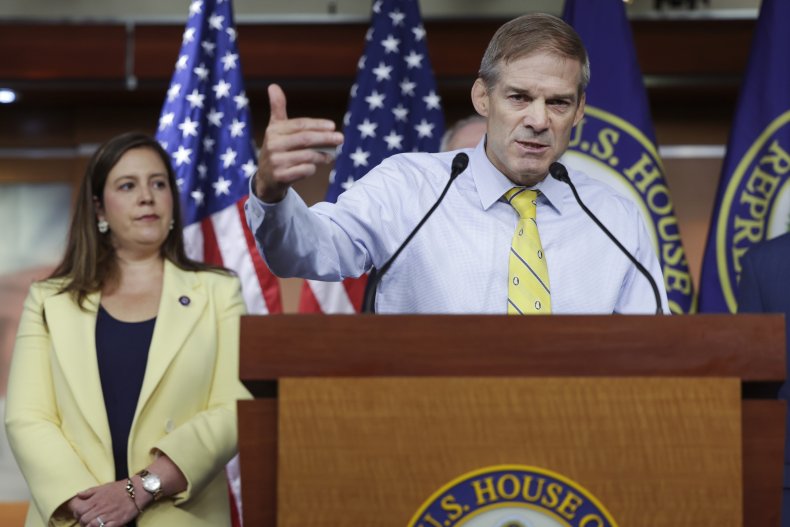 But many Twitter users replied to Jordan's tweet by asking why he didn't support the price-gouging act, which passed the House on May 19 purely along party lines with a 217-207 vote.
Jordan and every other House Republican, aside from five who did not vote, did not support the bill that "prohibits any person from selling, during a proclaimed energy emergency, a consumer fuel at a price that is unconscionably excessive; and indicates that the seller is exploiting the emergency to increase prices unreasonably."
Four Democrats also voted against the bill, which would also give dominion to the Federal Trade Commission (FTC) and state attorneys general to enforce civil penalties or otherwise under the Low Income Home Energy Assistance Program.
Two amendments approved prior to the official House vote included requiring the FTC to investigate gas prices manipulated by reducing refinery capacity or otherwise, in addition to establishing a new FTC unit "devoted to protecting public interest by monitoring fuel markets to facilitate transparent and competitive market practices."
No headway has been made in the Senate, where 10 Republicans would have to join Democrats in support.
Patrick De Haan, who has analyzed and tracked oil markets and fuel prices for about two decades and is known for his affiliation with GasBuddy, encouraged Americans on Thursday to step on the proverbial brakes due to what he foresees will be a drop in national gas prices.
"No one should be in a rush to fill their gas tank," he tweeted. "Prices in most areas of the U.S. will be coming down in the days and weeks ahead (things could shift, so stay tuned), but we could drop back to a national average of $4.75-$4.85/gal by July 4 if nothing changes!"
He told Newsweek on Friday that "a decent decline" in wholesale gasoline prices in the last week or so "is a leading indicator" that gas stations nationwide will likely lower prices.
"It's hard to tell how long it might last as markets have been volatile," he said. "But for now, I fully expect the national average to fall back under $5 per gallon in the next few days. Prices are very high because of a perfect storm of factors: high oil prices, seasonally rising demand, but less capacity to refine oil because of COVID-related shutdowns and other shutdowns that occurred at the nation's refineries."
The loss of about 1 million barrels a day in refining capacity is constraining how much gasoline refiners produce, he added, leading to gasoline inventories falling sharply and ultimately boosting prices, which he said could stay elevated all summer, with "some relief here and there."
Hurricane season in August and September could also play a role.
Newsweek reached out to Jordan's office for comment.