Jim Jordan 'Very Scared' as 1/6 Committee Seeks Info on Trump Calls, Fellow Lawmaker Says
The January 6 committee wants to speak with Representative Jim Jordan about his communication with former President Donald Trump on January 6, 2021, and a Democratic lawmaker urged him to offer up "everything" he knows.
Representative Madeleine Dean, a Democrat from Pennsylvania, told Joy Reid on Thursday that she believes Jordan is "running very, very scared." She criticized his stumbling over questions about when he spoke with Trump and accused him of being a "serious performer" but not a "serious American" because of his lack of cooperation with the investigation.
"He doesn't care about democracy," Dean told Reid. "He doesn't care what happened on January the 6th and the lies that led up to it that he participated in."
Newsweek reached out to Jordan for comment but did not receive a response in time for publication.
The select committee investigating the Capitol riot sent a letter to Jordan on Wednesday requesting that he voluntarily discuss his communication with Trump. In the letter, Representative Bennie Thompson, chairman of the committee, said the committee is aware of at least one and "possible multiple" communications Jordan had with Trump on January 6.
Jordan, an Ohio Republican, admitted over the summer that he spoke with Trump on January 6, saying he believed that he spoke after the riot was over but couldn't remember if they spoke in the morning. He later told Politico that he "definitely" spoke to Trump more than once on January 6 but couldn't remember when. However, he said he was "sure" one of the calls occurred while legislators were in the safe room because "we were in that room forever."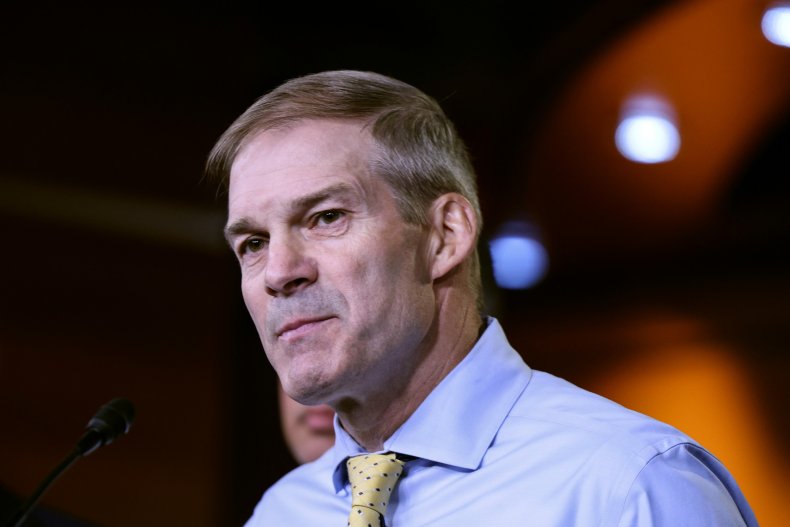 During a House Rules Committee hearing in October, Jordan potentially contradicted the timeline he gave to Politico about when he spoke with Trump on January 6. He said he "of course" spoke with Trump on January 6 and that he talks to the former president "all the time" but said he couldn't remember how many times they spoke on that specific day. When pushed, he said they spoke after the attack.
On Wednesday, Jordan told Fox News' Brian Kilmeade that his team is going to "review" the letter to determine if he will cooperate. However, he said he has "real concerns about any committee that will take a document and alter it and present it to the American people." Jordan also accused the committee of misleading the American public by omitting information about a text message he sent to former Chief of Staff Mark Meadows.
The message, originally attributed to an unnamed lawmaker, said: "On January 6, 2021, Vice President Mike Pence, as President of the Senate, should call out all electoral votes that he believes are unconstitutional as no electoral votes at all."
The full message, however, contained a legal argument from former Department of Defense Inspector General Joseph Schmitz. It wasn't Jordan's own words, either, but a message he forwarded.
The committee has struggled to get the information it has requested from the people closest to Trump, and recently found former White House chief strategist Steve Bannon and Meadows in contempt of Congress.
Jordan previously said that he has "nothing to hide" and has been "straightforward all along," words that the committee used in its letter asking him to meet with its members. Along with information about his communication with Trump, the committee wants to discuss any communication Jordan had with the Trump legal time, White House personnel or any other involved in "organizing or planning the actions and strategies for January 6th."
Dean said Jordan should offer the committee "everything I know" because he knows America suffered the "most extraordinary attack on our democracy and it must never happen again."