Jim Jordan's Own Words Used to Undermine Him by Jamie Raskin
Democratic Representative Jamie Raskin of Maryland on Thursday undermined GOP Representative Jim Jordan of Ohio by using remarks that the Republican made about former President Donald Trump running again in 2024.
During a congressional hearing in which he made his opening remarks as a minority witness, Raskin criticized the new House Select Subcommittee on the Weaponization of the Federal Government for trying to bring the former president back to the White House in 2024. The subcommittee is part of the House Judiciary Committee.
"If these people break from the habits of lying and lawlessness that define life as a camp follower in the cult of Donald Trump. But if the weaponized MAGA campaign isn't exactly partisan, it is entirely political because it's got an overriding electoral focus and you know what it is," Raskin said.
"It's all about restoring Donald Trump, the twice-impeached former president to the office he lost by 7 million votes in 2020 and tried to steal back in a political coup and violent insurrection against our constitutional order on January 6, 2021."
Raskin then cited remarks that Jordan made during a Conservative Political Action Conference in Dallas, Texas, in August when the Republican said that more should be known about the "political nature of the Department of Justice" and cited the suppression of the Hunter Biden laptop story. Jordan mentioned other subjects that he thought should be looked into, including issues related to the U.S. border and the accidental leak of confidential taxpayer data by the IRS.
"All those things need to be investigated just so you have the truth," Jordan said. "Plus that will frame up the 2024 race when I hope and I think President Trump is going to run again and we need to make sure that he wins."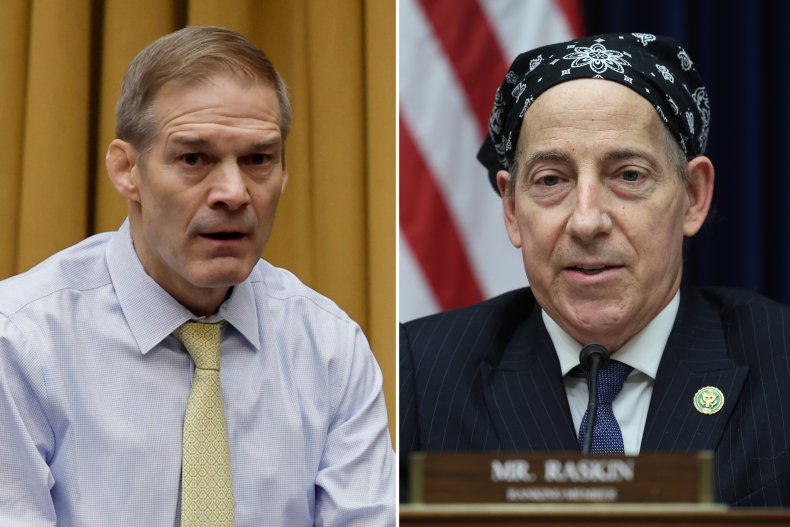 Jordan, who chairs the House Judiciary Committee and the weaponization subcommittee, is joining other Republicans in an effort to investigate the alleged "weaponization" of federal agencies under the Biden administration.
"We have a government that now I believe is targeting the very people it is supposed to serve," Jordan said Tuesday. "We plan on, as a Republican majority, holding them accountable."
In a 221 to 211 House vote in January, the Republican-controlled House pushed through a resolution to launch the Select Subcommittee on the Weaponization of the Federal Government to look into a number of subjects, including the Department of Justice's criminal investigations into Trump and whether or not the FBI has attempted to censor conservative voices.
Republican Senators Chuck Grassley of Iowa and Ron Johnson of Wisconsin, former Hawaii Representative Tulsi Gabbard and former FBI special agent Nicole Parker were called to testify during Thursday's hearing.
Newsweek reached out to Jordan's office for comment.
Update 2/10/2023, 10:30 a.m. ET: This story has been updated with additional information about Jordan's remarks at CPAC in August.