As four-star general and former Secretary of Defense Jim Mattis embarks on his book tour, his vow to refrain from criticizing President Donald Trump raises important ethical questions. Should a retired general or admiral ever criticize a sitting president? If so, under what circumstances? Is there a duty to warn the American people if their president is a clear and present danger to national security?
In addressing these questions, it is instructive to consider the standard set by George Marshall, the only other former flag officer who also served as secretary of defense. Before and after Marshall stepped down as President Harry Truman's defense secretary in 1951, he consistently and flatly refused several lucrative offers from publishers to write his memoirs or to otherwise speak out about the presidents, politicians and generals he was associated with, typically explaining that "there are too many people alive who could be hurt." In interviews with historian Forrest Pogue in the mid-1950s, Marshall declined to criticize any of the 10 presidents he served under during his 50-year career. The idea of speaking ill of Truman—the sitting president when Marshall resigned—or of his predecessor Franklin Roosevelt, would have been a breach of Marshall's moral code of eternal silence.
Mattis seeks to emulate the high ethical standards that Marshall lived by. At the conclusion of Call Sign Chaos, Mattis' recently published book (co-authored with Bing West), he cites Marshall's deeds, words and values to support his conviction that allies and partnerships are essential to national security. From this and many other positive references to Marshall in his speeches and articles, it appears that Mattis would like to be remembered as having the ethics, character and world view that most closely resembles those aspects of Marshall's persona.
In fact, there are striking similarities. Both Marshall and Mattis were extraordinarily disciplined, having fought to achieve self-mastery at relatively early stages in their respective careers. Each was highly intelligent, thoughtful and deliberate—though Mattis was more excitable and prone to overstatement and Marshall harbored an explosive temper. They were strong believers in the value of alliances. Ingrained in the two of them, moreover, was the sense that they had a moral duty to candidly tell the truth, and when necessary, a duty to speak truth to power—qualities related to trust and sincerity that penetrate to the core of their integrity.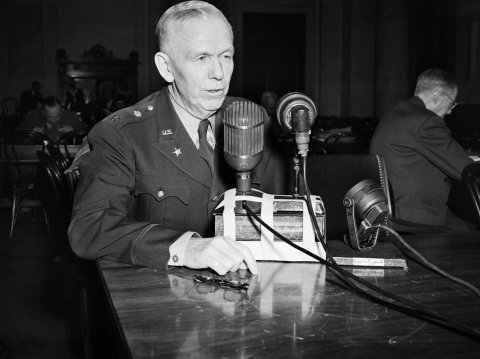 However, a hallmark of Marshall's character that sets him apart from Mattis is selflessness. A conversation between President Franklin Roosevelt in Cairo in December 1943 laid bare the essence of this quality. Roosevelt asked Marshall whether he wanted to command Operation Overlord, the massive cross-Channel invasion of northwest France that was scheduled to be launched near the beginning of June 1944. Marshall told the president that he should decide the matter in accordance with the best interests of the country and to not consider his—that is, Marshall's—own feelings. With that, the president concluded the affair. "Well, I could not sleep at ease with you out of Washington," he said, which meant that the command of Overlord would go to General Dwight Eisenhower, his springboard to the presidency.
Whether Marshall coveted the command—and many of his close associates believed he did—or whether he felt it would be in the best interests of the country for him to remain in Washington and continue to influence the course of the global war, his refusal to express his desire one way or the other was utterly selfless.
Mattis, however, lacks this quality of selflessness that marked Marshall's character. Instead, he as he moved up the ranks of the Marine Corps and then into the corporate, consulting and publishing worlds, he was more of a self-promoter. When he resigned from the Corps in 2013, he joined the board of directors of Theranos, a company that peddled what turned out to be fake blood test machines, technology that Mattis touted to the military before and after he resigned from the Marine Corps. For his board service, Mattis was paid $150,000 annually. He is also a board member of General Dynamics and has recently joined The Cohen Group, a consulting/lobbying firm based in Washington DC. In addition to Call Sign Chaos, he is the co-editor of another book that was published in 2016—in contrast to Marshall, who refused to publish his own memoirs.
Though Mattis' December 2018 resignation letter and the final pages of his book implicitly criticized Trump by stressing the need, as a matter of national security, to maintain strong alliances and show "respect" to our allies, he avoids using his name or any express mention of the president. Invoking "the duty of silence," he explained that when leaving an administration over policy differences, as he did, it would be wrong to speak out and further weaken the commander in chief when the country is facing dire threats, for example on the Korean peninsula.
Assuming Mattis' words would in fact "weaken" a commander in chief like Trump, Mattis' reasoning for holding his tongue regarding a sitting president sounds sensible. And it has the added advantage of freeing him to hurl scathing criticism at Trump's immediate predecessors—presidents Barack Obama and George W. Bush—as he did in Call Sign Chaos and in interviews promoting his book since its release for sale in early September.
But are there not circumstances in which Mattis, or one of his successors with a background in the military, would have a duty to the American people to criticize a sitting president even if it might weaken or otherwise undermine him or her? In recent interviews, Mattis ducked this question by saying he would abide by the "military tradition" of not commenting on "political issues."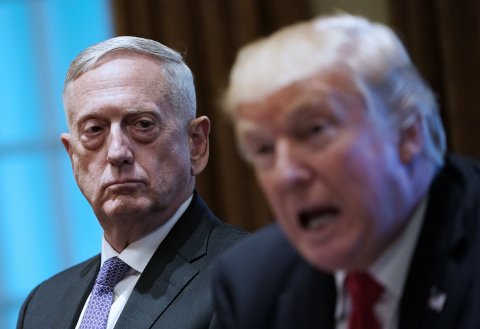 Fair enough, but what if it's beyond politics? What if Mattis or a future secretary of defense, having resigned or been fired, knows that the president's actions constitute a clear and present danger to national security? In that situation, a strong case can be made that Mattis or his successor has a duty to speak out and warn the American people. Perhaps national security was what Mattis had in mind when he told a reporter that he would break silence only if Trump did something truly outrageous. "I'll know it when I see it," he said.
George Marshall, America's most revered soldier statesman since George Washington, regarded his vow of silence as sacrosanct. But if any president knowingly took concrete steps, not just bluster, to endanger the nation's security, it is highly likely that Marshall would override his code of silence and find a way to speak out. "We are a member really of a priesthood," he once said, "whose sole purpose is to defend the republic." Put another way, the duty to defend is preeminent. In the end, Marshall would do what is necessary to protect and defend the United States. Mattis and his successors should do the same.
David L. Roll is the best selling author of General Marshall: Defender of the Republic (Dutton, 2019) and The Hopkins Touch: Harry Hopkins and the Forging of the Alliance to Defeat Hitler (Oxford, 2013) and co-author with Keith McFarland of Louis Johnson and the Arming of the Republic: The Roosevelt and Truman Years (Indiana University Press, 2005).
The views expressed in this article are the author's own.​​​​​