Jim Mattis' Resignation Left the Pentagon Eerie and Depressed: Report
A Pentagon official has described the dark and gloomy mood at the Pentagon and Capitol Hill following the resignation of Defense Secretary James Mattis.
The official, who spoke on condition of anonymity, told The Hill on Friday that the building was "eerie" as staffers were "bummed" about Mattis' exit. "Obviously it's close to the holidays so you don't expect to see a lot of people, but there's just a general fear of the unknown," the official said. "Imagine a mentor or a friend, someone you thought would be there for the entirety of your tour, someone who everyone thought really highly of, suddenly not there anymore. ... People are really bummed."
Mattis announced in a letter Thursday that he was resigning his defense secretary position. The news came a day after Trump suddenly declared he will be pulling all 2,000 U.S. troops out of Syria.
"My view on treating allies with respect and also being clear-eyed about both malign actors and strategic competitors are strongly held and informed by over four decades of immersion on these issues," Mattis, a former U.S. Marine Corps general, wrote. "We must do everything possible to advance an international order that is most conducive to our security, prosperity and values, and we are strengthened in this effort by the solidarity of our alliances."
In his letter, Mattis also suggests that his values were not aligned with those of the president's. "Because you have the right to a defense secretary whose views are better aligned with yours on these and other subjects, I believe it is right for me to step down from this position," he said.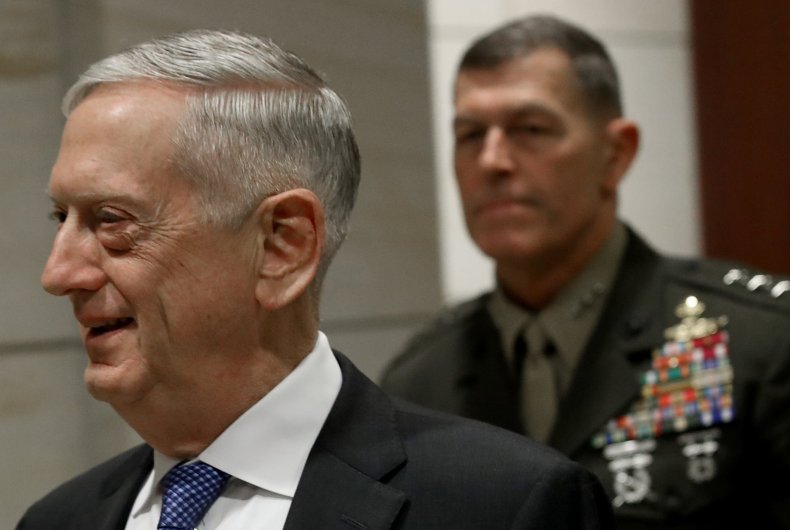 The president announced Mattis' exit in a Twitter post where he praised the Secretary of Defense for making "tremendous progress" during his time serving the Trump administration.
"General Jim Mattis will be retiring, with distinction, at the end of February, after having served my Administration as Secretary of Defense for the past two years. During Jim's tenure, tremendous progress has been made, especially with respect to the purchase of new fighting equipment," Trump tweeted. "General Mattis was a great help to me in getting allies and other countries to pay their share of military obligations. A new Secretary of Defense will be named shortly. I greatly thank Jim for his service!"
In addition, sources told CBS that Brett McGurk, Trump's special envoy for the Global Coalition fighting the Islamic State in Iraq and Syria (ISIS), resigned on Friday because he disagreed with the president's decision to withdraw the troops.
Sen. Tim Kaine (D-Va.), who is also a member of the Senate Armed Services and Foreign Relations committees, expressed his concern that Mattis' exit could prompt other Pentagon officials to follow suit. "I worry about whether his resignation would spark other resignations," Kaine said, according to The Hill. "I'm concerned about that. We'll see if that's the case."