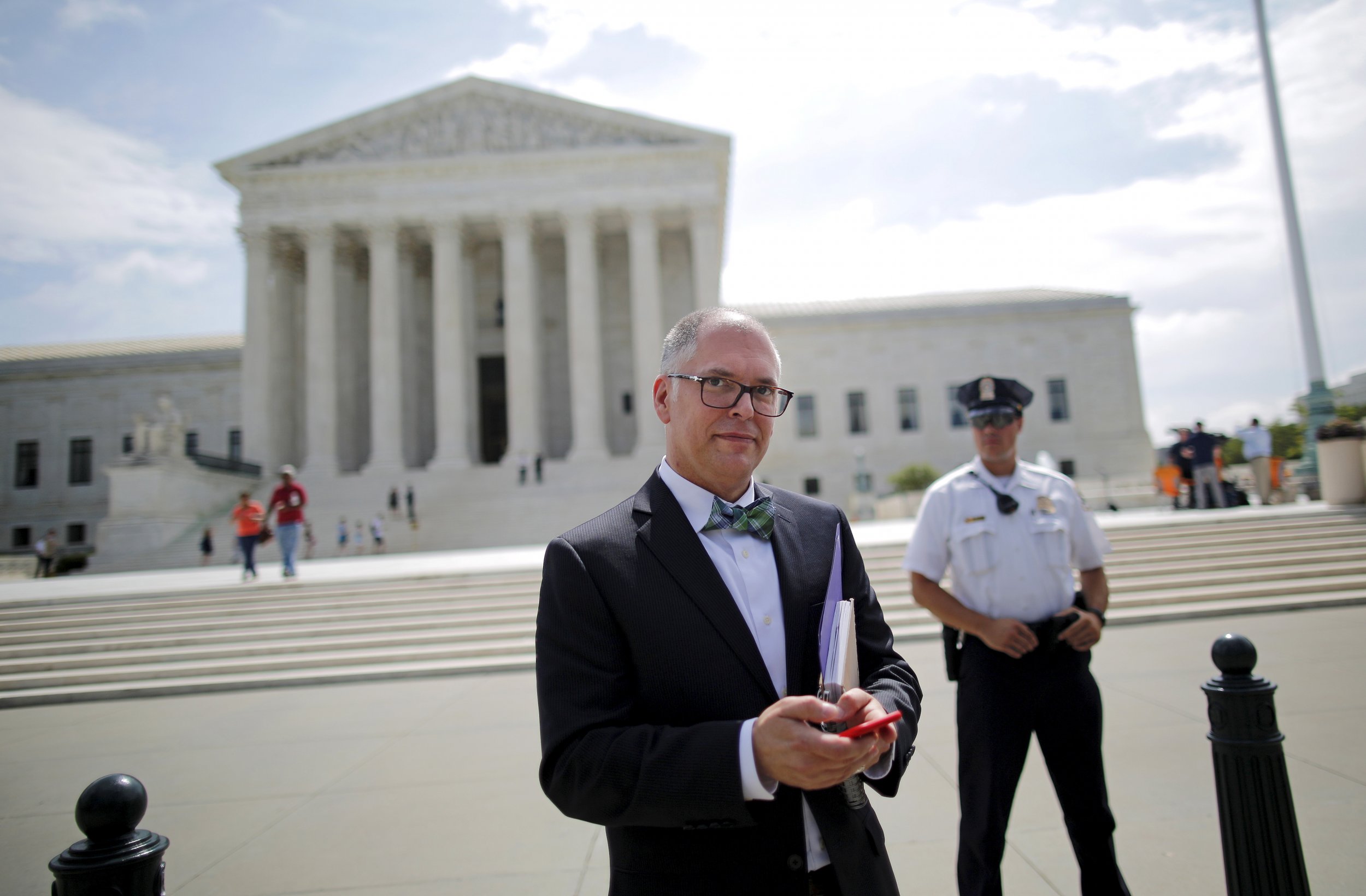 On Friday the Supreme Court announced its decision that same-sex marriage is a right guaranteed by the Constitution nationwide. "No union is more profound than marriage, for it embodies the highest ideals of love, fidelity, devotion, sacrifice, and family," wrote Justice Anthony M. Kennedy in the majority opinion.
Jim Obergefell and John Arthur had been together for two decades when the court issued its decision in the United States v. Windsor case, exactly two years ago. On June 26, 2013, the court decided part of the Defense of Marriage Act (DOMA) was unconstitutional. When he heard the news, Obergefell recalled in an interview with YouTube star Raymond Braun, he hugged and kissed Arthur, who was in hospice dying of Lou Gehrig's disease, also called amyotrophic lateral sclerosis, or ALS. Though their own state of Ohio had banned gay marriage in 2004, they decided to pick a state where same-sex marriages were legal—Maryland—and get hitched.
But crossing state lines to get married is difficult when you need the services of an expensive medical charter jet to get there. Obergefell turned to Facebook, he explains, where family and friends contributed to cover the full $13,000 cost of transportation. Some time later, a civil rights attorney reached out and explained that when Arthur died, his death certificate would state that he was unmarried since Ohio did not recognize the marriage.
"They were going to say, 'No you don't exist,'" said Obergefell, who was born and raised in the state. "It ripped our hearts out. So we filed suit against the state of Ohio."
That suit eventually made its way to the Supreme Court. Over the course of several months, as the case move through the system, he received overwhelmingly positive responses from people, Obergefell told People magazine. "It is surprising and just makes me feel good because it's an indication of, yes, our country has matured and people are on the side of equality."
The Windsor decision struck down the part of DOMA that denied federal benefits to same-sex couples. Friday's decision means Obergefell can be listed as the surviving spouse on Arthur's death certificate and establishes the right to marriage for same-sex couples throughout the country.
"John and I started this fight from a very personal place. It was about us. It was about our marriage, our relationship, but it is so much bigger, so much more important than just the two of us," Obergefell told ABC News before the decision.
Having become the named plaintiff and the public face of the fight to legalize gay marriage in the U.S., Obergefell sat in the courtroom in April as the nation's highest court heard his case. He returned repeatedly in June, never sure what day the court would hand down its ruling.
"I need to be in this courtroom when this decision comes out. I need to hear it from the judges' mouth," he told ABC News. "I want to hear them say in court, 'You are not a second-class citizen,'" Obergefell told Braun. At that point, "I can rest easy knowing that John's last official record as a person can never be changed by the state of Ohio. Our relationship will be recognized and honored. My friends who want to marry can marry. It means my friends who are married in one state can move and remain married."
He added, "Marriage equality will be great, and we need to celebrate it—I certainly will. But there's more to do. I'm committed to continuing the fight for our community until we have full equality."