Jimin's BTS Stage Name Revelation on Jimmy Fallon Delights Fans
BTS always cause a frenzy during their appearances on U.S. TV and they did it again on Tuesday night, when Jimin discussed stage names with Jimmy Fallon.
The singer—given name Park Jimin—and his bandmates appeared on The Tonight Show to perform their new track "Permission to Dance," and sat down for an interview.
Jimin—who recently sent fans wild when he swapped his bangs for a slick, coiffed hairdo at Muster Sowoozoo, the band's eighth anniversary livestream—revealed that he had wanted to go for a decidedly cuter stage name when BTS was starting out.
"Is it true that you almost decided to go with Baby J," Fallon asked the pop star. "What else was in the running?"
Responding in Korean, Jimin said: "Yeah. So I had both Baby J and Baby G as an option, but when I thought about saying, 'Hi, I'm Baby J' that sounded really weird.
"So I just decided to go on with my own name."
The moment has gone viral as BTS fans, also known as the ARMY, revel in the anecdote. "jimin saying 'baby J' is serotonin," reads one tweet. Another fan said they were playing the singer saying "baby j" on a loop.
Another added: "jimin saying 'hi! i'm baby j' is my favorite video from now on."
The band was on Fallon's show to perform their single "Permission To Dance" on television for the first time, as part of a two-day takeover event.
The English-language track has a cowboy-themed video, filmed against a desert backdrop with the BTS boys wearing cowboy hats and boots, leather trousers, denim and lots of fringe shirts.
The song was co-written by Ed Sheeran, Snow Patrol's Johnny McDaidand producer Steve Mac.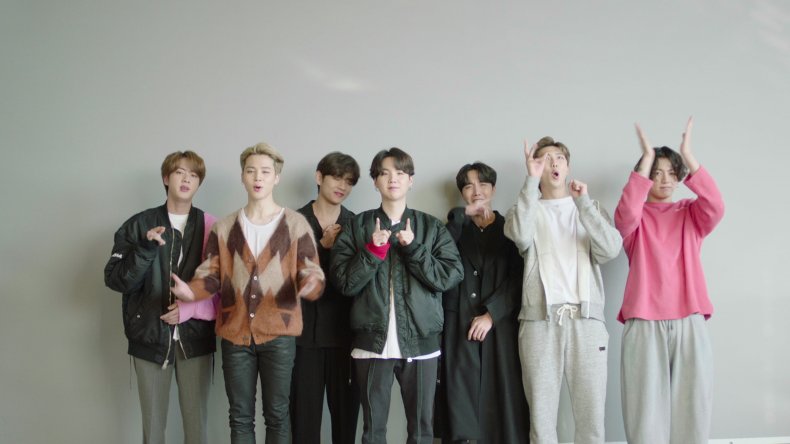 Speaking about collaborating with the "Shape of You" singer, J-Hope told EW: "Ed sent us this amazingly good song, and as soon as we listened to it we just couldn't resist it. We thought it went really well with our image too, so we just went with it."
Jungkook added: "I'm really thankful to Ed Sheeran. I hope we have more chances to work with him."
RM spoke about releasing more songs in English, telling the magazine: "We're open to anything.
"Maybe when it's time, I think we'll be able to release another song in English or Korean or Spanish—or any language."
The group will appear on Fallon's show again on Wednesday, when they will perform a "special edition" of their song hit "Butter," according to Billboard.