Detroit Man Begged ICE Not To Deport Him To Iraq Because He Had 'Never Been' There—They Sent Him Anyway And Now He Is Dead
In the days before his death, Jimmy Aldaoud, a 41-year-old man from Detroit, Michigan, had described in a video posted to Facebook how he had implored U.S. Immigration and Customs Enforcement authorities not to send him to Iraq, a country that, until recently, he had never stepped foot in.
"I begged them," Aldaoud said of his petitions to ICE agents. "I said, 'please, I've never seen that country. I've never been there."
Those would be some of the last words that anyone would hear from Aldaoud, who died in Baghdad on Tuesday, weeks after U.S. immigration officials deported him to a country where he had never lived and did not know the national language.
Aldaoud, who was born in Greece and came to the U.S. as a child, became one of more than 1,000 Iraqis with final orders of removal to be deported by the Trump administration, as part of the government's nationwide immigration crackdown.
Like many others being deported from the U.S., Aldaoud was a Chaldean Catholic, a group that the American Civil Liberties Union has argued is at high risk of being tortured or killed if captured by ISIS.
As Politico first reported on Wednesday, Aldaoud is believed to have died after being unable to obtain insulin in Baghdad to treat his diabetes.
In his video, Aldaoud said that he had been forced to live on the streets and had been ill due to a lack of insulin. He described how difficult his life had become since his deportation, with the 41-year-old struggling to communicate with people in Baghdad and even being kicked while sleeping on the street.
Edward Bajoka, an immigration attorney who has claimed to be close to the 41-year-old's family wrote in a Facebook post of how Aldaoud had been "forcefully deported to Iraq" just "a couple of months ago."
"He was born in Greece and had never been to Iraq," he said. "He knew no one there. He did not speak Arabic."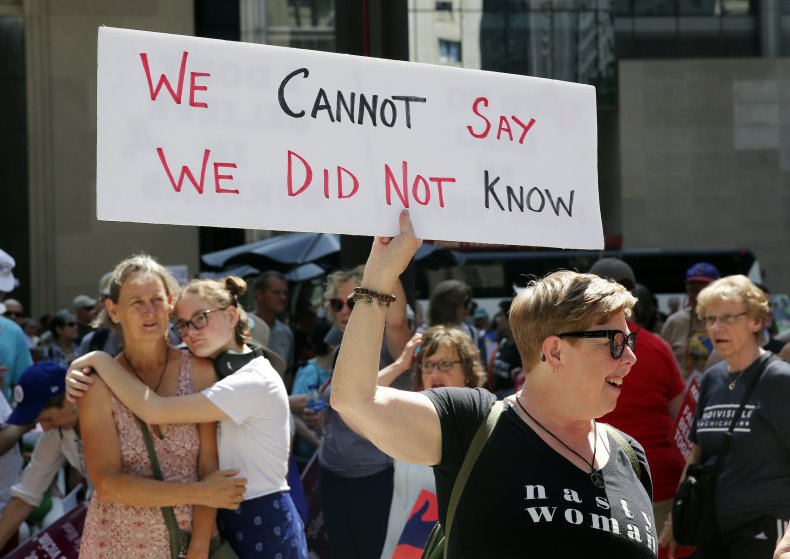 Bajoka further noted that Aldaoud had lived with schizophrenia and other mental health issues, which the attorney asserted were the "primary reason for his legal issues that led to his deportation."
According to Politico, Aldaoud had a criminal conviction for disorderly conduct and had served 17 months for a conviction related to a home invasion.
In his video, the 41-year-old said that he found out he was being deported after "immigration agents pulled me over and said I'm going to Iraq."
"I said I've never been there. I've been in this country my whole life, since pretty much birth," he said. "They refused to listen to me."
Since news of his death, immigration advocates and politicians have condemned the Trump administration for having deported Aldaoud, a person they say clearly had a case for remaining in the U.S., in the first place.
"Jimmy Aldaoud, a Chaldean resident of Oakland County, should have never been sent to Iraq," Democratic Rep. Andy Levin of Michigan said in a statement on Twitter.
"I had the privilege of meeting Jimmy's family earlier this year to hear firsthand their concerns for his safety, and about their efforts to ensure his care. Today, I grieve with them and recommit to preventing any further injustices," he said.
"It was clear that deporting Jimmy to a country where he had never been, had no identification, had no family, had no knowledge of geography or customs, did not speak the language and ultimately, had no access to medical care, would put his life in extreme danger," he said.
Yet, he was deported anyway, Levin said, and "Jimmy died tragically yesterday of a diabetic crisis."
"His death could have and should have been prevented, as his deportation was essentially a death sentence," Levin asserted.
The Democratic representative said he planned to put his "full effort" into advancing the Deferred Removal for Iraqi Nationals Including Minorities Act, a piece of legislation seeking to prevent further deportations that he said "will inevitably endanger more lives."
"My Republican colleagues and I have repeatedly called on the Executive Branch to cease deportation of such vulnerable people. Now, someone has died. We cannot wait one more day for action," he said.
Levin said he would also be working to ensure that Aldaoud "can be afforded a proper Catholic burial."
"At the moment, Iraqi authorities will not release Jimmy's body to a Catholic priest without extensive documentation from his family members in the U.S," he said, adding: "This seems to be a cruel irony, indeed."
In a statement sent to Politico, ACLU attorney Miriam Aukerman, who is representing Chaldeans targeted for deportation, said that "Jimmy's death has devastated his family and us."
"We knew he would not survive if deported," she said. "What we don't know is how many more people ICE will send to their deaths."
ICE has not immediately responded to a request for comment for this story.